Zhruns Digital Piano Review | An Alternative Affordable Brand
Updated April 2022 – Zhruns digital piano review
Zhruns brand vs other piano brands
If you ask a piano specialist or piano teacher about the Zhruns digital piano they may say they never heard of it. They may also go on to recommend a more "well-known" piano brand such as Yamaha, Roland or Casio.
But… you've seen this Zhruns digital piano for sale at a really good price…it looks like a really attractive piano with a proper furniture stand and it's a fraction of the price of those big brands!!!
So…
Is it actually a good quality piano or does it just "look" good on the outside?
Let's find out in this Zhruns piano review!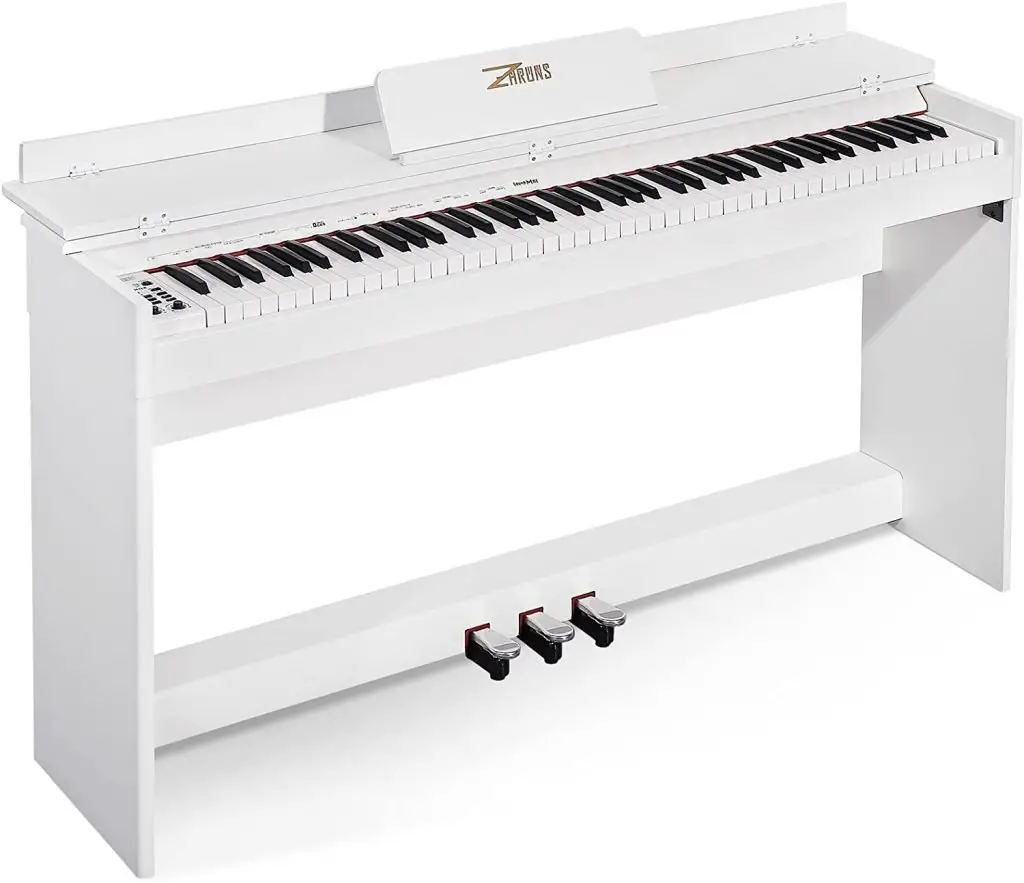 Is Zhruns a good brand?
The Zhruns brand is based in Shenzhen, China. They sell musical instruments, digital pianos and drumsets, mainly on Amazon. The brand has been around since 2019 and its digital pianos have proven highly popular and one of Amazon's bestsellers. Their pianos are highly-rated and very popular.
Being a big Yamaha fan, I had to investigate the Zhruns brand. I was pleasantly surprised that this digital piano actually delivers what it promises and is available for such a bargain! I am really impressed with the quality features and the touch, feel and sound of this digital piano.
Let me lay out my findings to you and explain the features that exceeded my expectations in this Zhruns digital piano review.
Zhruns digital piano models
First of all, let's demystify the range – they have a number of different models and styles.
NOTE: Zhruns often run out of stock on certain models/colors….so you may click on a white and be brought to a white or vice versa. If you want to go to the Zhruns store on Amazon to view the whole range, click here. You'll see quickly what's available or not right now.
Upright-style Zhruns digital pianos
Portable Zhruns digital pianos/ keyboards
Zhruns digital piano review
Let's concentrate on the two that have proper furniture stands as they are the most popular. These are models ZR901 and ZR309. These Zhruns Digital Piano models aim to recreate the look, feel, and sound of an acoustic piano at an affordable price. Thanks to a variety of good quality, built-in features, which we will look at in this Zhruns digital piano review, they are very popular and highly rated.
Zhruns upright-style digital pianos ZR901 vs ZR309
The Zhruns piano models with the furniture stands are available in two styles and both are available in black or white finish. If the color you want is unavailable right now, check back as they seem to update their stock regularly.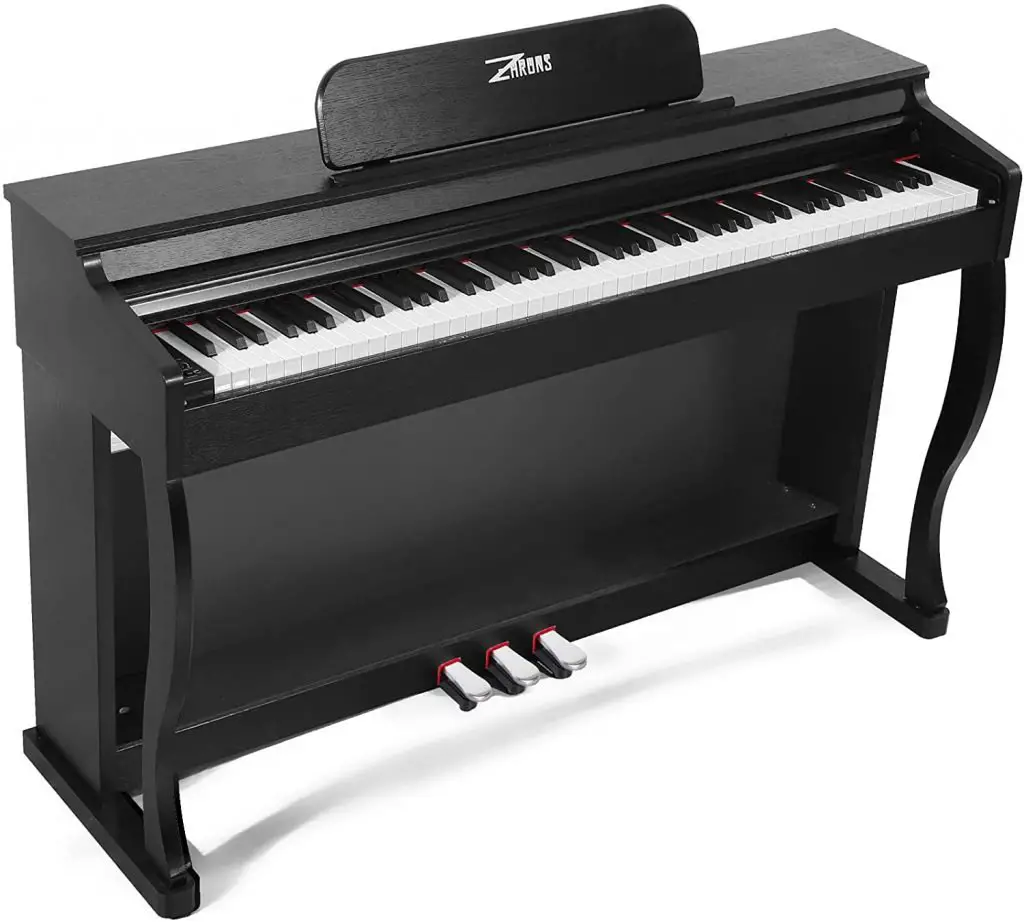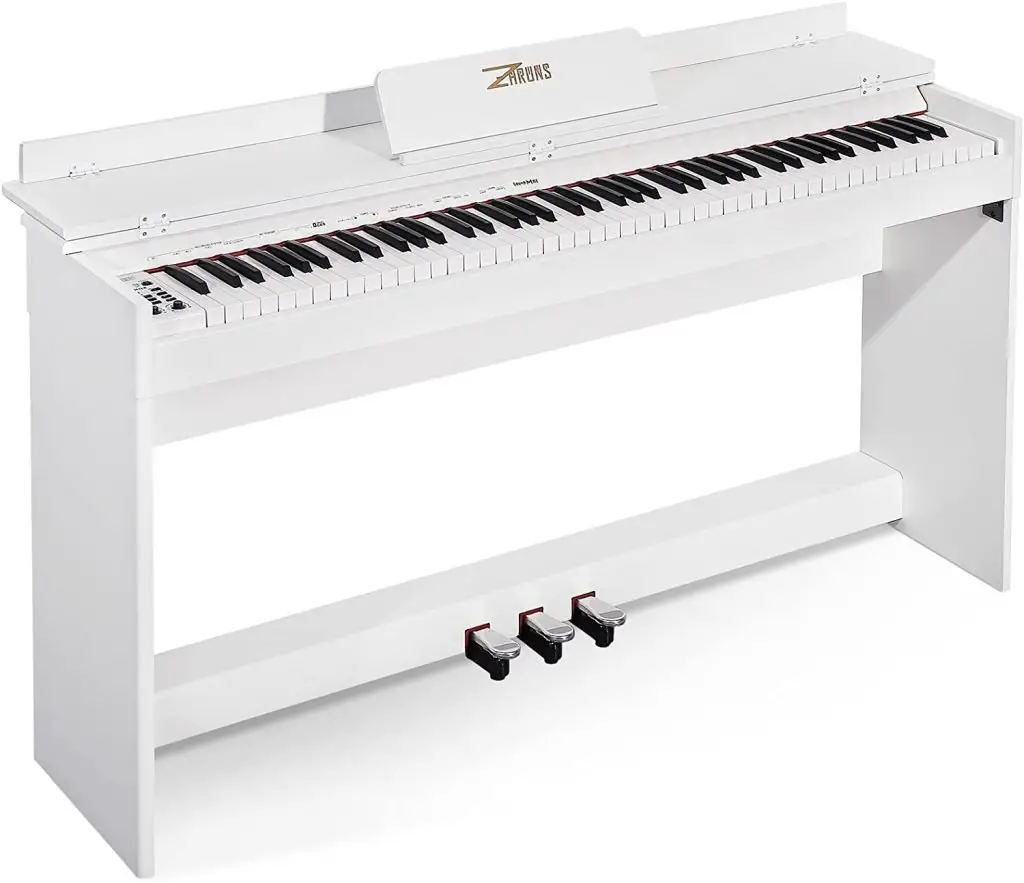 Zhruns ZR901 vs ZR309
Image
Keyboard
Features
Price
ZHRUNS Digital Piano ZR901

Fully weighted progressive hammer keyboard- 88 keys / 3 pedals
DREAM source sound / 8 timbres / tones
128 Polyphony / 41 demo songs/ dual keyboard/ recording function
USB/MIDI/MP3
53.9 *15.7 *33.1 inches (99 Ib)

View Price
ZHRUNS Digital Piano ZR309

88 standard semi-weighted keys / 3 pedals
Dynamic rich piano sound samples/ 680 timbres or tones
128 Polyphony / 80 demo songs/ dual keyboard/ recording function
USB/MIDI/MP3  
53.5*13*29.1 in (67lb) 

View Price
Zhruns Digital Piano Features and Specs ZR901 and ZR309
Dimensions and weight
The ZR901 is 53.9 *15.7 *33.1 in and weighs 99lbs. The ZR309 is 53.51329.1 in and weighs 67lbs.
Both have a sturdy and stylish furniture stand with a full pedalboard, giving you more control over the sound. It includes a soft pedal for softening the sound, a damper pedal for fuller notes, and a sustain pedal for half-pedaling.
The ZR309, (the second image above in white) is a console-style design with a flat appearance when the lid is closed. I love this neat, flat style! The design reminds me of one of my favorite Yamaha digital pianos- the Yamaha Arius YDP S54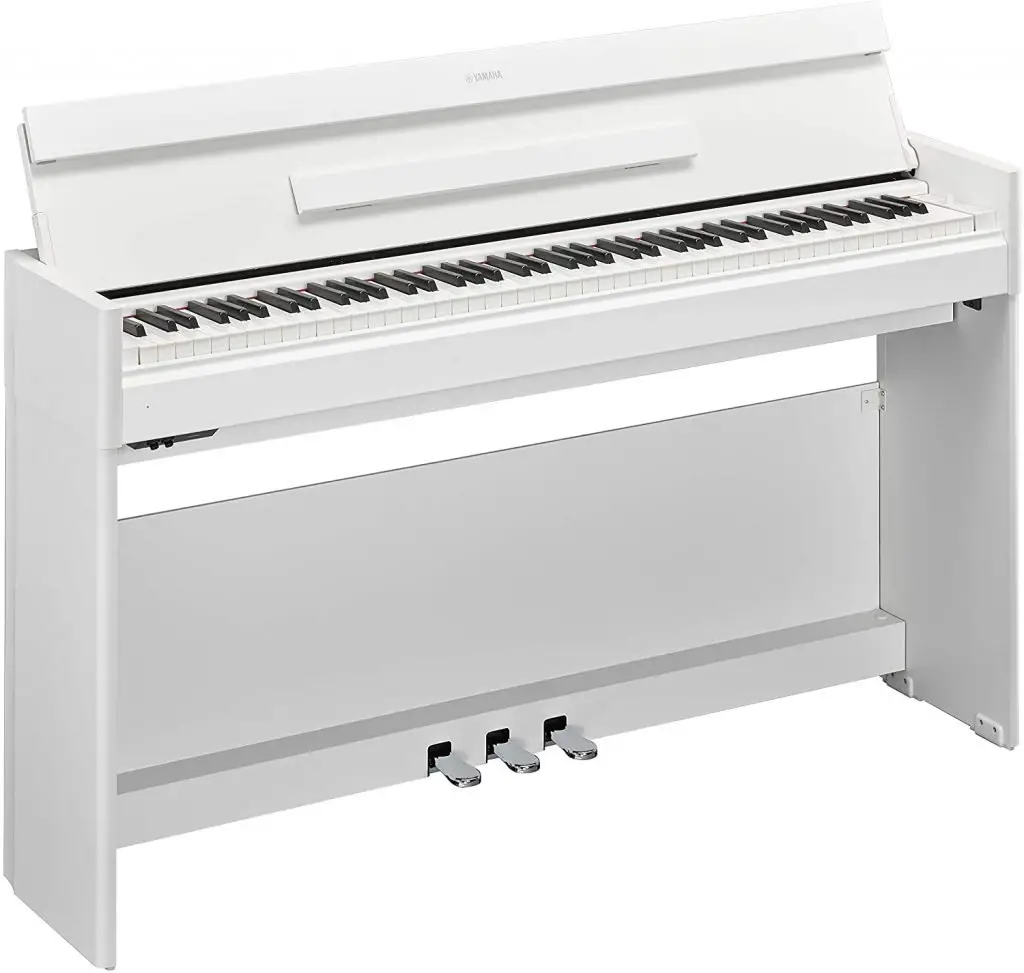 Weighted key action
The ZR901 has fully weighted keys. If you are learning piano, this is an important feature to build finger strength. Weighted keys on a digital piano aim to re-create the touch and feel of the keys on an acoustic piano.
The ZR309 has semi-weighted keys. So if you are looking for the better piano of the two in terms of feel/touch, the ZR901 is better and it also has progressive weight – meaning the keys are progressively heavier/ lighter from bass to treble.
The weighted action on the ZR901 is 'progressive' meaning that the touch is lighter on the high end and heavier on the low end. This is how an acoustic piano works and is similar to the graded hammer action on a Yamaha digital piano. If you want the Zhruns model with the best weighted action, the ZR901 with progressive key action is the one to go for.
Zhruns weighted action works surprisingly well – I say surprisingly as it is rare to find a good weighted digital piano in this price range. Sometimes, when you find a more affordable piano with weighted keys, the key action is very heavy. Zhruns actually advertise their ZR901 as having "heavy weighted action". I found Zhruns weighted action is slightly lighter, balanced and more authentic than other brands I've tried in this price range like the Lagrima.
The ZR309 has standard weighted action meaning the keys have the same weight from treble to bass. This model still has good weighted action however, plus both models, the ZR901 and the ZR309 have touch response. This means you can vary the sensitivity of the keys to a level that you feel comfortable with.
Although touch response is a different feature from weighted keys, it can help if you feel the keys are too heavy or too light. For example, if the weighted action feels too heavy, you can adjust the touch sensitivity level to make it feel lighter.
Authentic Sound with 128 Polyphony
Both the ZR901 and the ZR309 have 128 polyphony. Polyphony refers to the number of notes that the keyboard can produce at one time. 128 polyphony is good on a digital piano – the higher the polyphony number, the better. For example, a high-end Yamaha such as the YDP-184 has 256 polyphony.
The ZR901 combines what they call "french dream sound source" with advanced stereo digital sampling to create a rich, layered sound.
This is related to the samples that produce the piano tones you'll hear. The bass sounds warm and the treble sounds detailed and crisp, giving the ZR901 superior sound quality.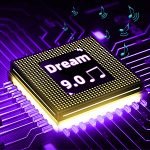 Speakers/Inputs/Outputs
The built-in speakers give good quality sound and both the ZR901 and the ZR309 have a dual headphone jack which is very handy. You can connect an external speaker for more power if required.
Both models include several inputs and outputs, including stereo audio outputs, dual headphone jacks, and MIDI input/output ports. The piano also has a USB port for playing MP3s from a USB device.  So, for teaching functions, you can easily connect to your device and use your favorite piano learning app. The connectivity capability is tremendous.
Easy-to-Use Controls 
The controls are to the left of the keys and are easy to operate. There is an LCD display that shows what has been selected. The simple interface includes an on/off switch, a volume knob, a USB port, and buttons for changing the tone and sound effects.
Includes Recording Function / Playback Function
Beginners may benefit from the recording and playback functions. The piano is equipped with a recording mode that allows you to record songs. You can record original music or play along with any of the built-in demo songs.
They both also have a metronome function which is great for learning to keep proper time for the song being played.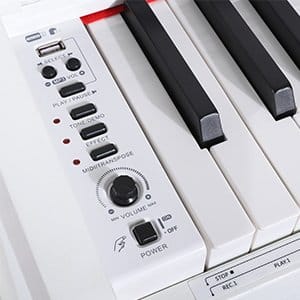 CONCLUSION ZHRUNS DIGITAL PIANO
The Zhruns Digital Piano is a good standard digital piano. The ZR901 is the superior model and with the full weighted action and progressive weighted key action, it is very good value for what it offers. The price is more affordable while the features are on par with other similar digital pianos on the market:
For this price, this is a good digital piano with weighted keys and a furniture stand. I would recommend this as a good beginner piano with weighted keys. If you're looking for a stationary piano that will also be a stylish piece of furniture in your home, the Zhruns is a good affordable option.
|   | ZR901 | ZR309 | ZR200 | ZRN30-S | ZRN30-P |
| --- | --- | --- | --- | --- | --- |
| Keyboard | Full Weighted | Semi-Weighted | Semi-Weighted | Full Weighted | Full Weighted |
| Size | 53.9 *15.7 *33.1 in | 53.5*13*29.1 in | 48.2*6.6*3.3 in | 52.4*11.6*29.5 in | 52.4*11.6*7.5 in |
| Pedals | 3 | 3 | 1 | 3 | 1 |
| Weight | 99 Ib | 67 Ib | 22 Ib | 47.4 Ib | 27.8 Ib |
| Dual keyboard | ✓ | ✓ |   | ✓ | ✓ |
| Demo songs | 40 | 80 |   | 60 | 60 |
| Recording | ✓ | ✓ |   | ✓ | ✓ |
| Timbre/Polyphony | 8/128 | 680/128 | piano single/64 | 129/127 | 129/127 |
| Function | USB/MIDI/MP3 | USB/MIDI/MP3 | USB | USB/MIDI | USB/MIDI |
| Accessories | Power Adapter/User Manual/Music Stand | Power Adapter/User Manual/Music Stand | Power Adapter/User Manual/Music Stand | Power Adapter/User Manual/Music Stand | Power Adapter/User Manual/Music Stand |