Donner Ddp-300 Digital Piano Review
The Donner brand has become very popular and highly rated. In this Donner DDP-300 Digital piano review, let's take a deeper look at the main features and what the instrument offers.
OTHER DONNER MODELS
If you'd like to view other similar Donner models, you can take a look at our table post here for all Donner pianos and keyboards. Below here I have a table comparing the main features of the DEP-20/ DDP-100 and DDP-300.
PRODUCT SUMMARY DONNER DDP300 (QUICK SPECS)
Size : 143cm X 53.5cm X 35cm
Weight: 43.8kg
Power Adapter: 12V/DC, 3A unit
Keys: 88 GHS-weighted action keys
Tone quality: 10 preset tones, 128 polyphony
DONNER DDP-300 DIGITAL PIANO KEY FEATURES
88 INTUITIVE GHS WEIGHTED KEYS
Firstly – the keyboard is full size- 88 keys – which is always something I recommend.
An important feature of any digital piano is the key action.
Weighted keys are a feature on digital pianos that aim to recreate the touch and feel of an acoustic instrument. What that means is that the dynamics (loud or soft sound) of this piano will match your finger strength changes.
This is very important for learning piano correctly.
On the Donner DDP-300 we have 88 fully weighted GHS (Graded Hammer Standard) keys. This is the only Donner model that has GHS key action which is a superior feature and that makes it feel even more like the real thing! (ie. an acoustic piano).
The weighted key feature on the Donner DDP-300 is very impressive. With the GHS features, in the same way as a real piano (acoustic), the weight is lighter at the higher end of the piano and heavier at the low end. For a piano at this price, it is rare to find a GHS keyboard!
Have a listen to the weighted key-action on the Donner DDP-300 in this video.
DUAL-MODE KEYBOARD
The dual-mode (double) keyboard setting allows you to split the piano in two- which is really useful for learning and teaching. The keyboard can separate into two parts that have the same pitch and tone.
If you're learning or if you are a teacher, this is a really handy feature that will help you along. Having the two sections at the same pitch and tone means that the student can hear exactly the tone that the note should be that they are playing.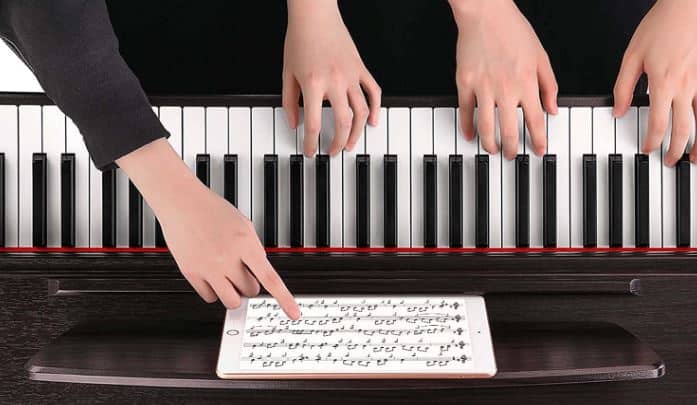 3-PEDAL SYSTEM
This piano has 3 pedals built in which is important as you progress through your piano journey.
Soft – reduces the volume and pitches of sound.
Sostenuto – sustains a sound you played until you release the pedal
Sustain – works similarly to Sostenuto. The only difference is that the pedal keys your play even when your hands are off the keys.
TIMBRES/ POLYPHONY
The Donner DDP-300 has 10 tones or timbres (such as Grand Piano, Electric Piano, Organ, Strings, Bass, etc). This is plenty!
It also has 128 polyphony. This means the sound quality of each note played is not compromised when the player moves onto more advanced pieces This is a good level of polyphony.
If you want to learn more about polyphony have a read of our post here.
SHOULD YOU BUY A DONNER DDP-300?
I was pleasantly surprised with the features and quality of this relatively new brand. Let's weigh it up:
Lightweight and stylish, compact design – DDP-300, despite its several features, weighs less than 50kg. It has a very neat compact design yet it packs in all the features of a heavier model. (I like that it has a proper lid, music stand and 3 pedals built in and yet, it's still light-weight and is a lovely addition to any room.)
Several connectivity options – unlike other Donner products, DDP connects with everything. It has AUX ports and other outlets that aid connection to learning apps/ backing tracks etc…
Assembly– Very easy! Less than 30 minutes to put together!
Sound quality/ Key action – Excellent sound quality! Very good GHS weighed key action – would suit the beginner student through to the more advanced player.
Affordable – DDP-300 digital piano is a good price considering the quality you'll get.
VERDICT AND ALTERNATIVES
Donner DDP-300 piano is an excellent choice for piano students or even teachers. If you're looking for a digital piano with a full furniture-style cabinet- this is a bargain for its features and quality.
The Donner DDP-100 is also an excellent choice if you don't need the Bluetooth feature. The DDP-100 also has weighted keys but they are not GHS. The keys still have a very good feel to them and it's perfect for learning. It only has one timbre- which is a nice piano sound. This is actually quite a blessing as it stops students from being distracted by other tones and sounds! It is very similar to the DDP-300 apart from this and excellent value for the quality it offers. The DDP-100 is simply a piano with no bells and whistles. So if that's what you're after, take a look.
If you would prefer to go for a more established, well-known brand, I recommend the Yamaha P71 which you can buy as a stand alone keyboard or with a solid furniture stand.
So if you're doubtful about the Donner brand, take a look at the Yamaha P71 which is Amazon Exclusive. It is actually equivalent to the Yamaha P-45 but because it's Amazon exclusive, it's a few dollars cheaper!
You can't go wrong with a Yamaha. You've peace of mind and you're guaranteed quality.