LAGRIMA Piano Review | A Best Seller In 2021
So I'm guessing you're on the hunt for an affordable digital piano and you came across the Lagrima brand.
This Lagrima piano review will look at their digital piano models and the features they offer. The Lagrima brand has truly taken off and is proving to be a very popular choice.
At first glance, you've probably noticed that they sure look impressive and the features they boast seem to match competitor brands.
Yet, the price tag is considerably lower!
Let's delve in a little deeper and see if these pianos really pass the test.
This Lagrima digital piano review has been updated to show you the latest range of pianos models this brand offers. The company now has several new models with varying features which I talk about in this Lagrima piano review. If you search Lagrima on Amazon, it's quite hard to figure out which model is which. Some even seem to have more than one model number!
I have named each in this post (see the table below), outlined their features, and added a link for each. If you've further questions, however, don't hesitate to contact me and I'll do the best I can to help you.
TOP MODEL Vs CHEAPEST MODEL
If you're in a hurry, our top pick of all their models is the LAG-540/550.. The cheapest model is the LAG-800/O80/090
The cheapest Lagrima digital piano model mentioned above, the LAG-800/080/090 is a fine choice – but it does not include a Bluetooth connection. If you are sure you don't need Bluetooth, this model is beautiful with its flat, square design. The LAG-500 has this design also. Personally, I like this level, flat lid design the best in a digital piano.
If you are sure you need Bluetooth, our top choice, the LAG-540/550 has Bluetooth connection. Read more about Bluetooth below.
LAGRIMA DIGITAL PIANO MODELS (TABLE)
If you look at Lagrima digital pianos on Amazon, it's hard to find the model numbers and distinguish which is which. I've listed them all out on the table below. You'll also see all the main features of all the models listed in the table below (click the little + to the left).
NOTE: Click the plus to the left to see more details on each model.
| Image | Title / Model Name | Price | View more | Features |
| --- | --- | --- | --- | --- |
| Top | LAGRIMA LAG-540/550 | | View on Amazon | 88 GHS keys/ 128 polyphony/ 802 Tones/ 400 Rhythms/ 200 demo songs/ Recording/ MIDI/ BLUETOOTH |
| | LAGRIMA LAG-650 | | View on Amazon | Brown wooden effect/ 88 GHS keys/ 128 polyphony/ 128 Tones/ 100 Rhythms/ 88 Demo songs/ Recording/ MIDI/ BLUETOOTH |
| | LAGRIMA LAG-500 | | View on Amazon | 88 GHS keys / 64 polyphony 960 Tones/ 200 Rhythms / 80 Demo songs / Recording / MIDI / BLUETOOTH NOT INCLUDED |
| | LAGRIMA LAG-060/070 | | View on Amazon | 88 standard keys/ 128 polyphony/ 238 Tones/ 200 Rhythms/ 100 Demo songs/ Recording/ MIDI/ BLUETOOTH NOT INCLUDED |
| | LAGRIMA LAG-800/080/090 | | View on Amazon | 88 Standard keys/ 64 polyphony/ 680 Tones/ 600 Rhythms/ 80 Demo songs/ Recording/ MIDI/ BLUETOOTH NOT INCLUDED |
Prices pulled from the Amazon Product Advertising API on:
LAGRIMA DIGITAL PIANO REVIEW | MAIN FEATURES
Take a look at the features I listed for the models in the table above. You'll see they all have a varying amount of tones/ rhythms and polyphony. If you want to learn more about polyphony on a digital piano, see our post here.
FEATURES INCLUDED ON ALL MODELS
LCD display screen – easily see what feature you have selected
88 keys – this is the same as a standard full-size acoustic piano
Song recorder – listen back to yourself! See how you improve over time!
MIDI connectivity – connect your tablet/computer
Demo songs – listen to how well known songs/pieces should be played
Built-in stereo speakers – good quality stereo sound
Most models are available in black or white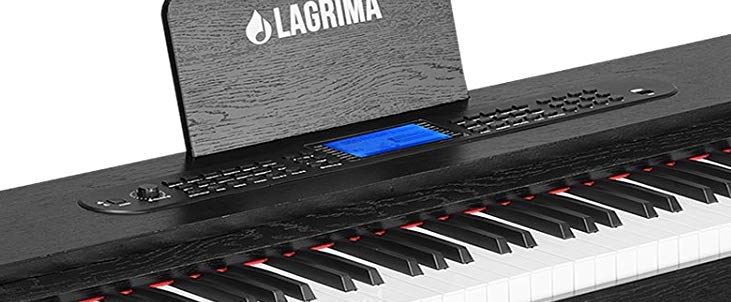 DO YOU NEED BLUETOOTH?
Some models offer Bluetooth and some don't as you can see on the table above. You may be sure you don't need Bluetooth… but you may want it to connect to some music apps.
As for using Bluetooth to connect your wireless headphones, this is not a good idea in general with musical instruments. There is a very slight delay… a delay you would not notice listening to music, but listening to yourself play a musical instrument, you will notice! So stick to wired headphones.
PEDALS | What are the 3 piano pedals for?
The use of the pedal is a skill you need to learn as you progress.

The pedals from left to right are the soft pedal (una corda), the sostenuto pedal, and the sustaining pedal (damper pedal).

If there is only one pedal, it will be the sustaining pedal, which is the one used most frequently.
All these Lagrima models have the 3-pedal board which is good for learners and more advanced players.
The pedals have different functions relating to the texture and dynamics (louds/softs).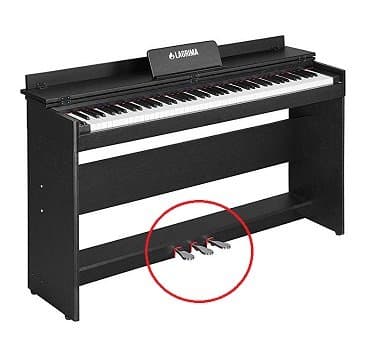 You can see on the image of the piece of music, an example of how the composer would direct the player to use the pedals.
As you progress on your piano journey, you will learn more about the pedals and how to use them as they are marked on music notation.
Having the 3 pedals is a bonus even if you don't need them right now, you may need them later in your piano learning journey.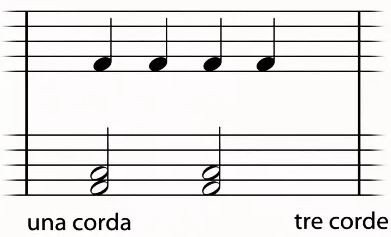 DIGITAL TONES AND RHYTHMS | and what they do
The various tones allow you to change instrument sound – you can make the piano sound like an accordion, strings or even a guitar. For example, the church organ sound is great for practicing Wagner's Bridal Chorus! Listen below.
With the preset rhythms, you can add a beat to your music. This might sound like fun but apart from fun, it can be very good for practicing your time-keeping. There are a huge amount of tones and rhythms on the Lagrima digital piano. For the number of tones and rhythms available on each particular model, scroll up to the table and click the plus on the left.
METRONOME | and using rhythms to practice time-keeping
The tick-tock sound of a traditional metronome is what we used to use to practice our timing and make sure we were playing at the correct tempo.
The Lagrima digital piano, like most digital pianos, features a built-in metronome.
However, with the preset rhythms, for a bit of variety, you could add a rock or samba beat behind your playing and make sure you are playing exactly on time to the beat!
The "old-style" traditional wind-up metronomes are still available and still very popular-I still have my mother's old metronome, if you want a similar one, click the image to view on Amazon.
IS LAGRIMA A GOOD BRAND?
You may wonder 'is Lagrima a good piano brand?'
I'm sure you've heard the expression "you get what you pay for"…. Well in this case, my opinion is that Lagrima produces surprisingly good products for the low price the customer pays. In the last year or so, the brand has updated old and developed new digital piano models. The brand has become a best seller on Amazon.
Lagrima is a Chinese company and the brandd produces a wide range of home furnishings and electronics, including musical instruments. Their products are attractive and inexpensive. But I'm sure you're wondering – does the price reflect the quality?
Lagrima digital pianos are not 'top of the range' in the piano market. They are a cheaper alternative. I guess you knew that though! If you want a top-of-the-range digital piano, consider a Yamaha or a Roland.
Heavy Hammer Action
Lagrima pianos have 'heavy' hammer action – and the company now includes this as part of their marketing! So, what does that mean?

The hammer action keys are meant to have a heaviness comparable to an acoustic piano. Experienced pianists notice that the keys on Lagrima Digital Pianos are slightly heavier than the feel of an acoustic piano.
You need a piano that mimics a 'real' acoustic piano – where the hammers hit the strings and you feel the force of that while you press down on the keys. You will get used to how this feels.
You should not feel a vast difference when you play a piano that is not yours. If you're a beginner and haven't played piano much, you won't notice this.
Assembly
An issue customers used to note was complicated assembly and instructions (or lack thereof!) The Lagrima digital piano manual was not very helpful. However, since the company has upgraded their models, they listened to these issues and the pianos now include an easy to follow set of assembly instructions.
It comes flat-packed and is quite easy to assemble. Watch the 'unboxing video below' – where you'll also hear the rich piano tones of a Lagrima piano.
If you want the model in this video (Isn't the white Lagrima beautiful?) – it's the LAG-900 (ie the white version of the 800)- click the image below.
CONCLUSION | EXCELLENT BEGINNER PIANO
Overall, Lagrima digital pianos are great for the beginner or for someone who wants a good budget piano. They are beautifully designed and as you can hear in the video above, the sound quality of the piano tones are excellent on the Lagrima digital piano.
I am impressed with the new models and how Lagrima listened to and addressed customer issues such as ease of assembly and a better set of assembly instructions. The Lagrima digital piano brand has all the features you'll need to start your piano journey and beyond.