The Ultimate Yamaha P-115 Review: Is It The Piano For You?
Digital pianos are a cost-effective and versatile instrument for pianists that need a portable and affordable way to practice and perform.
These keyboards can cost anywhere from a few hundred dollars to a few thousand.
In this guide, we will explore the Yamaha P-line of digital pianos which are all portable and cost under a thousand dollars. Specifically, we will be focusing on the Yamaha P-115 Digital Piano.
What Is The Yamaha P-115?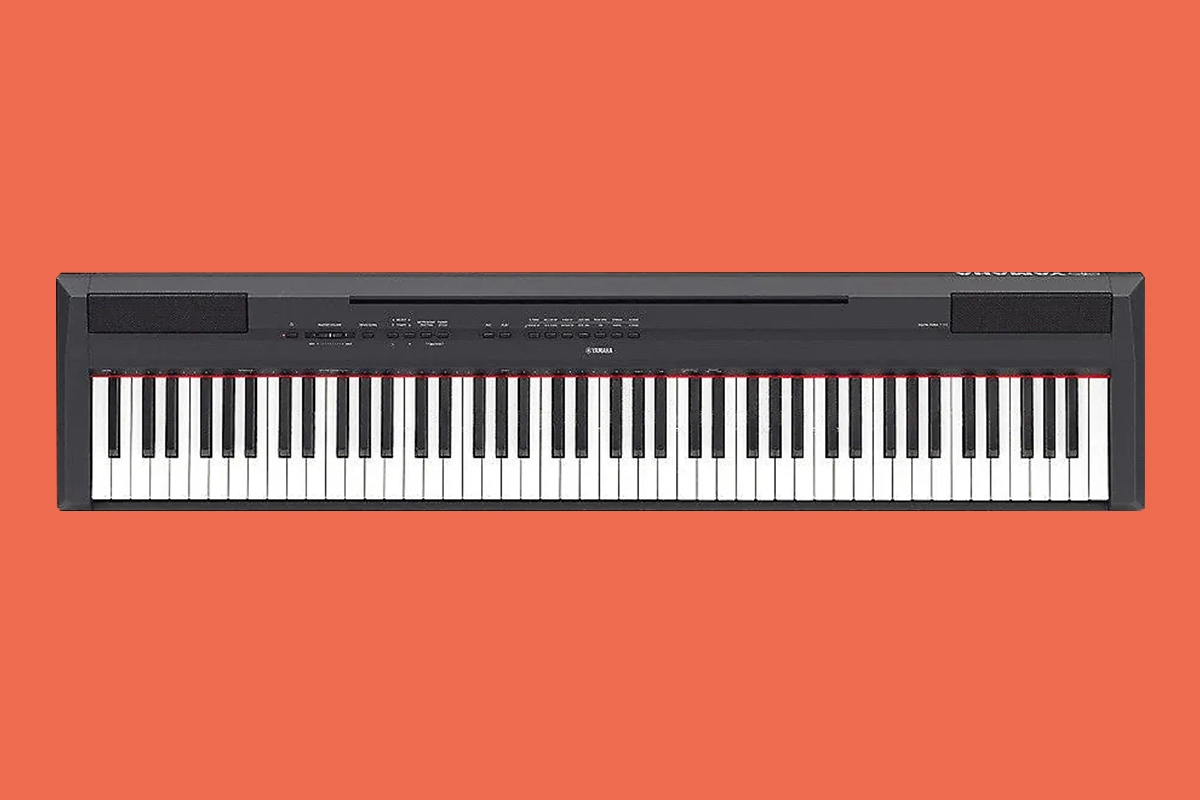 The P-115 is a digital piano in Yamaha's P line of keyboards. These pianos are both portable, and relatively affordable, making them excellent keyboards for players of all different skill levels and needs.
Yamaha has recently replaced the P-115 with the extremely similar P-125, meaning the P-115 is discontinued by the manufacturer. The P-125 has made a few minor upgrades, but is largely the same keyboard.
That said, the P-115 is an amazing product that has its own advantages over the newer P-125. This article will cover why you should absolutely consider purchasing this keyboard. It's a lightweight, portable digital piano with good built-in speakers and quality sound technology that can be found at very affordable prices.
Key Specs
| | |
| --- | --- |
| Keys: | 88, fully weighted (Graded hammer action) |
| Built-in Speakers: | Yes |
| Outputs: | 2 ¼" out, USB MIDI |
| Preset Voices: | 14 |
| Dual Voice: | Yes |
| LED Screen: | No |
| Accessories: | Music rest, pedal |
| Dimensions: | 52.25 in x 11.5 in x 6.25 in (1327.15 mm x 292.1 mm x 158.75 mm) |
| Weight: | 26 lb (11.8 kg) |
Yamama P-115 Sound Quality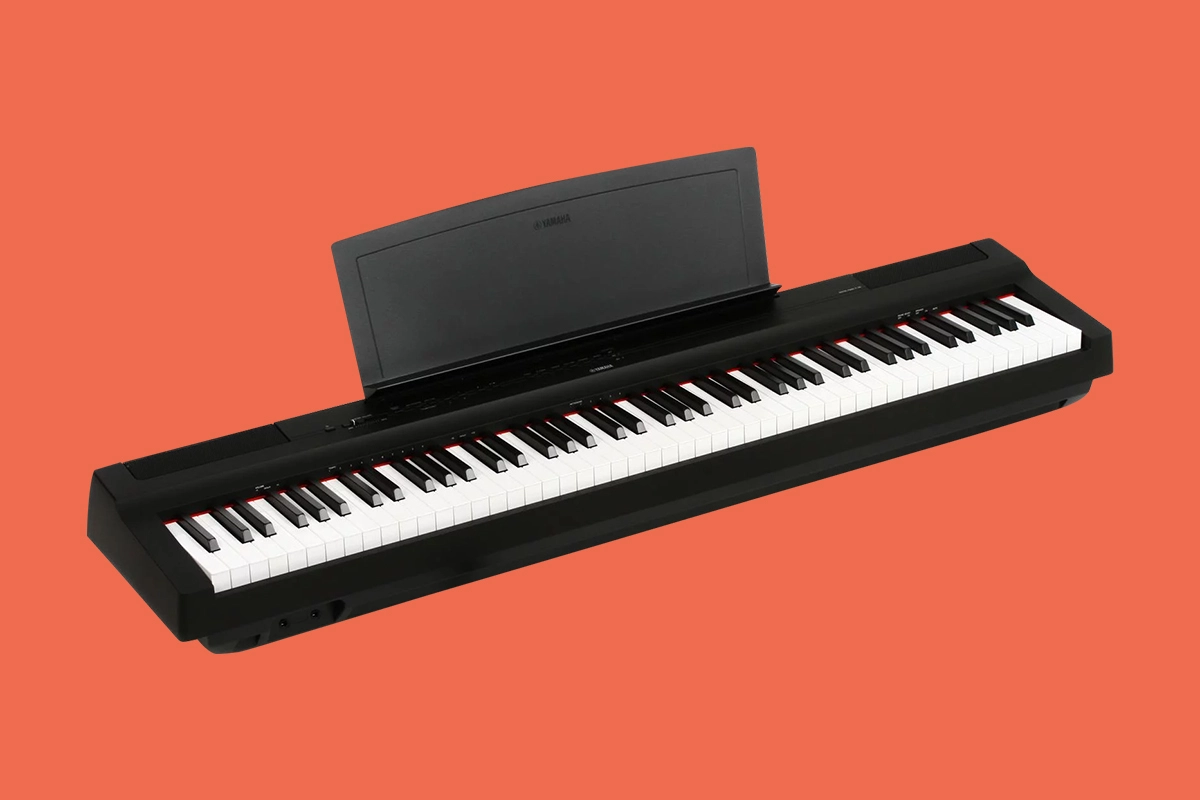 One of the P-115's strongest attributes is its sound quality. Although this is a digital keyboard, it still should be able to closely replicate that of a "real" piano. Yamaha is known for having an exceptionally great tone to its pianos, with a very realistic sound. This is especially impressive considering the P-series of Yamaha keyboards all cost under a thousand dollars.
The sound bank of preset voices may be relatively small at fourteen, but this includes grand pianos, electric pianos, organs, keyboards, and a few other acoustic instruments. Here is a list of all the sounds:
Grand Piano
Bright Grand
Mellow Grand
DX Electric Piano
Stage Electric Piano
Vintage Electric Piano
Jazz Organ
Pipe Organ
Rock Organ
Vibraphone
Strings
Harpsichord
Wood Bass (Upright Bass)
Electric Bass
The Grand Piano preset is sampled from Yamaha's CFIIIS concert grand and sounds excellent and natural. The P-115 also contains an Intelligent Acoustic Control EQ which automatically adjusts your volume so your tone is perfect at any level.
The keys are weighted with graded hammer action, meaning they feel just like the keys on an acoustic piano. They also are extremely responsive to the power of your playing, meaning that a soft press on a key will produce a quieter note, while playing hard will of course sound louder.
The P-115 does this with impressive sensitivity and accuracy, further mimicking a grand piano.
Here's a video of the P-115's sound quality in action:
Yamaha P-115 Features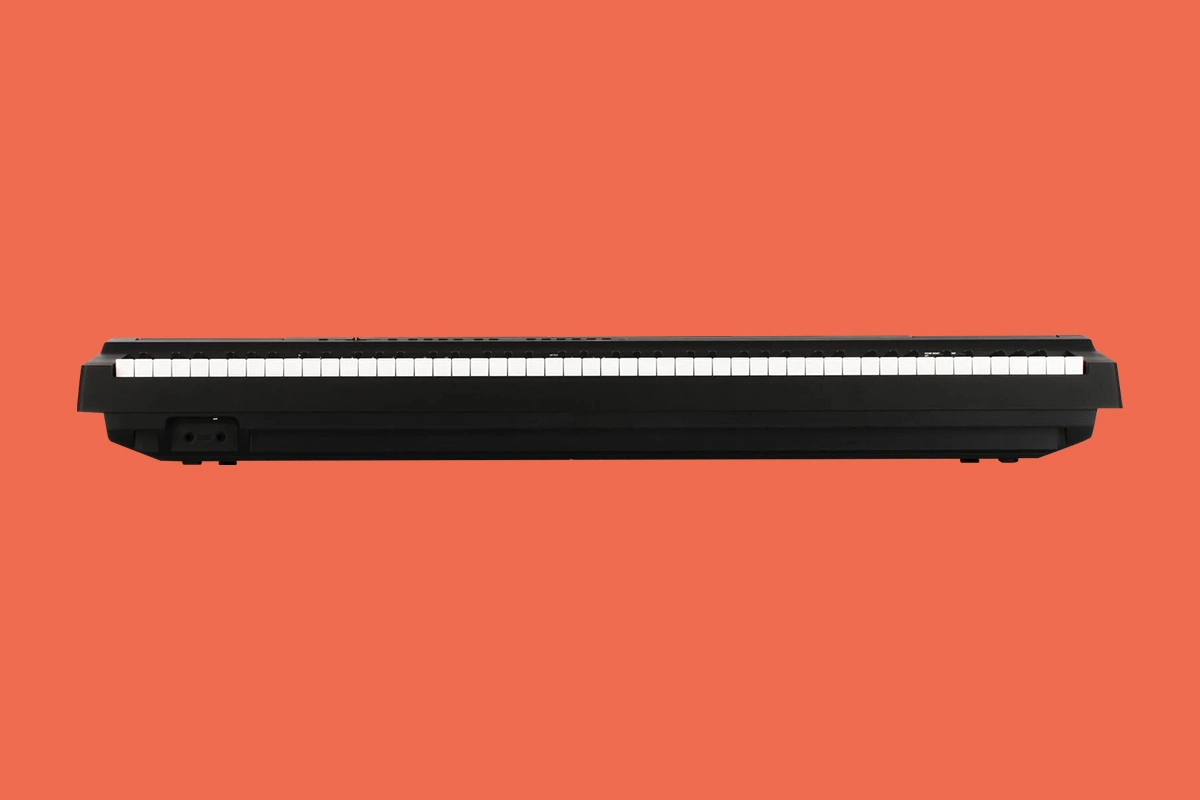 One of the many great features on the P-115 is its Dual Voice technology.
By simply pressing the button, you can layer two sounds on top of each other. This means you are able to play both piano and strings at the same time, creating an interesting effect/tone.
It also has fourteen rhythmic drum songs to play along and practice to. You can do this via its two headphone jacks or play out loud through the built-in speakers.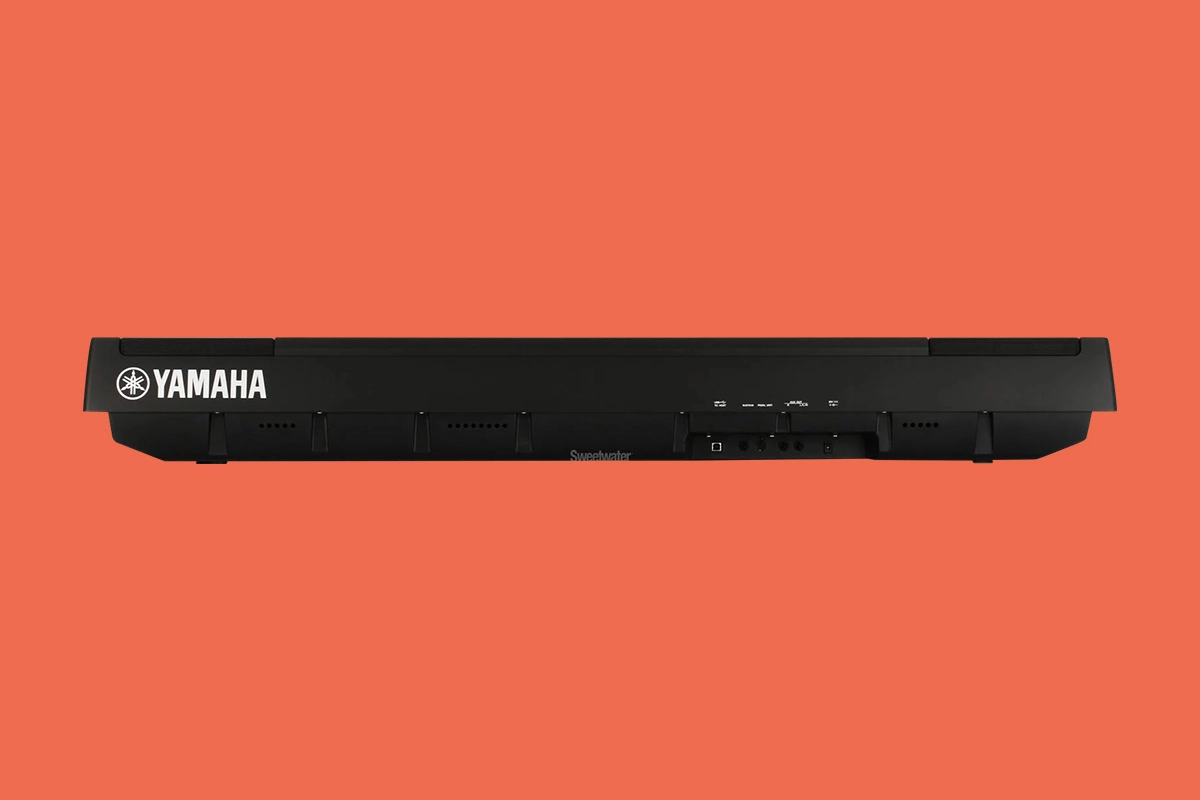 Similarly, there is a digital duet partner that plays in ten different piano styles to accompany you as you play. There are two stereo speakers that sound great and plenty loud enough for individual work, but if you are playing with others or performing then you should definitely connect it to a PA system or an amplifier.
The P-115 has two ¼" outputs that can be used for headphones, speakers, or an amplifier. It also contains a MIDI USB out that can connect to a computer or iOS device. Accessory-wise, it comes with a music rest and a sustain pedal, as well as a wall unit power supply.
Pros:

Quality sound capabilities, the grand piano sampling is excellent as is the weighted keys and volume sensitivity
Comes with a sustain pedal and a music stand
Not extremely expensive, depending on the seller you can find one from $300-600
Capable of connecting to a computer or iOS device via MIDI USB
Dual Voice technology for layering two different sound voicings
Songs and piano accompaniments to play with

Cons:

No built-in LED screen
The Yamaha P-115 is discontinued, so you can only buy it new if its preserved via a third party dealer, or else it must be bought used
The built-in speakers aren't quite as good as newer P-series models
Since it is discontinued, there is no manufacturer's warranty
Relatively small bank of sound voices and learning tools compared to other keyboard options
Yamaha P-115 Vs. P-125: What Happened To The Yamaha P-115?


In 2018, Yamaha discontinued the P-115 in favor of its updated version, the P-125. The P-125 is extremely similar visually, as well as technically. Unlike the P-115, the P-125 can be purchased new from Yamaha directly or from a music retailer like Sweetwater.
The P-125 is identical to the P-115 in many ways, but it does have a few slight improvements.
The main downside, however, is the price. The going rate for a new P-125 is $699.99. While there is always minor risk with buying a used instrument, you can find a P-115 in great condition for up to hundreds of dollars less than that.
How Is The P-125 Better?
Although both models use the same Yamaha sound engine, the newer P-125 has more options on the software side. The sound bank comes with 24 preset voices compared to the P-115's 14 voices. It also has 21 demo songs to play along with versus the P-115's 14 demo songs.
The other main improvement Yamaha made with the P-125 deals with the speakers. A complaint many reviewers had about the P-115 is that its stereo speakers simply weren't loud enough. The P-125 upgraded their speakers, and the result is a digital piano that will fill the room much better when using its built-in speakers.
What Do They Both Still Have in Common?
Despite improving the built-in speakers, the P-125 didn't address many of the other disadvantages of the P-115.
For instance, both keyboards are incompatible with Bluetooth and don't have a dedicated MIDI out port. Also, minor as it is, both keyboards include sustain pedals that aren't the best in terms of quality and can break easily.
Both keyboards also have a small bank of preset playing voices with 14 and 24 respectively. Many other keyboards have dozens or hundreds of sounds, and though quality is better than quantity, more voice options would certainly be appreciated.
Another common complaint is the lack of an LED screen or type of interface on the instrument. This can be bypassed by connecting a device to the USB port and using controls that way, but this can be an annoying extra step and also requires application setup on whatever device you are using.
Key Specs For Both:
| | | |
| --- | --- | --- |
| | Yamaha P-115 | Yamaha P-125 |
| Keys: | 88, weighted graded hammer action | 88, weighted graded hammer action |
| Speakers: | Stereo | Improved Stereo Speakers |
| Outputs: | 2 x ¼", USB | 2 x ¼", USB |
| Preset Voices: | 14 | 24 |
| Practice Demos: | 14 demos, 50 piano songs | 21 demos, 50 piano songs |
| Bluetooth: | No | No |
| Screen/Interface: | No | No |
| Dimensions: | 52.25 in x 11.5 in x 6.25 in (1327.15 mm x 292.1 mm x 158.75 mm) | 52.19 in x 11.63 in x 6.56 in (1325.63 mm x 295.4 mm x 166.62) |
| Weight: | 26 lb (11.8 kg) | 26 lb (11.8 kg) |
What Alternatives Are There To The P-115 And P-125?
Casio CDPS160 Compact Digital Piano
The CDPS160 is a very nice digital piano that Casio makes. It is rather similar to our Yamaha keyboards in that it also has no LCD screen or an abundance of sound voicings, but it makes up for it with quality weighted keys and well-sampled piano sounds.
This keyboard also has ¼" outs and a MIDI/USB out as well. It has strong built-in speakers and on board reverb and chorus effects. It also is slightly cheaper than the P-125 and is comparable to many P-115s price-wise on the market.
Key Specs
| | |
| --- | --- |
| Keys: | 88, fully weighted (Graded hammer action) |
| Built-in Speakers: | Yes |
| Outputs: | ⅛" out, USB MIDI |
| Preset Voices: | 10 |
| Dual Voice: | Yes |
| LED Screen: | No |
| Accessories: | Music rest, pedal |
| Dimensions: | 52.08 in x 9.12 in x 3.87 in (1322.83 mm x 231.65 mm x 98.3 mm) |
| Weight: | 23.1 lb (10.48 kg) |
Alesis Prestige Artist 88-Key Digital Piano
The Alesis Prestige is another well-known and successful digital piano. It has excellent built-in speakers, onboard reverb and an arpeggiator to add flair to your music. It has stellar weighted keys with graded hammer action as well.
Additionally, the Alesis Prestige also has a bank of thirty sounds, double that of the P-115 and six more than the P-125. The Prestige is also in the same price range as the Casio keyboard, making it a rather affordable option to consider.
Key Specs
| | |
| --- | --- |
| Keys: | 88, fully weighted (Graded hammer action) |
| Built-in Speakers: | Yes |
| Outputs: | 2 x ¼" out, USB MIDI |
| Preset Voices: | 30 |
| Dual Voice: | Yes |
| LED Screen: | Yes |
| Accessories: | Music rest, pedal |
| Dimensions: | 52.08 in x 11.7 in x 5.88 in (1322.83 mm x 297.18 mm x 149.35 mm) |
| Weight: | 28.21 lb (12.8 kg) |
Kawai ES110 88-Key Digital Piano With Speakers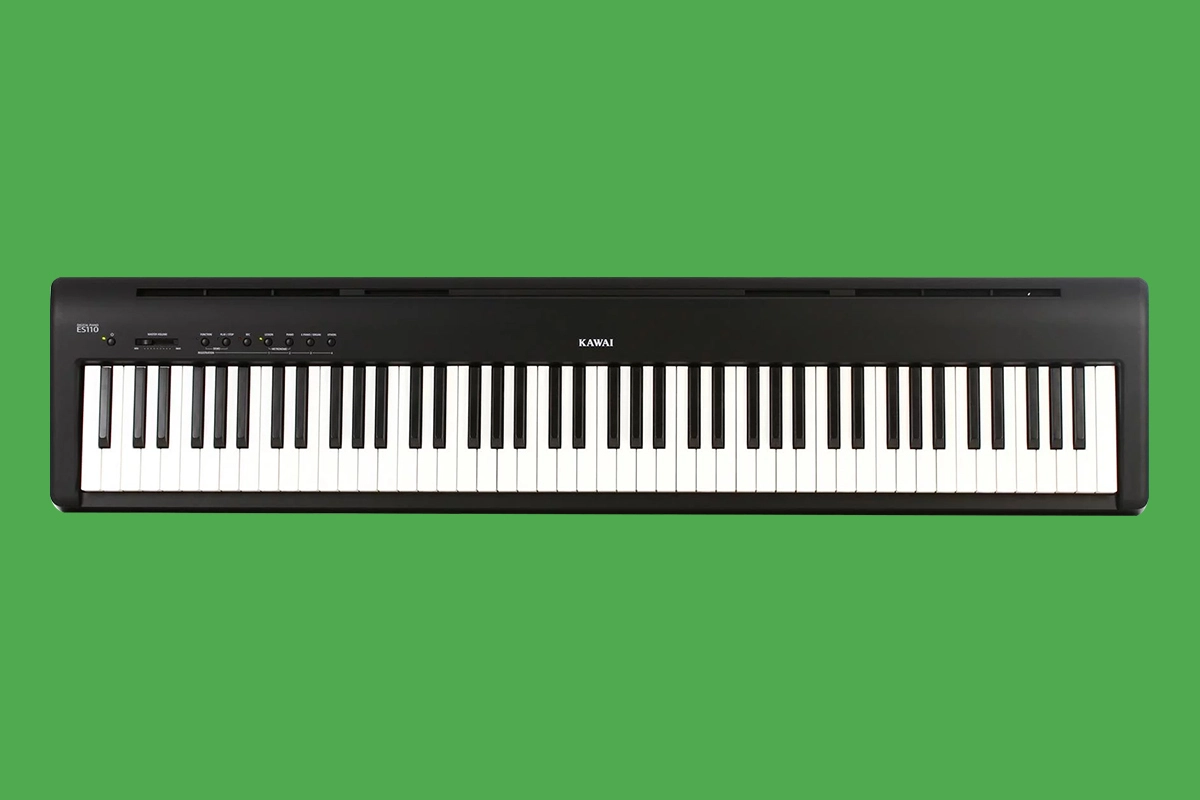 The ES110 keyboard by Kawai is definitely a step up in quality from the Casio and Alesis models. It is also a step up in price, costing the same amount as a brand new Yamaha P-125. This Kawai product uses their Harmonic Imaging sound technology so that their 19 voices (8 piano) sound incredible.
The ES110 also has dedicated MIDI in/outs as well as Bluetooth capability. It also has adjustable reverb presets which include room, small hall and concert hall settings. It even comes with built-in piano lesson tracks.
Key Specs
| | |
| --- | --- |
| Keys: | 88, fully weighted (Graded hammer action) |
| Built-in Speakers: | Yes |
| Outputs: | 2 x ¼" out, MIDI In/Out, Bluetooth |
| Preset Voices: | 19 |
| Dual Voice: | Yes |
| LED Screen: | No |
| Accessories: | Pedal |
| Dimensions: | 51.6 in x 11.3 in x 5.75 in (1310.64 mm x 287.02 mm x 146.05 mm) |
| Weight: | 26.5 lb (12.02 kg) |
Bottom Line: Should You Buy a Yamaha P-115?
The Yamaha P-115 is a great piano that is comparable to many other models in its price range. Although it has been discontinued and replaced by the P-125, the P-115 does have plenty to offer on its own. It is a piano perfect for beginning to intermediate players who want a quality, portable keyboard to practice or gig with.
If you find one in great condition for a good price, then you will not be disappointed. Or, if you already own one and it works perfectly, then keep it and save your money. The P-125 and other similar options aren't enough of an upgrade to warrant spending $500-700.
However, if you are unable to find a used P-115 for an enticing price, or you simply prefer to buy new keyboards, then going for the Yamaha P-125 is more likely the better option for you. The Casio, Alesis, and Kawai keyboards are also wonderful products for you to consider as well.
Frequently Asked Questions
Is there any support for the Yamaha P-115 now that it is discontinued?
No, unfortunately since the product was discontinued there is no manufacturer's warranty or support for the P-115.
However, that shouldn't stop you from getting one. Music stores and repair shops exist all over and can help you with any issues/breaks with your keyboard.
Do you need a large bank of sounds for a good digital piano?
A sound bank is something that varies per keyboard, but many digital pianos only have a few dozen voices.
This tends to happen because there is more of an emphasis with these instruments on piano playing rather than sound creation. An arranger keyboard will have hundreds of sounds, but rarely will have weighted keys and other acoustic piano mimicry a keyboard like the P-115 has.
How important are built-in speakers on a digital piano?
Stereo speakers are nice to have, and many digital pianos do, but not all of them.
Every keyboard on this list has them, but some of the more expensive stage pianos may not. Built-in speakers are great, but shouldn't be a dealbreaker when you could easily plug in headphones or connect the keyboard to an amplifier.
Should I buy my own sustain/damper pedal?
Most digital pianos in this price range will come with a sustain pedal. They are typically fine, but can be flimsy and break down quickly.
If you are practicing for grand piano playing, then it may be in your best interest to buy a three-pedal unit for the sake of replicating a concert grand.