Casio CTX 700 Review | 61-key portable keyboard
If you are a piano aficionado or love playing one, but the inconvenience of lugging around a piano is too much, a portable keyboard would be the perfect answer for you. Bringing you the best of both worlds, a portable keyboard is not too big and not too small and can provide you with the same authentic piano sound that you would find in any traditional piano. Understanding the needs and evolving tastes of the market, Casio introduced the CT-X700 61-Key Portable Keyboard Promising on the extensive terms sure to meet the varied needs of any aspiring pianist, this digital keyboard offers a wide range of features that will certainly exceed your expectations. To give you a better insight, this Casio CTX 700 review discusses the features that make this keyboard stand out among the crowd.
Casio CTX 700 Review – What Makes It An Awesome Digital Keyboard?
Digital pianos, with their superior sound and tonal accuracy, are a big hit among players. They enrich your skill while they provide the perfect answer to portable music and playing on the go. However, Casio isn't the only one that has made an appearance on the digital piano market. With so many brands to choose from, it becomes necessary to do some research and then select the perfect companion that you can play, enjoy, and master. Unlike the majority of digital pianos in the market, Casio CTX700 boasts impressive specs that would help you envision your journey towards professional music. Here are the detailed specs that make it an awesome keyboard.

61 full-size touch-responsive keys
600 tones, 195 rhythms
Class-compliant USB-MIDI
1/4″ headphone out
Includes AC adapter (or 6XAA batteries, sold separately)
1. Design
What truly makes this piano stand out is the compact design that makes it ideal for travel or home use. At just 4.3KG, it is among the lightest and most compact keyboard in the market today. It is a 61-key keyboard that features a full-size key action for the authentic touch and feel of playing an acoustic piano. The key weight and a full-size key top make it easier to play any music you want with ease. While the ultra-lightweight design makes it highly portable, it does not compromise on the build quality. And with a Japan-made frame and chassis, it is no wonder that this piano will give you years of trouble-free performance. The sturdy plastic panels and material used in the construction of this keyboard are not only durable but also designed to give your keyboard an aesthetic appeal. The beautiful black finish further adds to the looks and design of this keyboard.
2. Keys
Keys are the most important part of any keyboard as they are responsible for your playability and comfort. This keyboard is built with 61 keys that feature weighted action. The full-size keytops and full-weight action of the keys are designed to provide you with the authentic feeling and performance of a traditional piano. The full-size key tops are also designed to allow you to hit them at any angle without fear of missing or hitting them wrongly. This ultimately leads to the best possible touch and performance while also making it easier for you to master different musical genres with ease. The pressure required to press the keys is just perfect, making it easier for you to play effortlessly. Overall while playing this portable piano keyboard, you will find yourself completely immersed in music while at the same time experiencing the comfort of playing a professional piano. Originally this keyboard is meant for individuals wanting to appear for Musical Grade Exams. So, you can imagine the perfection of its design and workmanship.
3. Speaker
Boasting a 2.5W + 2.5W dual speaker system, this keyboard has the capability to provide you with crystal clear sound with impressive tonal quality. The high-quality speakers are perfect for easy and professional performance, and their small size ensures portability. Furthermore, the integrated amplification and tone production of the piano ensures that you get a proper balance and quality of sound. The piano sound is loud enough to fill the entire room and will definitely take your performance to the next level.
4. Effects
With well over 100 distinct types of arpeggios, 600 professionally crafted tones, and 195 rhythms, this piano ensures that every player has access to the best quality of music. Further backed by AiX Sound Source, this piano offers you studio-quality sounds that are both realistic and precise. And with DSP well integrated within the piano, the user is provided with the freedom to manipulate the sound as per his or her requirements.
5. Polyphony:
This keyboard offers you 48-note polyphony and MIDI IN/OUT connectivity. It allows you to play your favorite tunes at the same time using other instruments and devices. What's more, this piano uses intelligent LSI sampling and note-weighted hammer actions to deliver the best of the piano sounds.
6. Rhythm Controller:
When you need to take your creative genius to the next level, you would want the best rhythm controller. This keyboard offers you the best rhythm controller as it is equipped with a large range of rhythm styles. It gives you a huge variety of rhythm patterns to choose from, making it the perfect accompaniment for all your musical performances. With standard start and stop functions, this controller offers you the freedom to choose your favorite rhythms and at the same time make the selection of each rhythm as per your style and taste. Further offering you the ability to create and store your rhythm patterns, this rhythm controller is a must-have for any performer.
7. Connectivity:
Understanding the needs of modern-day musicians, this keyboard offers you the best connectivity options. It has a USB output that allows you to easily connect it to your computer and import/export songs. This keyboard also allows you to connect it to Android and iOS without needing any additional drivers or software. Once connected, you can use any free/premium professional music app like GarageBand, etc., to play and record your own music.
8. 6 Track Song Recorder:
Recording and playing music is the passion of every musician, and this portable keyboard is designed to make it easier for you to play and enjoy your favorite music. Boasting a 6-track song recorder, this digital piano comes with a number of features that will make it easier for you to produce and share your music. It allows you to record, store, and play music with its 6 track and 5 song recorder. Additionally, you can also record via your PC or Mac by using the USB output connectors. Overall, a perfect tool for capturing those musical ideas and sharing them with the world.
Have a look at the video below from Sam Ash Music where you can see the features, hear the various tones and the sound quality of the Casio CTX700.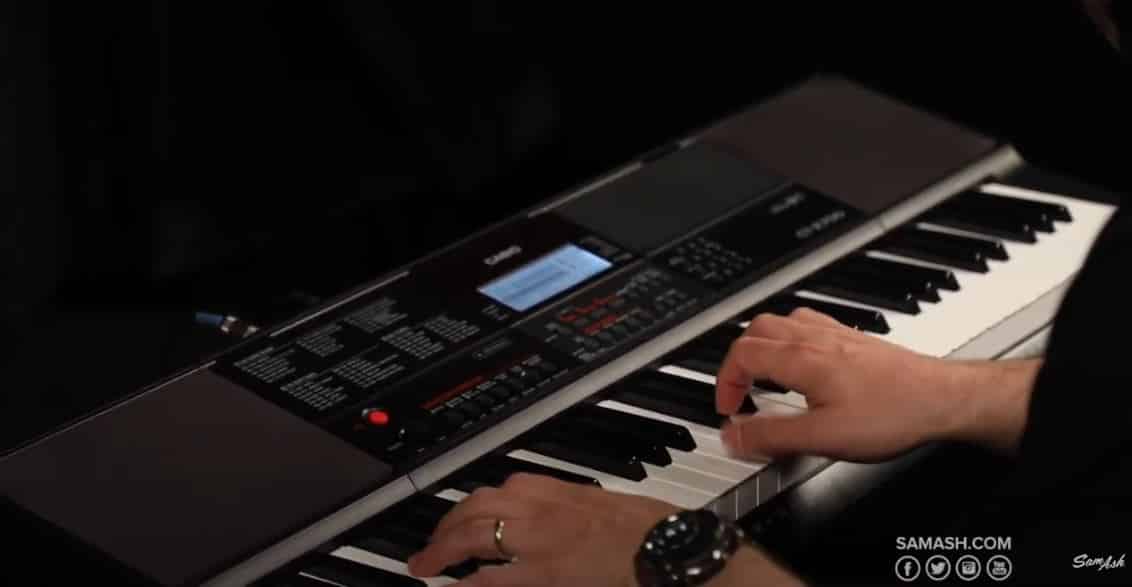 Conclusion:
The CTX700 is undoubtedly one of the best compact keyboards that you can find in the market today. Well-crafted and extremely easy to use, this keyboard can make an ideal companion for every aspiring musician and performer. The built-in speakers, advanced effects, and wide range of connectivity options that this keyboard offers further make it the perfect instrument for both learning and performing. Overall, if you are looking for the perfect keyboard that you can use in your day-to-day life or in your music performance, then this keyboard is unarguably the best option for you.
You can also get a package that includes a stand, a piano stool, a sustain pedal and more. See below.

61 full-size touch-responsive keys
600 tones, 195 rhythms
Class-compliant USB-MIDI
1/4″ headphone out
Includes AC adapter (or 6XAA batteries, sold separately)