Playground sessions Vs Flowkey- Which teaches piano best?
Trying to decide between Playground Sessions and Flowkey?
Let's compare these two online piano courses and see which one has the features that suit you and your learning style most in our playground sessions vs flowkey showdown.
These online piano lessons suit complete beginners or those who are at an intermediate or advanced level – they can be used alone or alongside traditional piano lessons.
Both of these piano learning apps have a different approach to learning piano online. They both have their benefits but you have to decide which one appeals to you more. Let's take a look at their teaching methods!
Overview and how they work
Playground sessions overview
Do you like a challenge? Playground sessions, as the name suggests, teaches piano like a game. For each playground session you do, the notes light up green or red, depending on your accuracy, and at the end of the piece, you are given a score. As you progress, you earn points to advance to the next level.
You are given 5 song credits every month. You can also earn stars to get song credits. Don't worry about being short of songs to play however, the Bootcamp and Courses sections are full of songs that you will learn along the way.
Playground sessions: Sample video lesson
Flowkey overview
The "flowkey" brand name is always written with a lowercase "f". Their slogan is: flowkey – learn piano with the songs you love. This is truly how they designed their app to teach piano. There are some basic lessons to learn the notes for the complete beginner, but, from there you start playing songs, working your way up the levels. You learn and progress through playing songs.
In song mode, you learn with smart features such as 'wait mode' where the app waits for you to hit the right note before moving the sheet music on. (More on these features below.)
Flowkey: Overview
Playground sessions vs flowkey: The platforms and how they work
Playground Sessions:
Across the top, you have a menu.
MY PLAYGROUND: This section shows your Level, Progress and Badges earned. The Progress section shows a graph of your progress and also a list of the Bootcamp lessons and songs you've worked on.
BOOTCAMP: This section shows a series of lessons for Rookie, Intermediate and Advanced.
Within each section, there are a numbered series of sessions to complete in order. Some are video piano lessons where you learn music theory or a new skill. Then you practice these new skills with pieces or popular songs where you compete with the app for note accuracy and correct timing to get a good score each time. This is where it's like a game!
The sheet music is shown and the notes light up green when you get the note correct and red if you get it wrong. You challenge yourself each time and it's a great feeling when you improve. It's fun! Make sure to do them in order and don't skip!
COURSES: This section shows a number of challenges for the various levels. There are step-by-step courses on scales, chords or complete pieces. For example, there are a series of lessons to learn Beethoven's Fur Elise section by section.
MY SONGS/SONG STORE: On Playground Sessions, you get songs in the song store with your credits. You are given 5 credits each month although you can earn more if you build up more points. If you want extra songs, you can purchase them but there is normally no need as you have plenty to go on with in Bootcamp and Courses.
Flowkey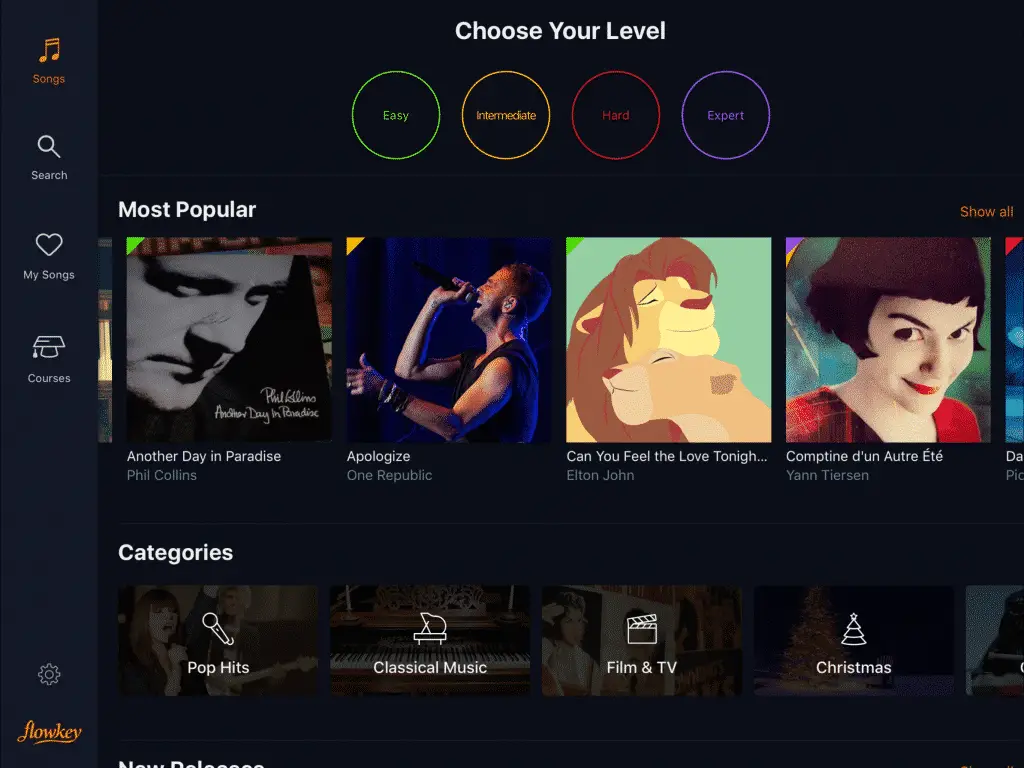 Flowkey has a menu down the left-hand side.
All Songs: In here you'll see a library of all the songs available- over 1500 from popular songs to classical pieces. They're color-coded for each level
Green is Beginner
Yellow is Intermediate
Red is Advanced
Purple is Pro
Search: In this section, you can search for a specific song or piece to learn
My Songs: This is where you store the songs you're working on. You can also store your favorites here.
When you choose a song in flowkey, you learn as you play. There is a visual of a keyboard that lights up the keys to show you the notes as you play along. The sheet music moves along note by note as you play when in wait mode.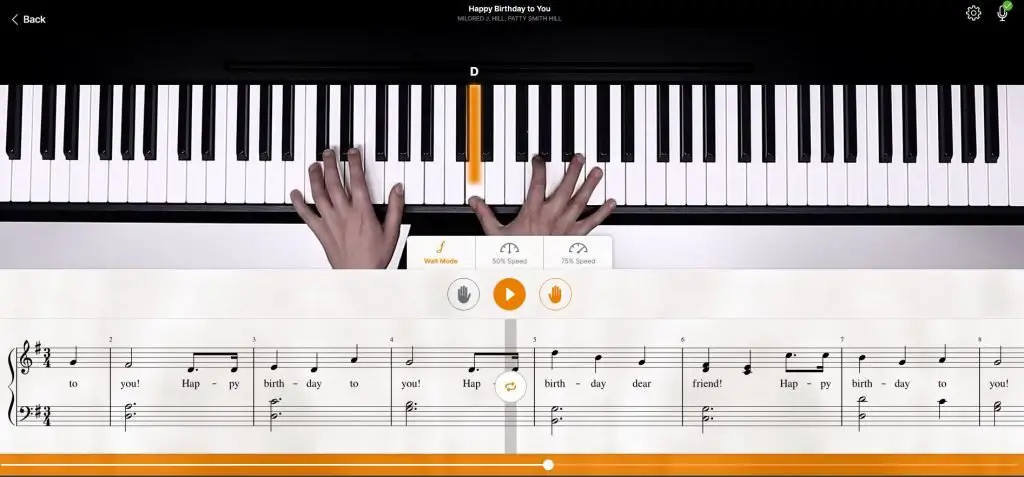 Features – Learning by playing songs in flowkey
Loop– play a section you'd like to learn over and over until you master it!
Hands – You can practice one hand at a time and then put both together
Wait mode – the music waits for you to play the right note before moving on
Speed -You can slow down the speed of the piece
Courses: In the courses section there are blocks of lessons where you watch a video tutorial on a particular topic to progress your piano skills and music theory.
Flowkey monitors your progress here by %. It displays a % on each section you complete. It doesn't give you an overall progress report, however on your level. It's up to you to make sure you work on each level step by step and then choose songs that fit your level.
Connectivity
One of the great features of flowkey is that you don't have to connect your keyboard or digital piano by cable. The mic on your device picks up the sound and recognizes the notes you're playing. You can also connect by midi if you prefer.
With playground sessions, you have to connect your keyboard or piano by cable or you can use a midi keyboard. See here for instructions on how to connect. Don't let this put you off playground Sessions, however. (If you think you'd prefer a game-like platform, you may love it and it'll be worth connecting that cable!)
What devices work with flowkey?
The following devices are compatible with flowkey:
Computers and laptops (PCs, Macs, and Chromebooks/Pixelbooks)
iPads (from 2013 on) with at least iOS 14
iPhones (from 2014 on) with at least iOS 14
Android smartphones with Android 7 (The device also needs to have "USB host" support)
Android tablets with Android 7 (The device also needs to have "USB host" support)
Windows tablets with at least Edge browser 80 or with the latest Chrome browser
Please note: Amazon Fire tablets are not supported.
What devices work with Playground Sessions?
Computers and laptops (PCs, Macs)
iOS (iphone or ipad) … no android but plans to release it in the future!
How much does each app cost, and what do you get for your money?
Playground Sessions costs $14.99/month or $99.99/year.
Flowkey offers a free basic account. You can try their free version of the app for as long as you want. In this version, you have access to 8 free songs and some of their course exercises. All functions of the app are available.
Flowkey premium offers a monthly subscription of $19.95 or $119.88/year which works out at $9.99/month.
They both also offer lifetime plans.
Both apps offer a free trial, so you can try out the features before deciding which one is for you.
*Note: If you want to try flowkey premium for 7 days, you must sign up for the yearly plan with your payment details. They will send you a reminder before the trial ends and if you don't want to continue, you cancel, otherwise, you'll be charged. So here's my advice. If you're not sure, you might be best to try the free version and then pay one month to try it out if you want to try Premium. Yes, it'll cost you a month's subscription but if you're sure you're keeping it up then – sign up for the year and save from there!
Take a look at our post "Is flowkey worth it" here
Can I "self-teach" myself to play piano from Playground Sessions or flowkey without actually going to professional lessons?
Going to a professional piano tutor is great, they can check your progress lesson by lesson and make sure that you are building up good habits, like using the right posture and hand positions.
However, one-to-one lessons are expensive and with so many tutorials and platforms to self-teach available online, nowadays, many of us opt to learn new skills by ourselves.
You may read some articles saying that you can't learn alone from online piano lessons- you need to go to a teacher too. I don't agree with this.
There is no wrong way to learn piano– it's all about finding what works best for you and your schedule. Just make sure to do the introductory lessons on whatever app you choose such as learning to sit correctly at the piano and how to hold your hands and bend your fingers to play the notes. (My tip for hand position is to imagine you are holding an apple – the tips of your fingers should point down onto the notes.)
It is important that you are building good habits from the start, so follow the learning plan on the app. You choose and learn the songs that are at the level you are really able for. It is designed to guide you on your learning journey so make use of it.
When learning like this, you are often tempted to skip ahead, thinking you know the basics and jumping forward will make you progress faster.
Did you ever find yourself doing this only to realize you need to go back to find a part in a basic lesson you missed out on?
Make sure to follow the lessons one by one and build your progress slowly but surely without skipping to a level that's way beyond your ability. By doing this, you may skip lessons with important techniques and music theory that you'll need as you progress.
What matters most is that you keep practicing and make progress. Soon, you'll be playing the songs you love!
What are some of the advantages and disadvantages of learning a skill online?
One advantage of learning a skill online is that you can learn at your own pace. You can pause and rewind videos as often as you need to and until you feel comfortable with the material. You can repeat a video lesson whenever you want!
Another advantage of learning online is that it is usually more affordable than taking traditional piano lessons from a professional.
A disadvantage of learning a skill online is that you don't have anyone to give you feedback or help you correct your mistakes. You also don't have the opportunity to ask questions in real-time. (I'm here, however, if you need me!)
Overall, learning a skill online has its advantages and disadvantages. It is important to weigh up these factors when deciding whether or not this is the right learning method for you. Have you got the discipline to learn a little every day? (Little and often is better than leaving a long break between sessions with piano.)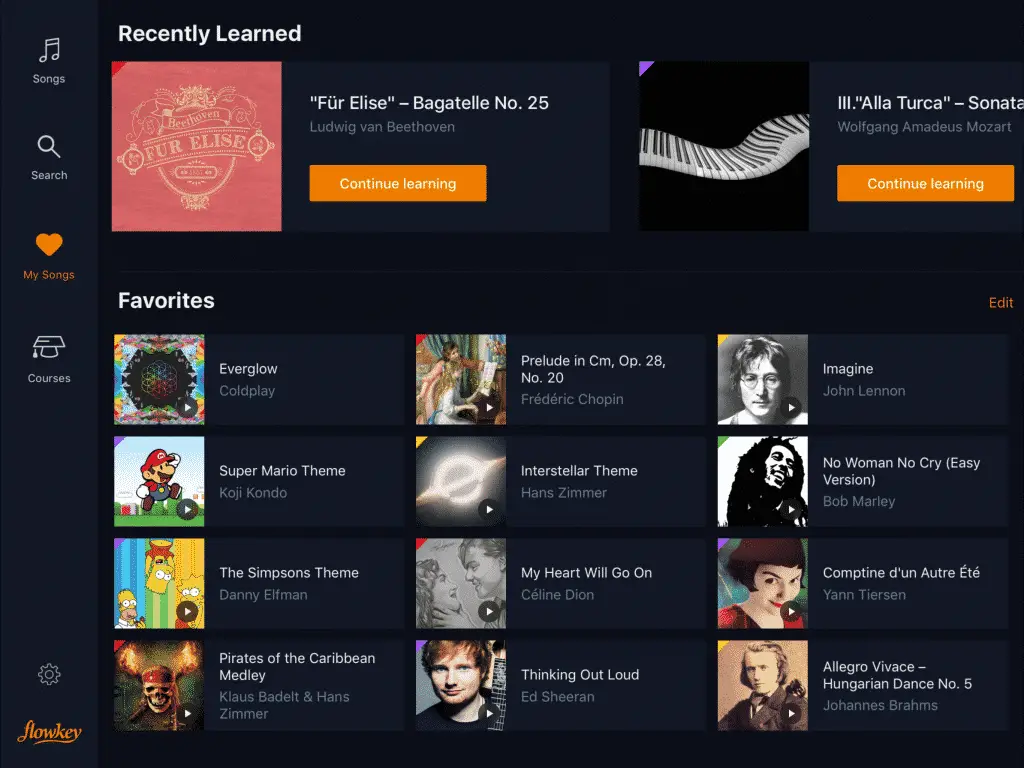 Showdown! Playground sessions vs flowkey
Conclusion
Now, after reading all that, you'd think I'd be pushing you towards flowkey. But I'm not!
Personally, after trying both, if I had to choose a piano learning app, I would find it hard to settle on one of these as a beginner or intermediate pianist.
When I tried Playground sessions at first, I was not very enthusiastic. However, after doing a few rounds of the lessons in Bootcamp I found myself getting hooked! I like the game aspect of Playground sessions, yet I like the cleaner structured user interface on flowkey.
So why not make a decision now and sign up for one or both trials and give them a go for free – it's only after trying them that you'll know which style of learning is best for you. We all learn differently and in this way, you need to make the break and go for it to see which one you like- try them – both have a trial. If you don't like them, you don't have to pay a cent- nothing lost!
With playground sessions and flowkey, you can learn to play the piano in the comfort of your own home, at your own pace, and at any time. If you can't sleep, you can even get out of bed, put on your headphones, and do a lesson in your pajamas!
So let me know in the comments what you think sounds best to you in this Playground sessions vs flowkey challenge. When you sign up and have a go, I'd love to hear how you get on. Happy piano playing!