Roland FP30 vs Yamaha P45
UPDATE: JANUARY 2022
The Roland FP30 has been discontinued. However, there is a newer model – the Roland FP-30X. It is an upgrade and the main updates are that the FP-30X has more polyphony, more presets, and greater Bluetooth capabilities. You may still find the Roland FP-30 for sale but it is difficult to find at this stage. To this end, any links in this article have been updated to view the Roland FP-30X.
When it comes to the electric piano, there are a few models that have garnered the popularity and accolades to be known as true industry standards. These models are the Yamaha P45 and the Roland FP30.
Although they are both formidable pianos, each offers a different approach to music-making, with its own unique set of features and design considerations. In this Roland FP30 vs Yamaha P45 comparison, we take a look at some of the key differences between these two models, as well as the benefits and drawbacks that come with each. With this in mind, we help you make an informed decision that will maximize your enjoyment of your electric piano purchase.
Roland FP30 vs Yamaha P45 Comparison
Making an informed decision on what type of piano to buy is no easy feat. With hundreds of different brands, models, and styles on the market, the selection process can seem overwhelming.
The Roland FP30 and the Yamaha P45 are often up against each other on people's lists… so it's no wonder you're here.
Fortunately, we are here to make this process a little easier by breaking down the Yamaha P45 and Roland FP 30, providing a clear comparison of the two pianos, as well as details on what sets them apart. Here are the essential factors to consider when making your decision on which piano to purchase next: Design, Weight, Music Style, Price, and Maintenance.
FYI YAMAHA P71 = YAMAHA P45!
Another note! I just thought I'd mention that the Yamaha P-71 is the exact same as the Yamaha P-45. Well, the only difference is that the P71 is "Amazon exclusive". So if you have been wondering about the P-71, just know that it's the same piano – just a different model number and the P71 is a few dollars cheaper than the P-45 on Amazon.

So I am including it on the table below in case your mind is more set on the P-45- you might like a look at the P-71.
AVAILABILITY… Roland FP30 vs Yamaha P45
Image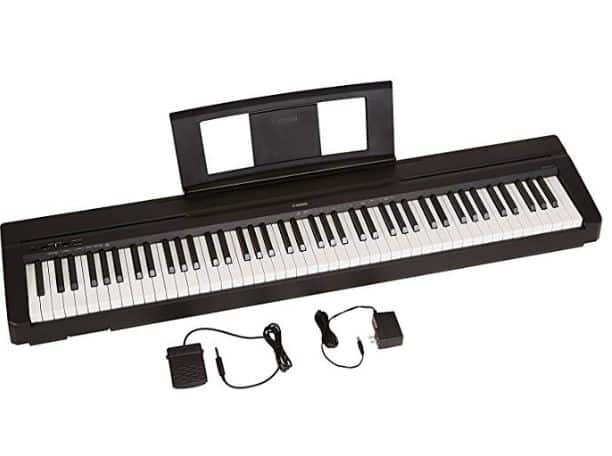 Info
Unavailable on Amazon prime - the link below for Amazon has the FP30x available but at a much higher price than Sam Ash Music. Click through to see for yourself.
Piano solo or Piano bundle Available on Sam Ash Music
See note in blue box above this table. Available ONLY on Amazon
Image

Info
Unavailable on Amazon prime - the link below for Amazon has the FP30x available but at a much higher price than Sam Ash Music. Click through to see for yourself.
Image

Info
Piano solo or Piano bundle Available on Sam Ash Music
Image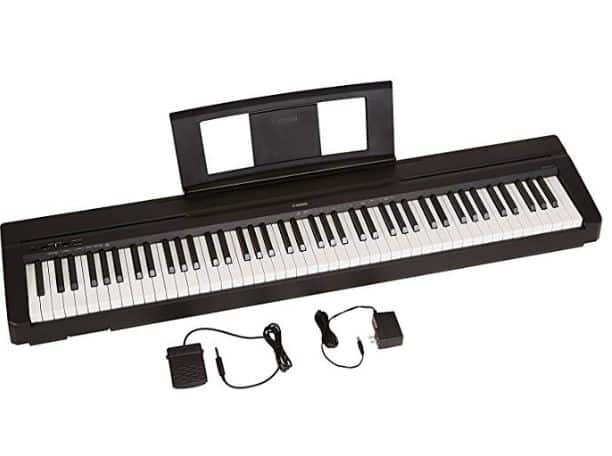 Info
See note in blue box above this table. Available ONLY on Amazon
1. Design
The Yamaha P-45 has an 88-key hammer action keyboard has built-in speakers for a deep, rich listening experience. The piano is the compact and lightweight version of the P-35 keyboard and is a good substitute in smaller spaces. The greatest quality of the P-45 is its portability.
It is light enough to easily find a place and still manages to delight with a sound with astounding projection. Measuring just 52.2″ in width, 6″ in height, and 11.6″ in-depth, the P-45 has the perfect size for space-saving, and it's a great option for any player looking for an affordable, compact, and easy to use digital piano. In addition, the P-45 comes with the acclaimed Graded Hammer Standard key action that recreates the feel of an acoustic piano, and its 3-pedal unit offers a wide range of expressive capabilities.
When compared to the P-45, the Roland FP-30 is a far more sophisticated and durable option. With its 88-key Hammer Action keyboard, powerful synth voices, and an array of high-end digital features, the FP-30 is an advanced electric piano with its own distinct musical personality. But despite its unparalleled features, it's still more compact than the average 88-key electric piano. Measuring just over 51.2″ in width, 11.2″ in-depth, and 5.9″ in height, it's an incredibly sleek option that is sure to fit just about anywhere.
2. Keyboard/ Hammer Action
Weighted keys are an important feature, even for beginners. It is important that the fingers get used to the key weight as if they are playing an acoustic piano.
The P-45 features Yamaha's super-friendly GHS Hammer Action Keyboard, which is available in most entry-level musical instruments from Yamaha. The P-45's keys offer a very authentic feeling and motion, which are comparable to those of an out-of-the-box acoustic piano. However, with just a 64-note polyphony limitation, the P-45 is not the best choice for advanced piano practice. Nonetheless, it makes up for it by offering great feedback and a smooth feel of a grand piano.
The FP-30 features Roland's most advanced version of hammer action key action. Enriching your piano playing experience, the Ivory Feel escapement of the FP-30 provides a natural, grand piano sound as it follows the weight gradient between downbeats and upbeats. A natural flow of the ivory rosin provides a rich sound that will please all music enthusiasts. Further combined with the premier " Tri-sensor Scaled Hammer Action II" keyboard with Escapement, the FP-30 provides a smooth playing experience that is guaranteed to delight even the most experienced piano player. The additional onboard preset rhythm patterns provide a professional feel that will make your playing more accessible and enjoyable.
3. Touch Sensitivity
With its touch-sensitive feel, the P-45 is perfect for the beginner or intermediate piano players looking to hone their skills. This is an important factor for those who like to sit down and play but don't want to spend a lot of time tweaking their instrument to fit their needs. The panel features buttons to choose from four sensitivity settings, including Hard, Medium, Soft, Fixed – all of which provide the user with a completely different playing experience. From hammering out those softest pianissimo notes to pounding out your loudest fortissimo, the P-45 offers a little something for every level of pianist.
The FP-30 is Roland's most advanced piano with touch sensitivity that offers both a natural feel and sophisticated expression. The FP-30 allows users to access a total of 5 keyboard touch sensitivities, allowing players to select the touch response that best suits their playing style. The first Touch Sensitivity level is Fixed Touch, in which the sound of the piano is not affected by a performer's touch/ finger strength. The second Touch Sensitivity level is Super Light, which has a responsive piano sound and provides a great start for young players. The third Touch Sensitivity level is Light, which offers a smooth key response and very light pianissimo sound. The fourth Touch Sensitivity level is Medium, bringing forth a stronger resonance. The final Touch Sensitivity level is Heavy, which has a very responsive feel and allows for a wide dynamic range.
4. Sound/ Speakers
The Roland FP-30 Digital Piano has 2 internal speakers (2 x 12cm) 2 x 11W amps. The sound is rich and natural – have a listen to the video below with Tom Crouch on the FP 30.
The P45 features 2 x 12cm 6W speakers – good smooth sound but of course, it won't give as much volume as the more 12W powerful speaker set of the FP30. See the video below to hear the concert piano sound on the Roland FP30X.
Sound Quality
What makes any acoustic instrument great is the sound that it produces. In this regard, the P-45 certainly excels. Producing a full-bodied sound that is rich in depth and resonance, the P-45 is sure to put a smile on the face of even the most discerning music lover.
From mellow classical pieces to modern pop and rock tunes, the P-45 has no trouble capturing the unique sound of whatever music you decide to play and presenting it in a high-quality, life-like manner with it's 2X6W speakers. Further boasting ten inbuilt instrument sounds, multiple reverb options, and an enhanced sound engine, the P-45 is sure to enrich your musical endeavors in a variety of ways.
The image below shows the front control panel buttons of the Roland FP-30.
However, with all its features, the P-45 still does not match the Roland FP-30 in terms of sound quality. With a carefully crafted 88-key hammer action keyboard, the FP-30 is designed to deliver the powerful, expressive sound needed to bring out the true beauty of your music.
With its 11W + 11W stereo speakers, this beast of an instrument delivers a sound that is powerful and brilliant, with a level of nuance and control that is simply unmatched by any other instrument on the market. From a slight touch of a key to a hard pounding, the FP-30 is capable of producing rich, deep tones at any volume, making it the most popular choice for those who like to play at full volume.
Further equipped with 35 instrument sounds, 30 professional grade songs, and a PHA-4 keyboard, you are looking at a piano with realistic sound that has a lot of versatility and which is capable of producing an array of sounds that make it the ideal choice for those who like to play a variety of music.
Both pianos have a built-in metronome feature. The metronome function allows you to practice with a tik-tok sound at a specific exact speed to match the song/ piece being played.
5. Polyphony
The most basic definition of polyphony is the capability of a musical instrument to sound multiple notes at once. A standard piano has 88 keys, which is 8 octaves. That's a total of 7 notes simultaneously playing. A piano, therefore, has eight voices. Most digital pianos have anywhere from 32 to 128 polyphony.
Polyphony is important in digital pianos because it measures the maximum number of notes that can be played simultaneously, which is why it is directly linked to the notes on a keyboard. For instance, if you have a keyboard with 32 polyphony, it will only be able to play 32 notes simultaneously.
In terms of polyphony, the P-45 boasts 64 notes, while the FP-30 boasts 128 notes. This is a significant difference in polyphony and is an important consideration for those looking to purchase a keyboard for more than just casual play.
To understand more about polyphony, have a read of our post here.
6. Sustain Pedal/ Headphone jack/ Bluetooth
The Roland FP 30 comes with an optional stand and three-pedal unit while the P45 comes with a sustain pedal.
They both have a headphone jack so you can connect a pair of headphones and play away in silence. If you're looking for the best Yamaha headphones read our post here.
The Roland FP-30 features Bluetooth for easy connection to mobile devices/ Music Apps which does not feature on the Yamaha P45.
See the image below that shows the rear panel of connections on the Roland FP-30.
Conclusion
Both the Yamaha P-45 and the Roland FP-30 are incredible digital pianos with their own strengths and weaknesses. While the Yamaha P-45 is designed to provide a full-fledged piano playing experience with a limited polyphony, the Roland FP-30 features a more advanced polyphony, which makes it better suited for the more advanced pianist.
With an easy-to-use interface, sleek design, and a ton of great features, the Roland FP-30 is sure to please. For its relatively small size, it delivers a sound that can fill the room, and more importantly, the heart of anyone who cares about music. It is our overall best choice for those looking for an amazing-sounding, high-end digital piano at a reasonable price.
As far as the Yamaha P-45 goes, this piano keyboard has limited polyphony, but it is an affordable piano and still does its job in providing a platform to work with. It has a weighted keyboard and it is, without doubt, a good piano for beginners. It is our overall best choice for those who are more interested in the playability of a piano rather than the technical aspects.
You can see from this Roland FP30 vs Yamaha P45 comparison that the decision depends on your needs and your budget. Now the choice is up to you.
If you've had experience of these pianos and would like to offer any more insight on Roland FP30 or the Yamaha P45, feel free to comment below.