Donner DDP-100 review | A Best Seller in 2021
The Donner DDP-100 is an 88-key fully weighted digital piano. This affordable brand is becoming popular in the digital piano market. This Donner DDP-100 review will take a look at the main features to find out why! 
FULLY WEIGHTED KEYS
The fully weighted keys mean that as the player varies the touch of the keys from light to heavy, the feel and dynamics of the instrument mimics that of an acoustic piano.
This is important for piano students as they learn to control the timbre and dynamics from their touch and finger strength. Playing a piece with correct touch and finger strength makes a big difference to mood and emotion of the piece being played. 
WOODEN STAND
Now I know X style stands are handy for those on the move, but I have always been a fan of a proper wooden stand –  which this digital piano has! 
It is ideal for any size home. It is compact, neat and fits nicely against a wall and has a sliding lid to protect it from dust when not in use.
THREE PEDALS
The Donner DDP-100 has three pedals which are also an important feature for pianists.
The pedals from left to right are the soft pedal (una corda), the sostenuto pedal, and the sustaining pedal (damper pedal). If there is only one pedal, it will be the sustaining pedal which is used most frequently.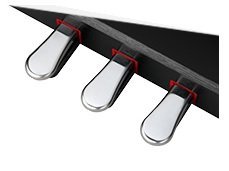 AWM SAMPLING – SOUNDS LIKE A GRAND PIANO!
The Donner DDP-100 uses AWM sampling which gives of the tone of a grand piano. The built in amplifier gives excellent sound quality and there is of course a headphone jack so you can practice without disturbing others. (In fact there are two!) 
The piano only has piano sounds – no extra instruments – which many have commented is a blessing as these can be quite a distraction to students. 
Take a listen to the video below to hear the sound
DONNER DDP-1OO CONNECTIONS
Other ports include a 1/4″ output jack where you can fun a PA system or Amp and allow sound through the speakers. 
There is also a connection for the pedals, a MIDI connection, an MP3 connection and a USB port. 
Donner DDP-100 Specifications
Power Adapter:12V/DC ,3A
Size : 146cm x 48cm x 43.5cm
Weight: 45kg
Key Material: plastic & ABS
Body Material: Medium Density Fiberboard (MDF)
CONCLUSION – DONNER DDP-100 REVIEW
As you can see from this Donner DDP-100 review, this digital piano is feature rich and it is becoming a very popular choice for pianists. 
Donner also have some other models which you can see in our post here. 
If you are looking for a more affordable digital piano, you might consider a Lagrima. Click on the images below to view on Amazon or have a look at our full Lagrima piano review here. 
If you need to view or download the Donner DDP-100 instruction manual PDF click here