YAMAHA P71 vs P125 Digital Piano Comparison | 10 Determining factors!
In this post, we have two very popular Yamaha digital pianos up against each other: Yamaha P71 vs P125. The Yamaha P71 is an "Amazon exclusive" model and it is a best seller. The P125 is about $150 more expensive.
You want the best value but does spending more mean you'll have a piano that sees you through all the levels of learning without having to upgrade? Well, let's examine what both models offer and what sets them apart so that you can make the best choice for your needs.
FYI YAMAHA P71 = YAMAHA P45!
First off, just to note that the Yamaha P71 is the exact same as the Yamaha P45. Well, the only difference is that the P71 is "Amazon exclusive". So if you have been wondering about the P45, just know that it's the same piano – just a different model number and the P71 is a few dollars cheaper on Amazon.
Yamaha P71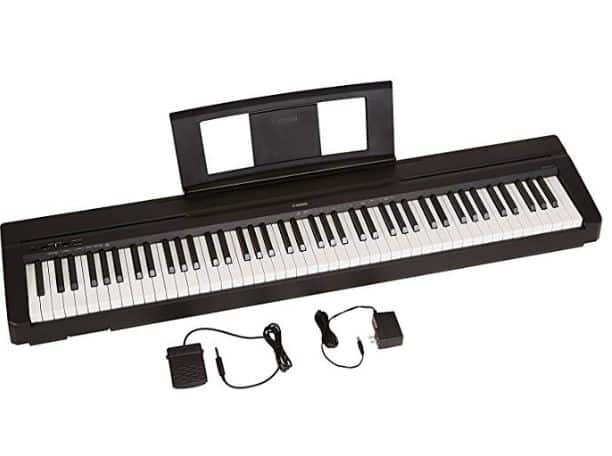 Yamaha P125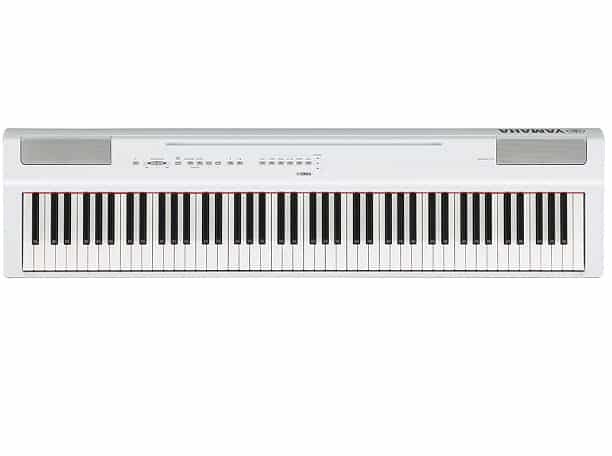 AVAILABILITY
Note: I am including the Yamaha P45 on this table in case you'd like to go look at it or if you'd prefer to buy from Sam Ash.
IN A NUTSHELL (for those of you in a hurry!)
If you're in a hurry and you don't want to read this whole post in detail here are the main differences. If you want more detail on each feature or more explanation,  read on. 
The P125 is a better piano. Yes, it is slightly more expensive but it is superior. It has a higher polyphony count (higher quality sound), has recording functions, and an option to connect a full pedal board. (On the P71 you can only connect one sustain pedal).
Both the P71 and the P125 have GHS weighted keys.  The P125 has piano tones sampled from a high-end Yamaha Grand Piano- the piano sound is higher quality than on the P71. 
The P71 is a good beginner piano. As I just mentioned, it has the GHS weighted keys which is an excellent feature for the price but if you want a piano you won't need to upgrade for a while, choose the P125. 
YAMAHA P71 vs P125 Table comparing specs
Keyboard
Size
Size
1,326mm (52-1/4") x 154mm (6.0") x 295mm (11-1/2")
1326mm (52.20") x 166mm (6.54") x 295mm (11.61")
Weight
Weight
11.5kg (25lbs., 4oz)
11.8kg (26.01 lbs)
Keys (key action)
Keys (key action)
88 Graded hammer standard (GHS) keyboard
88 Graded hammer standard (GHS) keyboard, matte finish on black keys
Piano sound
Piano sound
AMW Stereo Sampling
Pure CF Sound Engine
Number of Polyphony (Max.)
Number of Polyphony (Max.)
64
192
Number of Voices
Dual/Layers/Duo mode
Dual/Layers/Duo mode
Yes
Yes
Split mode
Metronome
Transpose
Headphone port
Headphone port
Yes - 1
Yes - 2
Pedals
Pedals
Sustain pedal optional
Sustain pedal or full pedal unit optional
Midi
AUX out
AUX out
No
Yes [L/L+R][R]
USB to Host
Speakers
Speakers
12 cm (4-1/2") x 2
12 cm x 2 + 4 cm x 2
Amplifiers
Amplifiers
6 W x 2
7 W x 2
YAMAHA P71 vs P125 – 10 Determining Factors
Both Yamaha P71 and P125 models have been proven to be two of the most popular "first choice" digital pianos for entry-level buyers, and for many, the decision is often an easy one. However, there are several differentiating factors that are worthy of consideration before committing to a purchase. Hopefully, these factors will help you to make an informed decision on which model is best for you.
YAMAHA P-71:
64 note polyphony
YAMAHA P-125:
192 note polyphony
Polyphony refers to the common song-production feature most digital pianos come with. This is an important consideration for prospective buyers because the more notes that can be played simultaneously, the more expressive their sound will be. The P125 offers 192 notes of polyphony, while the P71 has a measly 64. This difference is very noticeable, which helps translate to overall superior playability for the instrument. A higher number of notes can also help to make the instrument more responsive and produce a sharper tone with a deeper sense of "resonance," which will allow you to produce more expressive and focused music.
2. CONNECTIONS
The Yamaha P125 comes with all the connections you'd want in a piano – a power plug, a sustain switch jack, and a jack for a percussion/keyboard controller. Even better, it also features a full-fledged three-pedal unit that means the P125 can perform like a real piano. Further boasting AUX OUT ports for connecting your music system, two headphone jacks, as well a USB port, the P125 makes a very capable digital piano that's prepared for all modern music-making needs.
Surprisingly the P71 model too offers a USB port, headphone jack, sustain jack, along with the usual power plug. While it does not come with MIDI, you certainly can use the provide USB port to connect to other devices and output MIDI data. Also, it's worth noting that there is no pedal unit to supplement the keyboard on the P71, which can be a drawback depending on your playing needs.
3. RECORDING
The Yamaha P71 – of all the digital pianos I have reviewed and researched – does not have any recording function. This is an oddity, considering the range of digital pianos I have come across and researched in my time have each offered some methods for recording your own playing. That said, the P71 does not, and that can be a disappointment. It most certainly is enough to dissuade people from buying the Yamaha P71.
The Yamaha P125 being a superior model offers not one but two-track recording capabilities. On the front of the unit, a small red button enables the recording function. And with the ability to connect to a computer, you will be able to record your playing, edit it, and even upload it straight to YouTube or SoundCloud. This is a nice addition and can help someone who is interested in listening back to their playing to hear their progress.
The best part? You can use applications like Garageband to record unlimited tracks as many times as you'd like.
4. CHOICE OF MODES
The P125 allows for three preset EQ modes: duo, split, and layer. And to further benefit from the fact that this is a digital piano, the P125 offers unique parameters for fine-tuning and improvement in sound quality. What's more, the P125 also offers an IAC, resonance damping, and enhanced split mode, which is especially useful for keyboard players who want to separate their bass parts from the melody or the main theme. Additionally, you can create two custom modes that will allow you to set up specific modes tailored to your preference.
The P71 offers two preset EQ modes: duo and layer. It does not offer any additional special features of real pianos, nor does it provide the same opportunities to fine-tune the quality of sound as the P125.
5. PEDALS
I just wanted to bring up this one again because it is really important to me and to every other musician I know.
The P125 could either be hooked up with a sustain pedal or a 3-pedal unit (not together), and this is great because it means you don't have to stop using the sustaining pedal and then add the pedal in again at a later stage.
The sustain pedal will last your entire playing journey – from beginner to free to anything.
Yamaha P71, on the other hand, only allows for a sustain switch. You don't have any option to use pedals if you want to make your piano sound exactly like a real piano. You can see the sustain pedal included here in the image.
For a beginner, the sustain pedal may be enough. But for the more advanced player or someone who is sure to continue with piano lessons, you are missing the other two pedals and will need them later in your piano studies.
This always translates to less freedom to express your creativity and less melodious music that you so desperately want to create to aspire for.
In my opinion, this is a very important one and should be enough to influence anyone's decision whether to choose a Yamaha P71 or P125 digital piano.
6. SOUND QUALITY
When it comes to the list of the best-sounding keyboards of the year, again, the P125 takes the cake. But it's not just for show that it does. It's also got an upgraded sampling technology which basically gives you the best instrument sounds. That means you get more realistic sounds whenever you hit the keys, whether they are brighter or darker. The best way to describe it is to say that it has the true acoustic piano sound that you hear on real-life Yamaha CFX III Concert Grand piano. If you want a piano with such an intricate and realistic sound, then you'll be glad to know that the P125 offers it. P71 stands no chance against it.
7. SOUND TECHNOLOGY
The most crucial thing that differentiates between Yamaha P125 and P71 is the sound technology that is available. Where P71 uses the aged AWM Sampling – which means if you want a more realistic piano sound with wider dynamic range and richer tone – you're out of luck, the P125 takes advantage of much upgraded CF sound technology. CF sound engine is renowned for its rich tone and wide dynamic range, which guarantees the best musical experience you can get.
8. SPEAKERS
There isn't much of a difference between these two when it comes to the speakers themselves. Both the P71 and P125 are equipped with workable 12W and 14W speakers, respectively. Speakers are free of any distortion or unwanted noise but, at the same time, are not full-range, and they are not very capable when compared to what other brands are offering at this price range.
9. KEYS
Both of these pianos have a compact design and have 88 fully weighted keys. The keys on both the P71 and the P125 are well suited to piano students- the GHS (Graded Hammer Standard) weighted keys mean that the student will build finger strength and develop the technique used for the traditional acoustic piano.
On a traditional acoustic piano, when we press down on a key it triggers a little hammer to hit a string. We call this hammer action. The keys feel "weighted" – meaning when you press down on a key it may feel heavy – the keys at the lower sounding end of the piano feel heavier while the keys on the higher sounding end feel lighter. Weighted keys on digital pianos attempt to re-create this effect so that we feel like we're playing the real thing- and develop the proper technique to easily adapt to playing an acoustic piano. 
What is GHS?
GHS stands for Graded Hammer Standard. It means the key weight is gradually heavier touch to lighter touch from the low to the high end of the piano- similar to a traditional piano. See Yamaha's explanation here. 
Graded Hammer Standard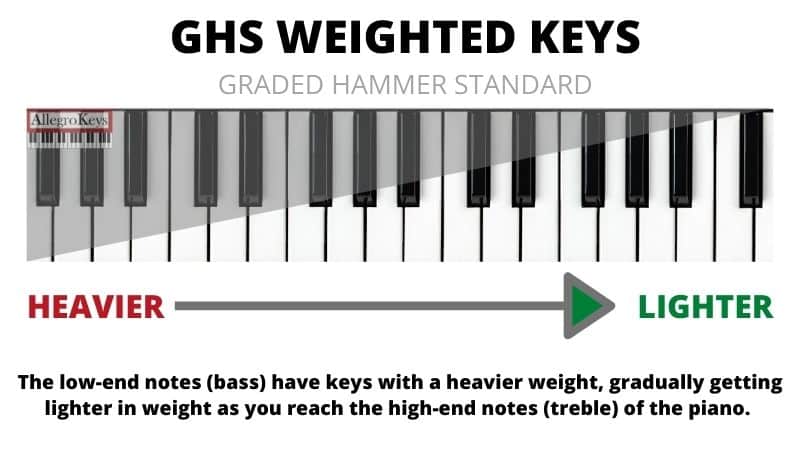 The keys of both models are made of plastic and feature 88 keys in total. This is a standard and logical expectation at this price point, and in all honesty, it really isn't a bad thing. The keys may not be as good as playing as some Yamaha more expensive models, but they're as close as you're going to get.
If you want real wooden keys on a digital piano have a look at the Yamaha P-515, but be prepared, this is a superior piano (closely mimics the touch, feel, and sound of an acoustic piano) and you "pay" a premium for wooden keys! Read our post here.
10. PRICE
The Yamaha P71 is a lot more affordable than the normal P125, which is about $150 more expensive; this might not seem like a big amount of money in terms of how much digital pianos are costing, but it can be a large enough difference.
Image
Title
Price
Prime
Details
More info

Top

YAMAHA P71

Prime

Eligible

YAMAHA P71 88-Key Weighted Action Digital Piano with Sustain Pedal and Power Supply (Amazon-Exclusive)
View on Amazon

Top

YAMAHA P125

Prime

Eligible

YAMAHA P125 88-Key Weighted Action Digital Piano with Power Supply and Sustain Pedal, Black
View on Amazon
Product prices and availability are accurate as of the date/time indicated and are subject to change. Any price and availability information displayed on [relevant Amazon Site(s), as applicable] at the time of purchase will apply to the purchase of this product.
Prices pulled from the Amazon Product Advertising API on:
YAMAHA P71 vs P125 – The Conclusion:
The Yamaha P125 and P71 Digital Pianos are not one-size-fits-all. They both have some great attributes and a lot of great qualities about them. They both come with unique and special features that are great for some players while bad for others. Having a flexible combination of settings, polyphony, and auxiliary options is a great plus when it comes to digital pianos. On the other hand, those who are looking for a "portable" piano for small events or practice might want to go with the P71 model.
If you want to see other Yamaha models offer, you can read more about a wider range of Yamaha digital piano models in our post here. (Both the P71 and P125 feature in the article.)