Casio PX-160 vs Yamaha P45
UPDATE JANUARY 2022: The Casio PX-160 has been discontinued.  However, if you are drawn to it, after reading this, you may find it at a reduced price. It is still available, for example, at the time of writing this update, on Sam Ash. (Link Below)

and another …
Update 01/11/22 – I only see 'one' Casio PX-160 left in stock. If you find the Casio PX-160 is no longer available, see our alternatives here.
"Casio PX-160 vs Yamaha P45" is a good discussion because choosing between these two digital pianos is a challenge…They are in a  similar price range and look quite similar. 
Some reviews prefer the brighter tones of the Casio and others prefer the piano sounds on the Yamaha. 
So what is it that makes these digital pianos different apart from the brand name? 
There are a few features that set them apart and in this post, Casio PX-160 vs Yamaha P45 we hope to clear up any confusion you have in making a choice between the two.
IN A NUTSHELL (For those in a hurry)
If you don't have time to read this whole post, don't worry! I am going to tell you here briefly which piano wins this contest in my eyes and why. 
CASIO PX160 Vs YAMAHA P45 SUMMARY
For me, there is no contest here. The Casio PX-160 wins hands down. They are both (currently) the same price (at the time of updating this post on the 11th January 2022 the PX-160 is $549 on Sam Ash). 
The P-45 is a good piano and Yamaha is an excellent brand, but the Casio PX-160 leads in several aspects:
The Casio has 128-note polyphony vs Yamaha's 64-note polyphony… triple sensor key action versus twin sensor key action… 8W speakers versus 6W. The Casio has a recording function and a bass split mode… the P45 falls short of these functions.
To read about what all these mean in more detail, have a read through the rest of this post. 
Now below you'll see a table with availability (where to buy) and price comparison (which in this case, is again no contest because they are currently (11.01.22) the same price!) 
However, carry on reading if you have the time to really see the specs of each model up against each other, and if you have any questions, as always, reach out in the comments. 
FYI Yamaha P45 = Yamaha P71
Something to note: If you've come across the Yamaha P71, just be aware that both these pianos (P71 and P45) have the same specs. The only difference is that the Yamaha P71 is "Amazon exclusive" and a few dollars cheaper than the P45.
AVAILABILITY
PRODUCT DIMENSIONS
Casio PX-160 Product Dimensions
Width 1,322mm (52″)
Height 141mm (5.5")
Depth 293mm (11-1/2")
Weight: 25.5 pounds (11.1kg)

Yamaha P-45 Product dimensions
Width 1,326mm (52-1/4")
Height 154mm (6.0")
Depth 295mm (11-1/2")
Weight:  24 pounds (11kg)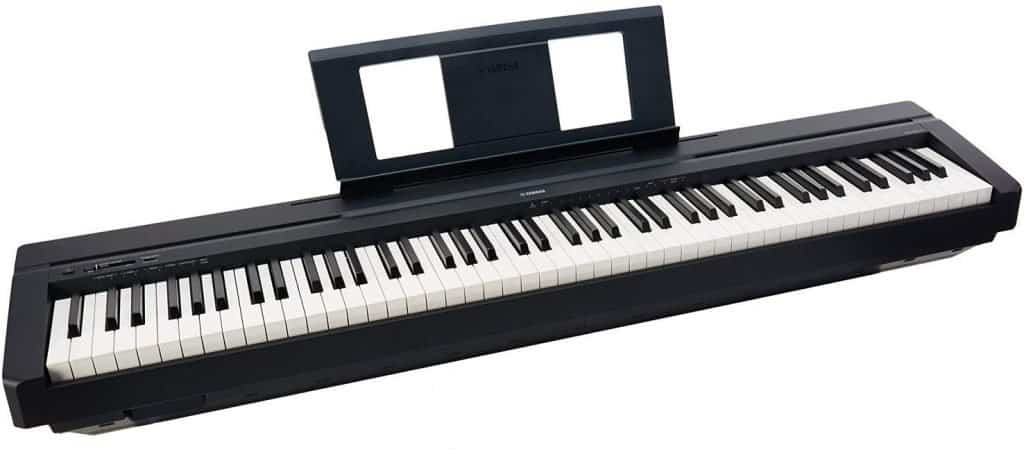 As you can see from the photos and the dimensions, the build is almost identical for both pianos. Both pianos are compact and lightweight and can be placed on either a table or a furniture stand specifically to fit. 
A proper furniture stand turns your electric piano into an attractive piece of furniture! Here's an image of them both with their furniture stands. 
DESIGN AND BUILD
Both pianos have a similar design. Yamaha has their usual design features on the P-45 – buttons kept to a minimum (power, volume, and function) on the left-hand side and minimal text showing sounds or effects.
On the Yamaha P-45, settings can be controlled with a single function button. To change sounds, effects etc you simply hold down the "GRAND PIANO/FUNCTION" button (to the right of the volume control- see image below) and press the desired function on the keyboard.
The Casio Privia PX-160 has more function buttons than the P45 along the top of the instrument and also has function buttons built into the keys.
KEYBOARD
CASIO PX-160
88 Tri-Sensor Scaled Hammer Action II
YAMAHA P-45
88 Graded Hammer Standard (duo sensor)
NUMBER OF KEYS
Both pianos have 88 keys – the same as a full-sized acoustic piano keyboard. 
WEIGHTED ACTION
Weighted action is about this: Just like on an acoustic piano, if you play a key lightly it sounds soft. If you play a key with more force, it sounds louder. Each piano key is 'weighted', like on a traditional piano which builds up finger strength and improves technique.
This is a very important feature for piano students. 
The Yamaha P-45 has GHS weighted action. This stands for Graded Hammer Standard. This means the touch is heavier on the low end of the instrument and lighter touch on the high end which is the same as a traditional acoustic piano. 
Yamaha's GHS is a good feature to get for a piano in this price range. The key action is akin to an acoustic piano since the P-45 comes equipped with actual tiny hammers rather than springs. Have a look at this feature on the diagram below where I show how the Graded Hammer Standard gives the keyboard a heavier touch in the low end and a lighter one at the high end.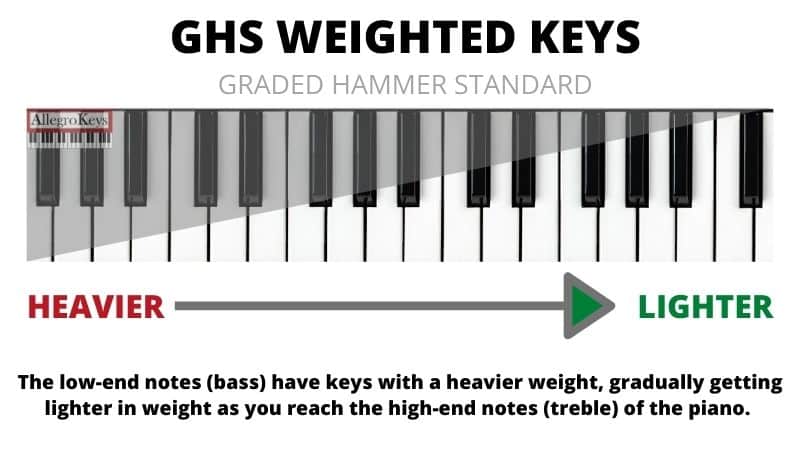 The Casio PX-160 has what Casio calls "Tri-Sensor Scaled Hammer Action II." This weighted action gives a realistic piano feel and sound. (More about this below!)
KEY ACTION
A notable difference here is that the keyboard of the Casio's PX-160 has "Tri-Sensor Scaled Hammer Action II" … the Yamaha P-45 only has a duo-sensor. This feature takes the speed of the different-sized hammers in a grand piano into consideration relative to the speed of the keys that are being played. This timing benefit allows users to benefit from a key to sound experience that few keyboards or brands can match.
Hold on… What does this mean? 
There are sensors within the keys that detect "your" key action. The sensors will detect how you approach the key and the sound will be relative to that.
With sensors within the keys, whatever way you approach and release the keys is the sound you will get.
The more sensors that are in the keys, the more sensitive they are of course. So the Casio PX-160 three sensors are definitely better than the Yamaha P-45's two. 
If you are playing a fast thrill or repeated note, the lingering sound of the first note will not be lost with three sensors. With two sensors, it is likely that the sound of the first note will drop out sounding like it's being 'cut short'. 
Take a look at the video below to show how this works.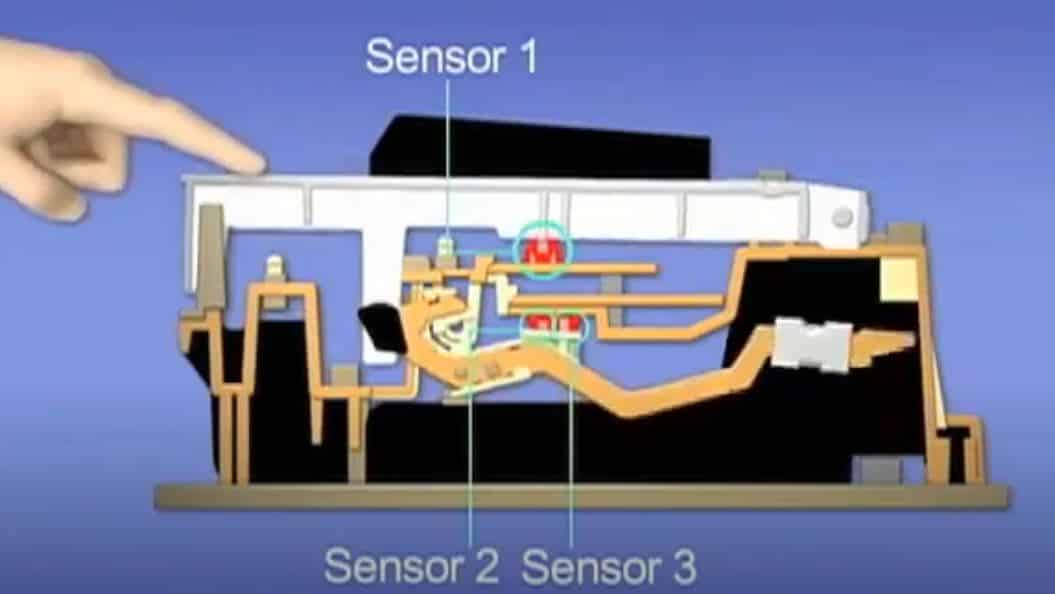 TOUCH SENSITIVITY
The Yamaha P-45 has 4 presets for touch sensitivity: Fixed, Soft, Medium or Hard. This means that you can adjust how sensitive the keys are to the force of your touch. The Casio PX-160 has 3 presets. 
KEY FEEL/TOUCH
The Casio PX-160 plastic keys are finished with a material that simulates the Ebony & Ivory feel of the keys on a real piano. The keys won't be slippy if your fingers become moist. 
The Yamaha P-45 does not have this feature. Only black keys have a matte finish which helps with grip on those keys. 
However, overall I would not say this feature is a big deciding point. Many pianos have glossy keys so it is not a big detail to fuss over. 
For the most authentic key feel, similar to a traditional acoustic piano, you'll eventually need wooden keys which are on more expensive higher-end pianos such as the Yamaha Clavinova (CLP745B).

If you find you're ready to move onto the likes of the third movement of Beethoven's Moonlight Sonata, you're an advanced player! It's high time you looked at upgrading to a high-end piano to match your level.

Pianos with wooden keys are of course much more expensive. The Yamaha P515 is a more reasonably priced portable piano with wooden keys (which you can attach to a proper furniture stand if you want it to look more like an upright piano.)
Have a listen to Rousseu's rendition of the third movement of Beethoven's Moonlight Sonata below.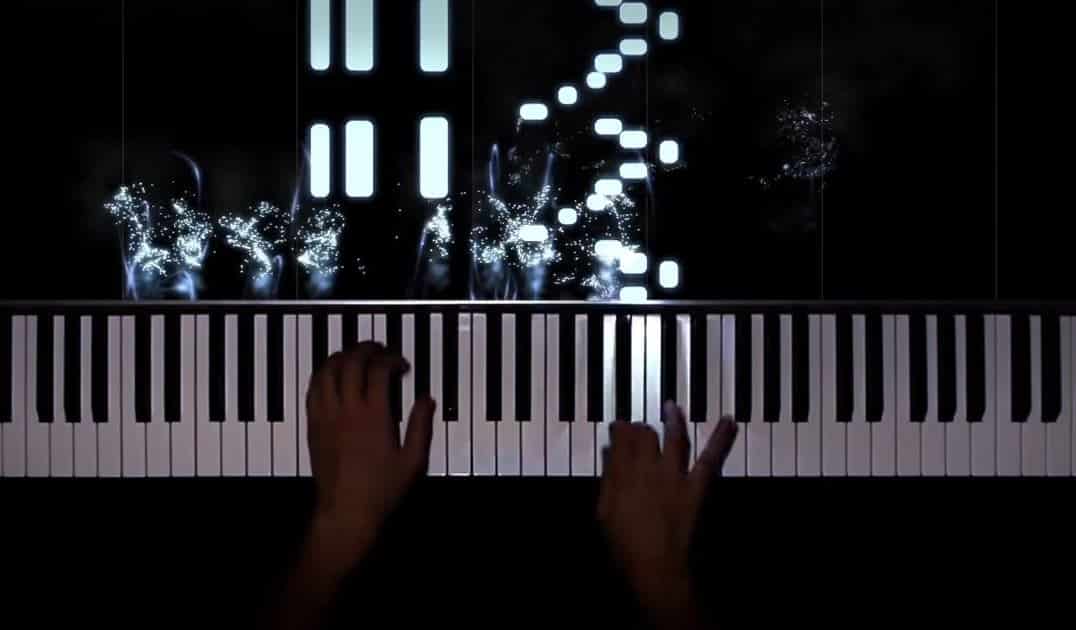 SOUND
In this section, I am talking about the piano/ instrument sounds the pianos produce. You will often see it marketed on piano manufacturer's sites that they use samples from the "best world-class grand piano…" – and yes…- that is what you are hearing.
They always have a fancy-schmancy name on this technology too! The Casio PX-160 uses what they call AiR – Acoustic and Intelligent Resonator. The Yamaha P45 uses AWM- Advanced Wave Memory.
This is a technology that re-creates the piano tones from actual acoustic instruments using samples. Both pianos offer excellent sound samples the likes of which are recorded from very high spec. grand pianos. So in other words, your digital piano is re-creating the sounds from those high-quality acoustic instruments using recordings in the piano's memory.
Both our Casio and Yamaha in this post have an excellent sound engine and therefore excellent sound quality in this regard. The Casio PX-160 produces clear, defined, and crisp instrument tones as does the Yamaha P45.
POLYPHONY
128-note polyphony of the PX-160 is excellent for the price. The Yamaha P-45 only gives 64-notes of polyphony. Higher polyphony ensures that notes don't sound like they've been "cut off" as you play many notes together or many notes very quickly.
This is a big one for me- the polyphony. If you ask my opinion on any piano, it's one of the first features I look at.
To read a more detailed explanation on polyphony, have a read of our article here.  64-note polyphony is still ok on the P-45 but the higher the notes of polyphony the better the sound quality, so again Casio is winning here.
SPEAKERS/ CONNECTIVITY
CASIO PRIVIA PX-160
 2 x 12 cm (8W + 8W amp) Built-in Speakers
YAMAHA P-45
 2 x 12 cm (6W + 6W amp) Built-in Speakers
The PX-160 comes with 2 in-built speakers (2 x 8W) and not one headphone jack but two in the front panel! It is great to have two headphone jacks and also in the front panel. You might not know the advantage of that yet but maybe you'll see exactly what I mean in the future! The P45 has one headphone output at the back.

The P45 also comes with 2 speakers (2 x 6W) that are in-built, but they are not quite as powerful as the ones on the PX-160. Even though the quality of the sound from the speakers is decent and does not distort at max volume, it can get lost in a room full of people. You may need to get a decent pair of headphones for a personal high-quality listening experience.
You can also connect an external speaker to either piano.
Yamaha P45 and Casio Privia PX-160 midi connection
Midi allows you to connect the piano to your computer to use software such as Cakewalk, Soundtrap, Garageband, etc.
You can record yourself playing, write musical scores, add other instrument voices to your track, and do wonders with your music through midi! I will have to do a dedicated post on this! You can also use it to connect to online lessons.
For both the Yamaha P45 and Casio Privia PX-160 midi connection, there is no dedicated port. It is possible however, you can use the USB-to-host port. To connect to MIDI using this port, you will need an A to B cable which you may already have in the house.
INSTRUMENTS AND EFFECTS (functions)
CASIO PRIVIA PX-160
18 Instrument voices
5 Grand pianos (concert, modern, classic, mellow, bright)
4 Electric pianos
2 Strings
5 Organs (including electric organs)
Harpsichord
Bass (Lower)
YAMAHA P-45
10 Instrument voices
2 Grand pianos (Concert, Bright) 
2 Electric pianos
2 Pipe organs 
2 Harpsichords
Strings 
Vibraphone 
Neither of these pianos has a wide variety of instrument tones but there are enough! Oftentimes, too many are a pure distraction and we don't even use them.
The PX-160 offers a larger selection of instrumental sounds that beautifully mimic several instruments such as the harpsichord, organ, bass, string, and 14 more sounds. The Yamaha P-45 has 10 instrument sounds.
The piano sound on both instruments is excellent and there are several piano sounds to choose from, each with a different tone. The other instrument functions sample other acoustic instrument sounds and are of excellent quality on both pianos.
They also both have a duo mode (also known as duet mode or dual mode) allowing you to divide the piano in two which is great for playing along with the piano teacher.
The Casio PX-160 has a limited 'Split mode' function… with the bass – allowing you to play a bass sound with the left hand and choose another instrument with the right. There is no split mode on the Yamaha P-45.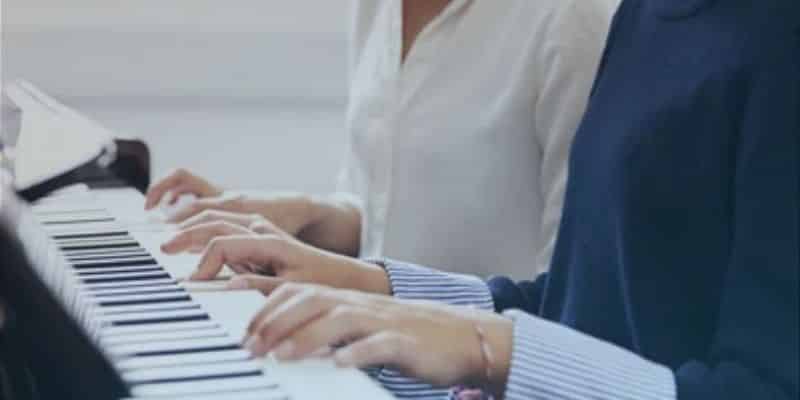 Furthermore, there is no built-in recording function on the P-45. You could, however, connect to your computer and record through MIDI. The Casio PX-160 has a built-in recorder so you can record parts and then play them back while you play other parts on top – or even monitor your progress and listen proudly to your playing!
Both pianos come with a layer function that allows them to play two sounds at the same time- For example, you could put the piano with the strings – this sounds really nice.
Fine-tuning allows you to change the pitch of the keys in increments of 0.2Hz. This is useful if you are playing with another instrument and the tone doesn't exactly sound the same. You can fine-tune the P-45 or PX-160 to match. They both have this feature.
The transpose function allows you to change the key in increments of a semitone. I absolutely love this function on digital pianos and both the Yamaha P-45 and the Casio PX-160 have it! This is great for example if you know a song in the key of G major for example, but it is too high for a singer – you can still play it in the key of G (on those notes) but change the sound to a lower key to suit the singer at the press of a button.
Both pianos also have a built-in metronome which is standard on digital pianos these days. This gives a 'ticktock' sound at a speed of your choosing that allows you to practice your pieces with perfect timing.
PEDALS
Both the Yamaha P-45 and the Casio Privia PX-160 have an included pedal or footswitch.
This works the same way as a sustain pedal on an acoustic piano. The included footswitch is something, at least… but it doesn't feel like a 'real' pedal.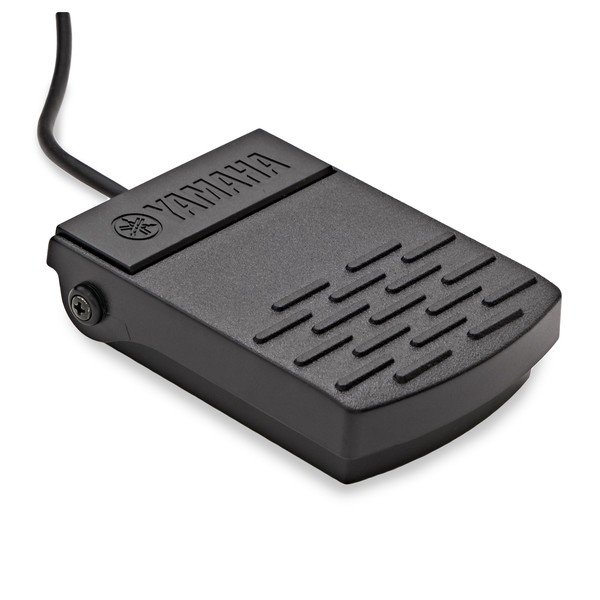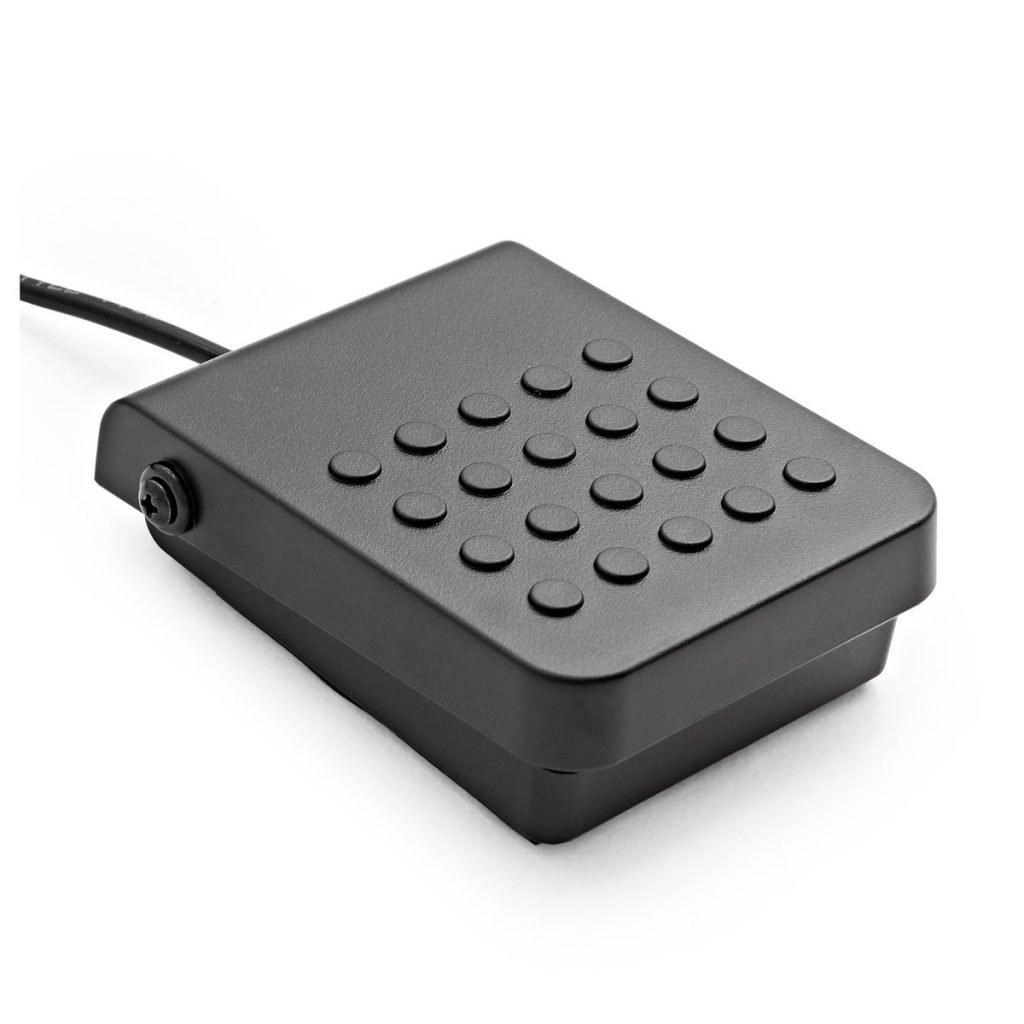 You can also buy a different footswitch or pedal once it has a 1/4″ plug (most of them do).
If you'd prefer a different one – a good one to consider is the M-Audio SP-2 piano-style pedal. It is more like the pedal on an acoustic piano.
Yamaha P-45 with Playground Sessions
The Yamaha P-45 is also available on Playground Sessions which is a piano learning app. The piano is the same price as competitors but you can also add a subscription to the learning app. On Playground Sessions you can learn piano from instructors such as Qunicy Jones, Harry Connick Jr., and David Sides!
There are monthly, annual, or lifetime subscriptions. You could even sign up monthly and test the waters to see is it useful for you and then if it is, you can save money signing up to the annual or lifetime package. Click here to see the Yamaha P-45 bundle.
They also have other keyboards/ pianos available including their own brand. Click here to see the full range.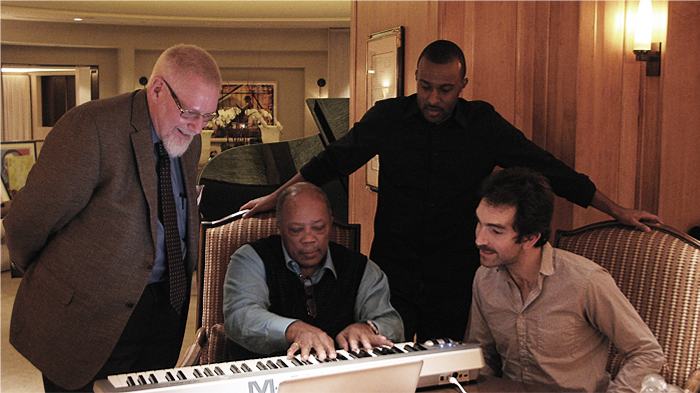 Casio PX-160 vs Yamaha P45 conclusion
Now its time for you to decide which one suits your needs the best. Both Casio and Yamaha are trusted brands and both of these models are an excellent choice. 
IF I WAS TO CHOOSE…
If it was my choice, I would pick the Casio PX-160. Although I am normally a Yamaha fan, in this particular contest, for me, Casio PX-160 vs Yamaha P45,  the Casio wins. With both models at the same price, a higher polyphony count and the tri-sensor key action on the Casio is enough for me to make that choice. It also has better speakers than the P-45 which is an important factor when you put one up against the other.
See a shortened availability table again below. Now you can head over and read customer reviews and the manufacturer's description with a deeper understanding.
ALTERNATIVES
If you've any questions -don't hesitate to reach out.
Thinking of a Yamaha DGX? Click here for our post on YAMAHA DGX 650 VS 660.
Or for a look at other Yamaha models take a look at our Yamaha digital piano comparison chart here.