Piano That Lights Up Keys | Keyboard That Teaches You To Play!
How we learn piano has sure changed over the years! Learning piano used to mean going to lessons and buying book after book to make progress. Many of us or our kids still do this… and it's still the best way to learn! You can learn many things by yourself but nothing will equal having a teacher by your side to guide you.
But… in the last few years, with better internet and smart devices, websites and new Apps started to pop up to allow us to learn all by ourselves or even progress a bit faster along with going to our lessons! 
Great! But, hold on, it's 2021, so let's take this a step further! 
Wouldn't it be great if the piano itself had the ability to teach you as a built-in feature?
Well yes! That technology has come to life! If you're looking for a keyboard that teaches you to play, in this digital age, you've got a huge choice.
So are there pianos that teach you to play?
Yes, there are and I've compiled a whole list of them here and what they do!
We can go for a piano that lights up keys to guide you to the right notes, or one with lights just above the keys like the ONE Smart Piano. 
Learning piano on a light-up keyboard is like a game and each time you play, you'll want to challenge yourself and do better than last time.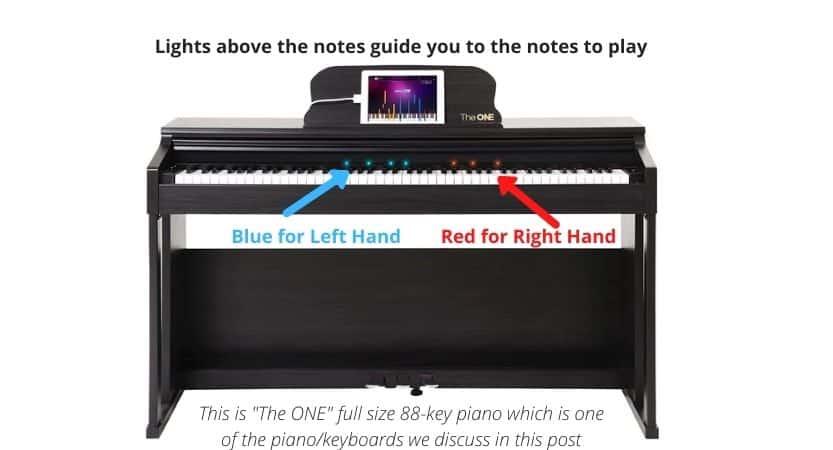 Which one to choose! | Which is the best light-up keyboard piano for you?
There are many to consider, from full-sized 88-key piano like the ONE smart piano to a smaller but powerful learning keyboard such as the Casio LK-250.
In this post, I'll help you to find one most suitable for you or your child to learn! 
Quick tip if you're in a hurry: Use the table of contents to navigate to whatever section you need to read. 
Are light-up keyboards good for learning?
Yes, they are good. They are good for beginners (both adults and kids)- the basics of learning piano are learning where the notes are and when to play them.
Think of it this way. At a traditional piano lesson, the teacher guides you to the right notes. With a light-up keyboard or piano, the musical instrument itself guides you, with the lights.
Now it can't teach you how to sit at the piano or how to position your fingers on the keys, but those techniques are demonstrated in many of their instructional apps.
They all have an included related app to help you guide you step by step and help you progress. They include fun games and pieces to practice that even wait for you to press the right key.
Following the lights builds up your muscle memory and eventually, you won't need the lights! You can turn on and off the light feature. You can even record yourself on most of them! 
Read on to see my choice of top light-up piano/keyboards and what each one specifically offers.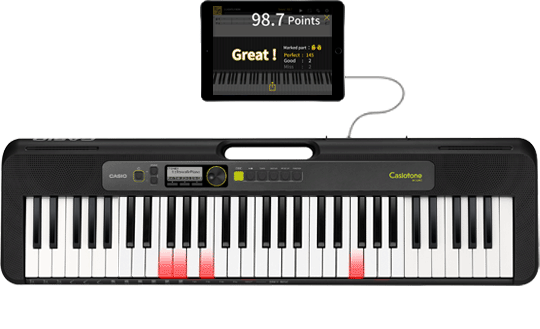 OUR TOP CHOICES
If you're in a hurry, and you're looking for a full-size upright piano with lighted keys, have a look at the ONE Smart Piano and if you want a cheaper more portable keyboard, you could go for our top choice keyboard the Casio LK-265. My main reason for the Casio choice is the integration with their brilliant learning app – Chordana Play.
They also offer integration with a learning app on your tablet or smartphone. Here are the top choices, all of which are reviewed in more detail below.
Here are the best keyboards/ digtial pianos with light up keys
FULL TABLE/LIST OF LIGHT-UP PIANO/KEYBOARDS
Image
Description
Features
Price
The ONE Smart Piano

The ONE Smart Piano, Weighted 88-Key Digital Piano, Grand Graded Hammer-Action Keys (Upright Piano-Matte Black)

View Price
The ONE Portable

The ONE Music Group, 88-Key Portable Keyboard (TON1W)

View Price
The ONE Smart Piano Keyboard

The ONE Smart Piano Keyboard with Lighted Keys, 61 Keys, MIDI connection included

View Price
Yamaha EZ-220

Yamaha EZ-220 61-Lighted Key Portable Keyboard Package with Headphones, Stand and Power Supply

View Price
Casio LK-S250

Casio LK-S250 61-Key Premium Lighted Keyboard Pack with Headphones, Stand, Power Supply, 6-Foot USB Cable and eMedia Instructional Software (CAS LKS250 EPA)

View Price
LAGRIMA LAG-450

LAGRIMA LAG-450, 61 Key Electric Keyboard Piano with Stand, Smart Light Up Keys for Beginner, Lighted Portable Keyboard w/Micphone, Power Supply, Music Stand, Adjustable Stool, Black

View Price
The ONE hi-lite

The ONE Music Group Player Piano (TOH1) - Fits any piano /keyboard!

View Price
---
THE ONE SMART PIANO
Excellent quality upright Piano that lights up keys!
The ONE Smart Piano is a beautiful, high-quality upright piano with 88 weighted keys. Funny name isn't it- the ONE… but that's the name they gave it! (I wonder will they ever make the TWO lol… sorry, couldn't help that! Ok back to reality!)
If you want a digital piano that has the look and feel of a traditional upright acoustic piano, yet offers modern electronic learning features, this is the ONE for you! This is the only piano on the list that is a proper 'upright' piano.
Personally, as a music teacher, I recommend that a student starts right, whether it is a child or an adult learning. 
But do keep in mind – this is an expensive piano – and a piece of furniture. So this is good if you're after something to last a lifetime – and it will- it's a high-quality piano with great sound. There are cheaper keyboard options in this post if that's what you'd prefer for a start.
I would want my student to experience 88 keys and also the weighted, hammer action of the keys. This digital piano offers all these elements along with an interactive learning system and smart features. 
This is a good choice if you're looking for a piano that will see you or your child through from beginner to advanced level, that's as close as you can get to an acoustic piano. This piano is of the highest quality- the feel and weight of the keys and the sound quality are A1.
Watch below as Joseph Hoffman shows how the ONE has a superior quality on par with a good acoustic piano.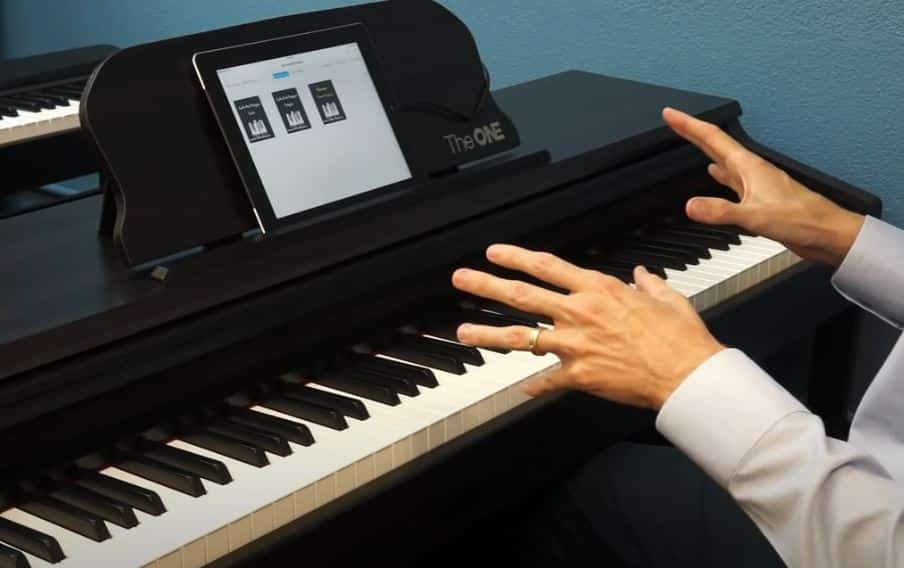 ROSEWOOD UPGRADED MODEL
There is also an upgraded pro version in a beautiful Rosewood color that has an extended height (35 inches) and enhanced sound quality. The keys are synthetic ivory and the guiding lights are bigger.
MODERN DIGITAL LEARNING FEATURES
Investing in this model gives you full access to the mobile apps for tablet or smartphone. The app is jam-packed with learning material that integrates with the lights on the piano to guide you to the right notes.
It features step-by-step video lessons ranging from the basics to the more advanced. There is also a ton of sheet music to choose from. There are games that are important for both kids and adults. The games give you a percentage and it's hard not to want to challenge yourself for a better score or to challenge someone else learning with you! A beginner pianist has to learn which note is which and these games really make learning fun. Remember, all practice is practice. 
My cousin, who asked my advice on a piano, got the ONE piano at Christmas for her 7-year-old daughter. She says all the family now play every single day- just because learning on this piano is such fun. Her daughter can read basic sheet music now with the guiding piano lights turned off! She and her brother (age 11) have contests to see who can get the best score on the games. She said it is hard to get them away from the piano! What a good complaint!
World-renowned concert pianist Lang Lang, who is a big supporter of music education is now an investor in the brand. He features on many of the video lessons included with the App. Imagine being able to say, your teacher is Lang Lang! See the video below where Lang Lang teaches hand position and posture on the ONE Smart Piano.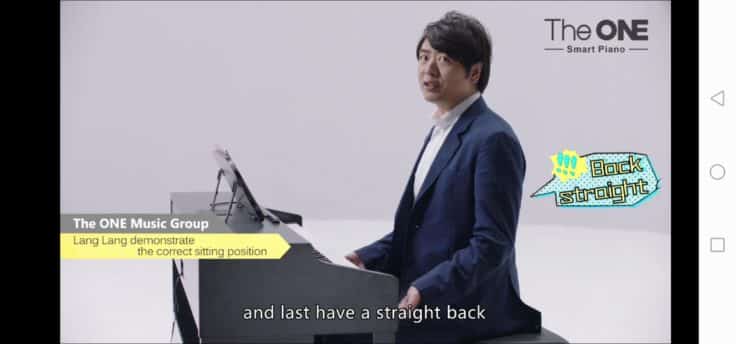 LIGHT UP KEYS
This piano features LED lights just above the keys which work with the accompanying app to guide you to the correct notes. It waits for you to find the note before moving on. 
The whole key lighting up is tempting, but after a while you may wish you had just a more subtle prompt. On this digital piano, the LED lights are above the keys, which in my opinion, is a lot prettier!
The keys themselves do not light up, the light appears just above the key to play. It also has 3 pedals and a full wooden body for a real piano feel. This is a proper digital piano and a beautiful piece of furniture. You can learn from sheet music or from a keyboard on the screen that shows the keys to play.
Watch this beginner learn Fur Elise on the ONE.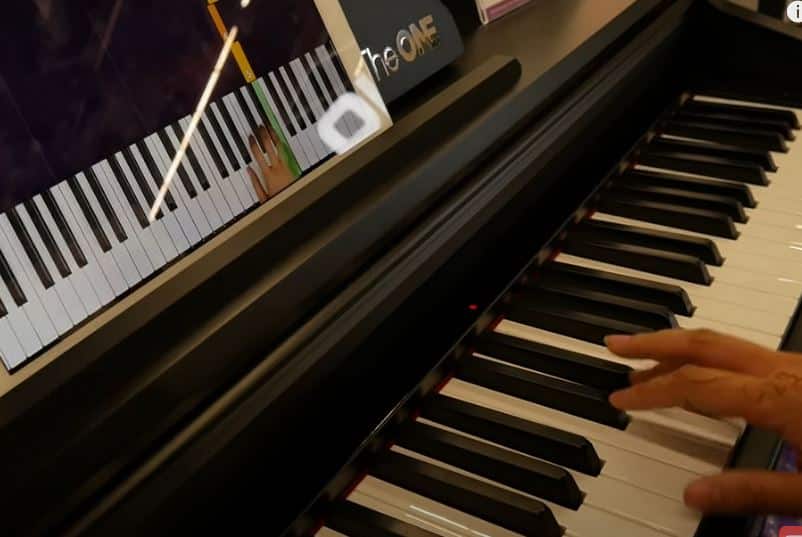 BUILT IN METRONOME
I still have my mother's old wind-up metronome! My little girl uses it to practice and keep her timing perfect. Like most modern digital pianos, this piano has a built in metronome (like a tick-tock sound at a speed that you set). 
REAL PIANO FEEL
This digital piano has 88 hammer-action keys, that is, a full size piano and the touch and feel of the hammer action of a traditional acoustic model. It also has three foot pedals just like a traditional piano. If you are going to get serious with your piano lessons, these are important features.
The hammer-action will give you the habit of proper touch technique to create dynamics and sound effects right from the start. The pedals also create dynamics and sound control. Learning the pedals on a piano takes consistent practice. It is no wonder that I, as a music teacher, recommend this model!
CONCLUSION ON THIS MODEL
So if you're thinking of an instrument that will serve you well into the future without having to upgrade, the ONE Smart Digital Piano, with its traditional features and digital features combined is the whole package. It has a beautiful piano sound and various other tones to choose from.
Make a pop song with the combined rhythms or play a classical work on the traditional piano tone. The possibilities are endless. I have heard so many reports of this piano touting its ability to excite kids and make them "want to learn". It is excellent for both adults and as you can learn at your own pace and most of all, learning is fun… Just as it should be! This piano will last your piano journey – suitable for the beginner to the advanced.
I LIKE THAT BUT I NEED A MORE PORTABLE MODEL!…
The smart ONE piano mentioned above is an elegant digital piano that deserves a prized place in your home. Yes you can move it around but it is not built to be moved from one place to another regularly or packed into your car too often! If you still want a good instrument to learn on but need to be able to move it around, the same company have a portable model:
---
The ONE Music Group Portable Digital Piano (TON1B)
Excellent quality portable Piano that lights up keys!
Click images to view on Amazon
This portable model also has 88 hammer-action keys and all the modern digital features of the above model. It does not have the pedals but it has pedal input so you can attach an external pedal.
It has 88 fully weighted keys and it is packed with smart features. The LED lights guide the learner to the right notes just like the piano version. There are various learning features such as light-up sheet music, integrated video lessons, piano games, and Crash course.
It has 128-not polyphony, various instruments and sounds and excellent quality sound.
CONCLUSION ON THIS MODEL
This piano/ keyboard from The One group is similar to the piano reviewed above. The difference is, it is more portable.
THE ONE SMART KEYBOARD 61 KEY PORTABLE KEYBOARD
61-key portable keyboard that lights up keys!
You can connect this to your tablet/smartphone and the keys actually 'light-up' and you have access to the learning app. The keys are touch response which means they will respond to how hard you play them. This feature is attempting to copy hammer action to which nothing compares in my opinion. 
Personally, I find this touch-sensitive feature nothing but annoying and opt to turn it off every time. This only weighs 11 lbs. Again you'll need to buy a stand separately. 
CONCLUSION ON THIS MODEL
This keyboard from The One group is suitable for a beginner or if you need something light and portable. For those who wish to advance- you'll need 88 keys later.
---
THE YAMAHA EZ-220 61-KEY LIGHTED KEYBOARD
LEARNING FEATURES:
You have access to Yamaha Education Suite (Y.E.S.) which is built-in and this teaches you step by step how to master the songs. It features a fingering guide to make sure you use your fingers properly. The light-up keys will wait for you to get the note correct before moving on.
You can also use other learning apps with this keyboard such as Synthesia.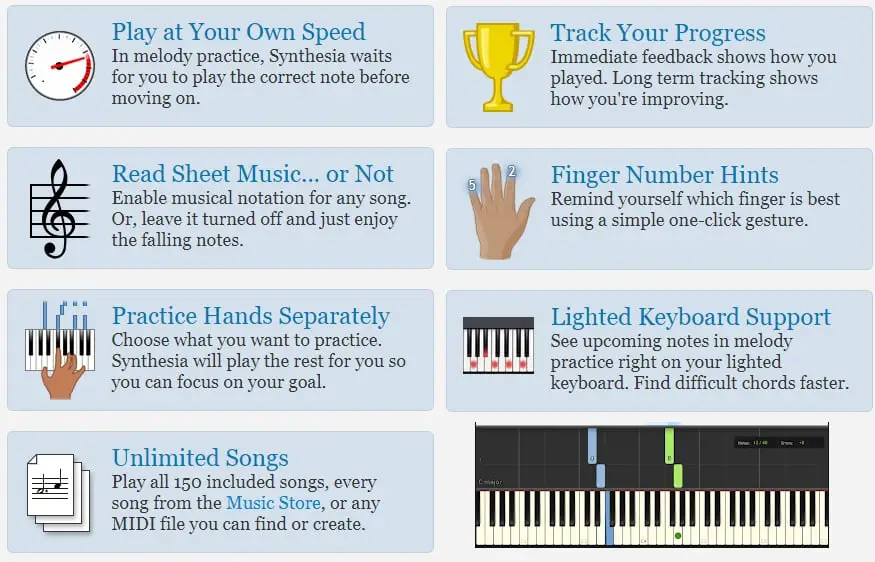 ---
CASIO LK-250, 61-KEY
This keyboard comes as a premium pack, including headphones and a stand. There are 61 touch response keys and you can access over 100 preset songs to learn with the lighting system. There is even wireless connectivity to Page Turner, an iPad app to go with the preset songs.
LEARNING FEATURES
This Casio keyboard has 61 keys and operates on battery power or with the AC adapter. It has 400 tones and 150 rhythms so you can explore different instruments and sounds. 
You have free access to the Chordana Play app where you can learn songs and follow along as the keys light up. The step-up lessons include 60 built-in songs. I absolutely love this keyboard and app and highly recommend it for self-learning! If you're looking for a beginner keyboard/piano that lights up keys, the Casio LK-250 is an excellent keyboard that teaches you how to play!
CHORDANA PLAY CASIO LEARNING APP
The Casio Chordana play learning app is a fabulous learning tool that you can connect to this light-up keyboard. Click here to read more on Casio's official site about their Chordana app.

---
LAGRIMA 61-KEY LIGHTED KEYBOARD
Lagrima is becoming a popular brand for affordable musical instruments. This is a new 61-key model for learning with keys that light up and teach you to play. 
There are 225 tones and 225 rhythms as well as 50 demo songs to play along to with the illuminated keys. 
The training function has three steps and firstly guides the learner to learn the melody, then 'follow' and finally 'ensemble' – putting it all together.
 【Complete Timbre & Rhythm】LAGRIMA LAG-750 61-key electronic music keyboard has built-in dual speakers can provides 200 tones, 200 rhythms and 70 demo songs. Use the optional 6 percussion instruments and drum sound kits to help maintain the rhythm. This electronic piano keyboard is perfect for all It can be used by beginners and performers of different skill levels, children or adults, bringing you superb sound quality.
 【Dual Power Supply Mode】LAGRIMA LAG-750 61 key electronic keyboard piano has dual power supply mode, which can be passed through AC/DC power adapter (included in the package/available 110v-240v) or 4 AA batteries (not included) power supply, convenient to use when going out for practice or performance, it is your music partner with you.
 【Recording & Replay】LAGRIMA LAG-750 61-key electronic piano keyboard with recording function, plug in headphones is your own secret music world. The playback function can also help the performer recall the performance effect and make targeted connections to improve the performance ability.
 【Unlimited Expansion】The LAGRIMA LAG-750 61 key music keyboard has an audio input/output/microphone jack(without USB port). The audio input can be connected to your other electronic devices to simulate the sound of a variety of musical instruments. The audio output is connected to an external speaker, and the microphone can sing. The large-size digital display is clearer, and you can have a professional concert-like shocking experience at home.
 【61 Light Up Piano Keys】Full-size 61-key keyboard piano This multifunctional keyboard piano has 61 follow-up keys, designed for beginners to intermediate use, high-quality feel, beautiful appearance, is a reliable choice. So that beginners or children can learn and play the piano easier and faster.Piano dimensions: 33.9*3.5*11.4,Stand dimensions: 31.2*15.0*22.8-26.7,Bench dimensions: 15.4*11.9*17.4/18.9/20.1.
THE ONE PIANO HI-LITE
A LIGHTING STRIP TO CONNECT TO ANY KEYBOARD OR PIANO
THE ONE MUSIC GROUP PLAYER PIANO (TOH1) – HI-LITE STRIP
IDEAL IF YOU ALREADY HAVE A PIANO OR KEYBOARD AND WANT IT TO "LIGHT UP"
If you already have a keyboard/piano and just want the lights- here is your solution! The ONE Piano Hi-Lite attaches to your keyboard and through sensors and Bluetooth tracks your playing.
You can connect to several learning apps, including the free ONE Smart Piano app and learn songs in minutes or play games to improve your playing skills. It connects to other MIDI apps such as Yousician, Piano Maestro, Synthesia and Garage Band.
So if you want a piano that lights up keys and you already have an instrument, this little gadget may provide the solution to light up your learning!