Best beginner keyboard piano for adults – Top 5
Based on the main features you'll need as an adult beginner, I have narrowed the list down to 5 for this post on the best beginner keyboard piano for adults. You may have a particular feature in mind such as a portable model or maybe you want an upright digital piano. If the choices in this post don't cover what you have in mind, contact me or comment underneath and I'll help you.
Let's start with listing the top 5 and then have a look at each one in a little more detail. After that, I will explain the features I considered best for an adult beginner student.
If you would like a light-up piano or if your budget isn't a factor, jump to the end of the post where I suggest a couple of suitable higher-end pianos.
Best beginner keyboard piano for adults – Our Top 5
If you want to know any of the other features for the pianos mentioned here, click through to Amazon or Sam Ash on any of them on the table to read the full specs. There are plenty of other features such as the number of voices/tones, different modes such as split mode/ duo mode/ touch sensitivity and more. In this post, I have simply outlined those that are priorities for a beginner adult student.
YAMAHA P71/P45
These two pianos, the Yamaha P 71 and Yamaha P 45 have the exact same features. The only difference is that the P71 is Amazon exclusive and a few dollars cheaper.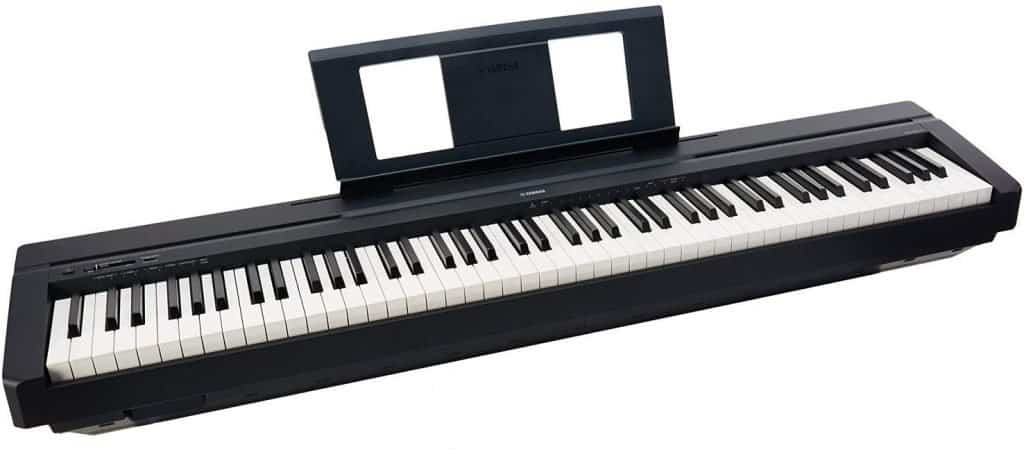 This piano is suitable if you are looking for a budget piano that still promises to deliver on quality, as it is a Yamaha. It has a good beginner keyboard and is a top seller on Amazon. This is the best keyboard for a beginner adult if your budget is tight! It has the basic features you will need as a beginner.
(If you want something even cheaper than this with a weighted keyboard, The Alesis Recital is an option)
YAMAHA P125
This digital piano also has the basic features you'll need as a beginner but the quality is better than the P45. See the better specs below.
ROLAND FP30X
This piano keyboard is a favorite among pianists for its portability and its sound quality. The piano sound on this model is a feature commonly hailed as superior by owners.

See our post on the Yamaha P45 vs the Roland FP30x here.
YAMAHA P515
This one is a higher-end portable keyboard. Again it is portable and not too heavy, but the features are superior. The white keys are wooden which gives the feel of a real acoustic piano. This is a huge benefit if you plan to keep up piano. If you plan to do piano lessons and you are determined to succeed, this is a great choice. This is the best digital piano you can buy if you want a portable model that will last your piano journey from beginner to advanced.
If you want, you can attach it to a proper stand and turn it into a piece of furniture.
The feel of these keys versus the plastic keys on other models can't be disregarded. Now if you want actual full wooden keys you can get digital pianos with those too but of course, these pianos are more expensive. See the Kawai CA49 for example.
The Yamaha P515 has superior features and sound quality. It is one of their best portable digital pianos.
KORG LP-380U
If you want a piano with a furniture stand built-in, the Korg LP-380U is a modern, sleek digital piano! It has all the quality features a beginner needs on a slimline, console-style stand.
It produces excellent Classic and grand piano sounds that realistically reproduce the tones of an acoustic piano.
Pedals
The LP-380 includes all three pedals that are normally found on a concert grand piano, including support for realistic half-pedaling on both the damper and soft pedals. These pedals are built into the LP-380 in the perfect position for an authentic piano playing experience…. and I have to mention, in the usual Korg style, the design is modern and cool!
Important features to consider when buying a piano
88 keys- Why is it important to learn on a piano with 88 keys?
A piano with 88 keys is important for two reasons. First, it allows for a greater range of expression. You'll have access to more notes, which means you can play a wider variety of melodies.
Second, it prepares you for playing on a real piano. Most pianos have 88 keys, so if you ever decide to take your playing to the next level, you won't have to relearn your techniques.
Weighted keys – Why are weighted keys important?
Many beginner keyboards have lightweight keys, which can make it difficult to learn proper technique. A keyboard with weighted keys provides a more realistic playing experience.
This is because weighted keys are heavier, similar to the hammer action of real piano keys. When you press a weighted key down, you'll feel resistance, just like you would when playing a real piano. This resistance helps you develop the proper finger placement, strength and technique.
Key Action – What is key action and why is it important?
Key action is the way a keyboard responds to your touch. A keyboard with good key action feels natural and responsive. This means that when you press a key, the keyboard will accurately reproduce the sound you're aiming for.
Poor key action can feel sluggish and unresponsive, which can make it difficult to play properly.
Polyphony -What is polyphony and why is it important?
Polyphony is the number of notes a keyboard can play simultaneously. A keyboard with high polyphony can play more notes at once, which is important for advanced players.
When shopping for a beginner keyboard piano, be sure to consider the polyphony because as you advance onto more difficult pieces, you will need this feature.
The higher the polyphony the better! If you want the best digital piano, look for a higher polyphony count.
Read our full post on polyphony here
Why are pedals important for a piano student?
Pedals are important for learning piano because they allow you to control the dynamics and sound of the instrument. There are three pedals on an acoustic piano – the left pedal (the sustain pedal), the right pedal (the sostenuto pedal), and the middle pedal (the una corda pedal). Each pedal has a different function, and mastering how to use them will come as you advance on your piano journey.
The left pedal (the sustain pedal) is the most important pedal for beginner piano players. When you press this pedal, it causes all of the notes you play to be held until you release the pedal. This can be helpful for practicing chords and melodies.
Digital pianos generally have an input for a sustain pedal. Some higher-end models have the option to connect a 3-pedal unit.
IMPORTANT:
Some of the pianos above come with a footswitch which works in the same way as a sustain pedal on an acoustic piano.
However, if you would prefer a pedal that is more like what you'd find on an acoustic piano, you can connect one that has a ¼" plug (most of them have).
A good alternative is the M-Audio SP-2 which is a piano-style pedal similar to the traditional pedals on an acoustic piano.
Number of voices- Is this important?
I have not particularly included this as an important feature for the beginner adult piano student. Sure, you can have fun with different sounds and mix up sounds to produce great-sounding songs, and it's all practice!
But, what you need is a good quality piano sound which is what all 5 pianos above will deliver. They have plenty of other tones but this should not be a deciding factor. If you consider the features above, that should be sufficient to choose a good reliable instrument to learn piano and build good habits from day one.
Light-up keys that teach you to play:
There are many keyboards/pianos that light up the keys to guide you and teach you the notes. See our post here.
Some are cheaper keyboard-style pianos but you can also get higher-end digital pianos with light-up keys.
If your budget stretches and you want a good upright digital piano that "teaches you to play" you could consider The ONE Smart piano. It is a beautiful, smart, learning piano with lights above the keys.
IF you prefer a Yamaha keyboard or digital piano, you could consider the Clavinova CSP-170. Now, this is a high-end super-smart piano! You are really looking at the Rolls Royce of digital pianos if you're considering a Clavinova!
CONCLUSION
If your budget is tight, go for the Yamaha P71 or P45. Otherwise, I would recommend the Yamaha P-125. If you can afford it, the specs are way better than the P71/P45 and well worth the extra money. It is good quality and will get you through many years of playing.
If you can afford a bit more, go for the Yamaha P-515. This is my favorite piano keyboard! It has wooden keys, great features and can be used as a portable keyboard or put on a proper piano stand. This is a high-quality instrument that will last your piano playing journey.
Questions? Contact me or comment below.