Is flowkey worth it? – A new way to learn piano
What is flowkey?
Flowkey is an online music learning platform for learning piano. Throughout this post, if used mid-sentence, you'll see it correctly referred to as 'flowkey' with a small 'f' – this is their trademark!
So is flowkey worth it? | Let's get straight to the point!
Flowkey costs a fraction of the price of lessons with a piano teacher. It can take you from beginner to advanced. I feel it is well worth it, but make sure to follow the tips in this post and be consistent with your learning – a little every day and one step at a time.
I always tell my students to play anything they 'love' playing – when you love what you're playing you 'want' to learn more! This is how the flowkey app is designed to teach you.
Their slogan is 'Learn piano with the songs you love.' This is exactly how this online piano course is designed.
This is the best way to learn piano- by playing the songs and pieces you love and want to play. Flowkey makes this possible by providing you with a huge library of songs to choose from, at all levels.

You learn to read music by learning to play songs and watching the sheet music note by note.

There are lessons (music theory and piano playing skills) and songs for beginner and intermediate levels and from there you learn to play by learning songs and making your way to the more advanced songs and pieces.
First of all, there is a trial period so you can see for yourself if it's of value to you
Flowkey premium then allows you to continue. The cost is a fraction of what you'd pay a piano tutor.
Let's explore the learning platform in more detail and examine what it offers in more detail
Features of the flowkey app
Library of over 1500 songs (with sheet music) in every genre and skill level
Listens to you play and "waits for you" to hit the right notes
Watch an expert play as you learn songs and follow the sheet music on the screen
Play at a slower speed at the touch of a button, to get comfortable with a piece
Loop sections – replay sections over and over until you perfect them
Select hand – you can practice left and right hands separately
Courses full of music lessons that monitor your progress and teach you piano skills and music theory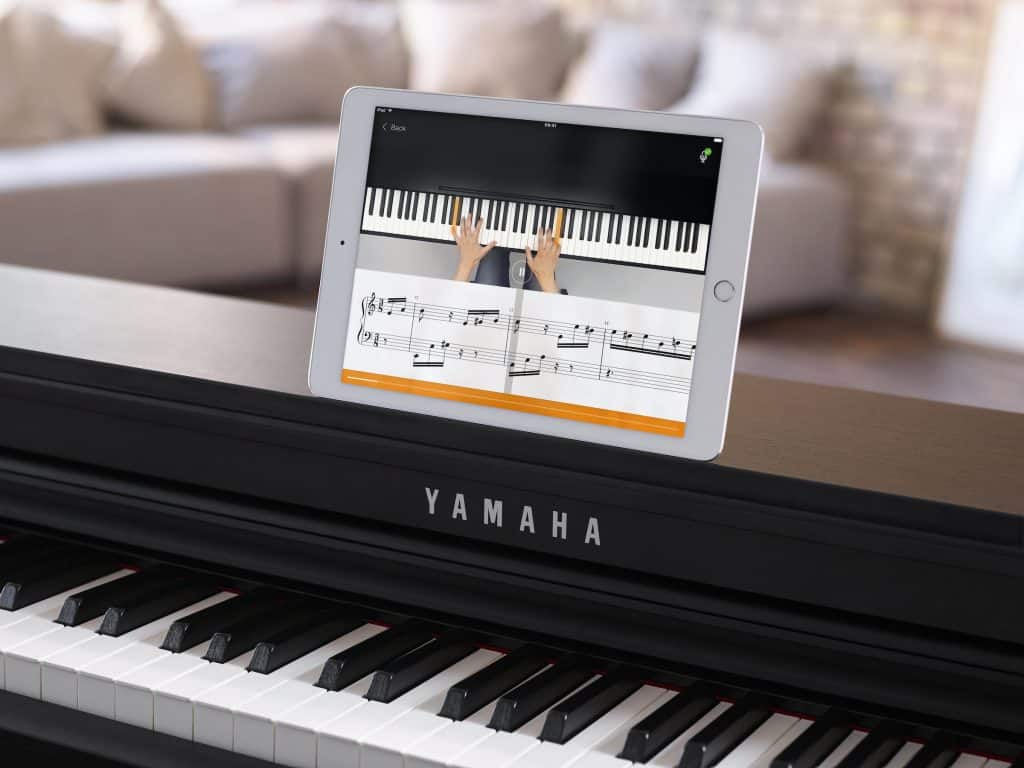 It's a Smart Teacher!
You can use it on any device – PC, iPad, Android, Smartphone… the App 'listens' through your microphone to your piano – it can be a digital piano or an acoustic piano. By listening to you play each note, it can tell you're ready to move onto the next note in a song or the next section in a lesson.
How does flowkey work? -The learning platform
The flowkey app has a lovely simple interface that allows you to choose songs to learn or lessons from the courses section. It monitors your progress as you go along.
The app firstly asks you what experience you have playing to determine your level.
You're then brought to the main platform. The main platform is beautifully simple and easy to use.
Down the left-hand side, there are 4 menu buttons: All Songs, Search, My Songs, Courses.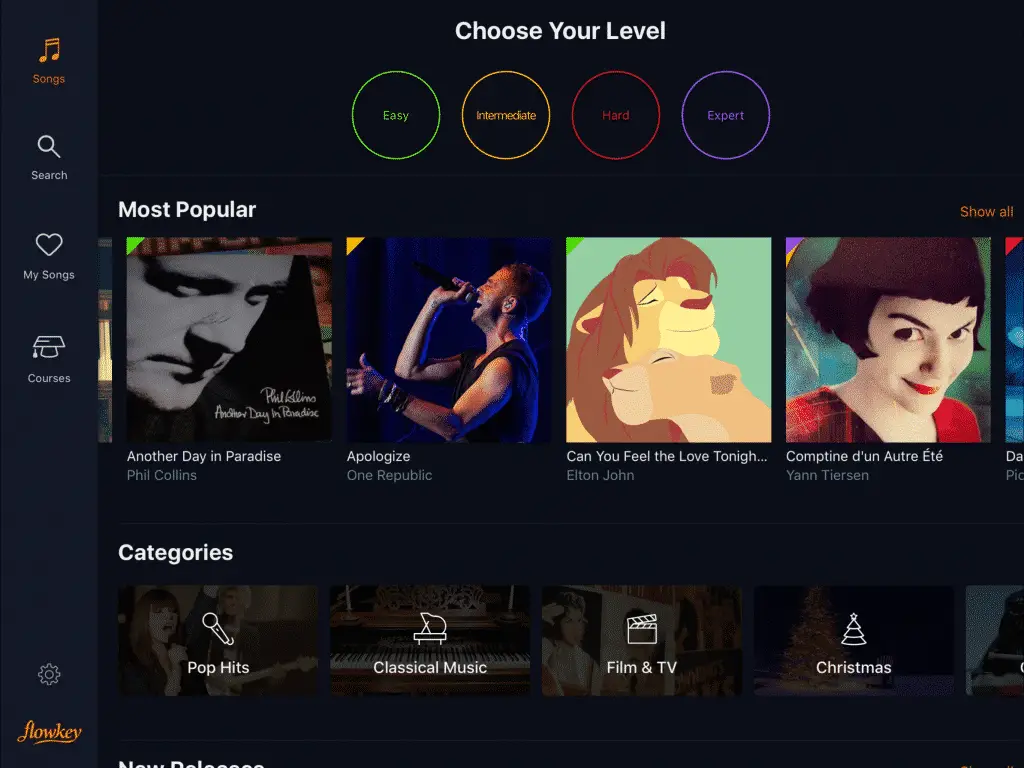 All Songs shows the pieces available in the song library to learn in categories on the main screen.
Songs are color-coded for each level.
Green is Beginner
Yellow is Intermediate
Red is Advanced
Purple is Pro
Search will allow you to search the entire song library for a specific song.
My Songs will bring up songs you 'Recently learned' and a list of your Favorites (which you can easily mark)
Courses will bring up their series of Beginner courses, Exercises and scales, Chords & Improvisation. Within each of these are a group of lessons. As you progress through the lessons, a progress % appears on the course icon. These lessons are excellent for beginners and intermediate players.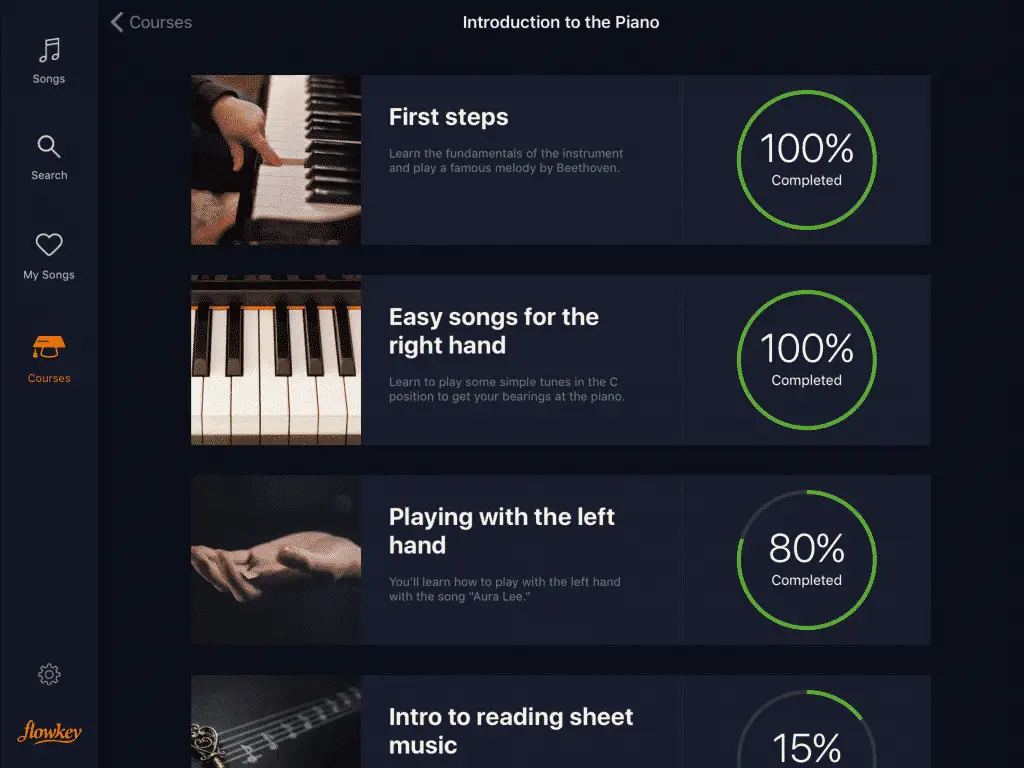 More advanced players can go straight to the library and progress by learning songs at the appropriate level.
Song library
The song library is huge! Over 1500 songs with sheet music-from classical to pop hits. When you pick a song, you hear a preview of it, and then you can choose your level and begin learning at your own pace. The sheet music then shows up with a keyboard so you can see the notes being played. A very nice feature is the way it stores the songs you're learning in My Songs and also has a section for your favorite songs.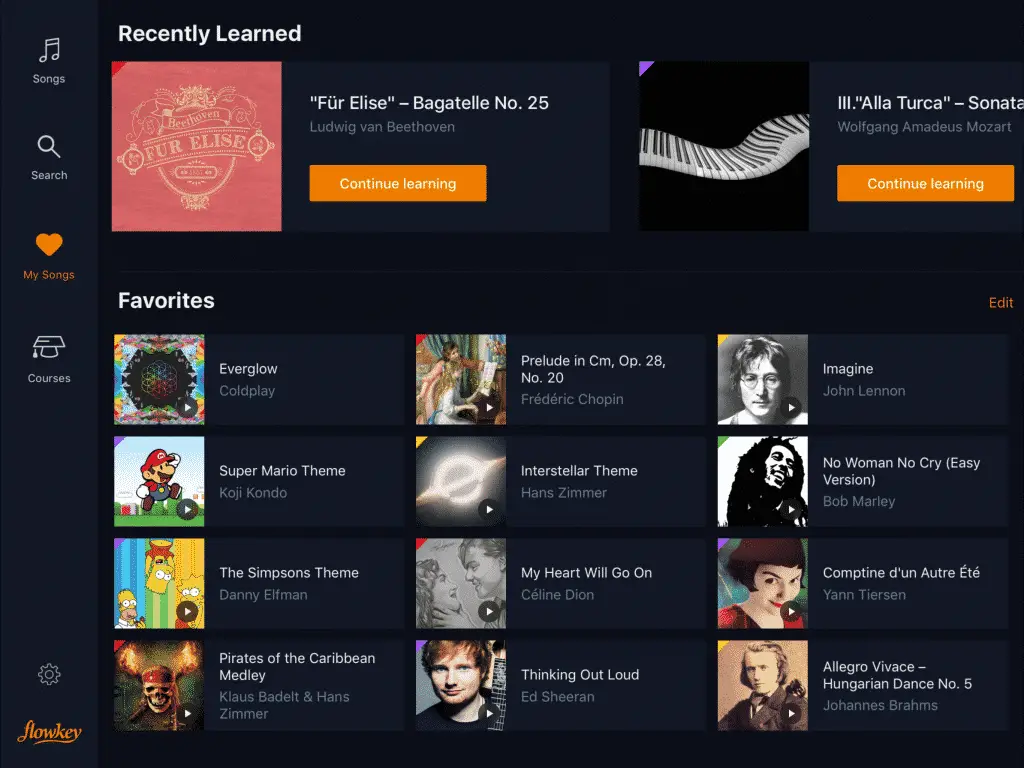 Wait mode makes the app wait for you to hit the right note before moving on. Slow mode allows you learn the piece at a reduced speed. This is how you learn -start slowly. Speed will come along all by itself as you progress.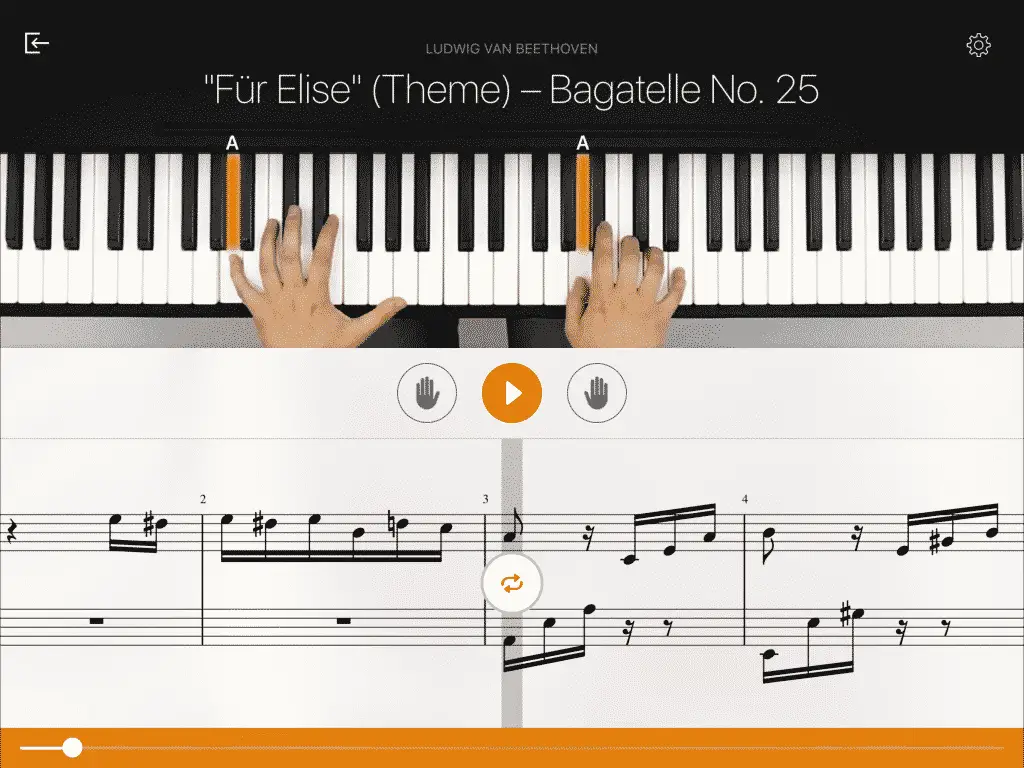 Is flowkey good for beginners? Piano lessons
Flowkey has an excellent series of lessons in the courses section for beginners. The piano lessons within the courses section cover basic music theory and piano skills. Progress through these lessons alongside learning a few songs at your level. Following the sheet music in the songs will bring those music theory lessons to life.
Your piano playing skills are also progressing through this learning process. When you've finished the beginner lessons, flowkey also has a set of lessons for intermediate players in the courses.
My experience with using the app
I got flowkey for my daughter to encourage her to learn. I had been trying to teach her the basics of the piano with some music theory lessons but you know how it is when a mother tries to tutor a child! They resist!
Flowkey has been invaluable to her. She started by doing a few lessons in the Courses section and then she wanted to play songs. She feels like she is learning herself and she is so proud now to show me when she learns a new song or some music theory. She is almost at the intermediate level now and progressing quickly!
I am amazed at how she is learning to read sheet music so quickly. There are a few songs that she plays over and over! Mostly pop hits – I wish she would try a few classical but I'll ease her into those someday! For now, I don't want to disrupt her focus!
What level is flowkey good for?
Flowkey is excellent for all levels. Beginners and intermediate players can work through the courses and lessons while learning songs. More advanced players can go straight to the library of songs and advance through playing.

Can you really learn piano with flowkey?
Yes! Use the app as it was designed – follow the lessons step by step and choose your favorite songs to learn. Just remember, don't rush ahead, take it one step at a time as if you were attending lessons with a piano teacher. If you do it this way, you make proper progress and not give up!
Flowkey trial and flowkey premium – how much is flowkey premium?
Flowkey offers a 7-day trial. For flowkey premium, there are 3 pricing options.
Month by month: $19.99/month
12-month plan: $9.99/month (billed annually)
Lifetime plan: $329.99/one-time payment
Is flowkey worth the money?
I've often been asked 'Is flowkey premium worth it?' Think about this. If you compare this to the price of attending lessons and you use it routinely, you'll definitely see that flowkey premium is worth the money and lives up to its slogan – learn piano with the songs you love. Why not use the free version for the 7 day trial period to see if it's for 'you'.
Use these tips to get the best from the app!
If you're going to a piano teacher, you're assigned a time to attend lessons and given tasks to do each week to progress. When you decide to learn by yourself, it's important to plan out your time and your lessons in the same way.
To get the full value from the app:
Assign a time each day to do your lesson.
Give yourself homework!
Make sure you begin at the level you need and work your way up step by step.
Learn one song/piece and perfect it before moving on.
Ideally, you should practice every day. Little and often is better than cramming when learning piano.
If you follow these steps, you'll get the value from the app as it is supposed to be used and you'll progress quickly.
You can also use it alongside going to lessons. It is a great enhancement to your lessons as you will have something fun to turn to when you want a break from the pieces or tasks you're doing for your lessons.
ALL PLAYING IS LEARNING. So pick your favorite song and learn it. (Notice that I said 'song' and not songs. Remember, one at a time!)
Flowkey and Yamaha
If you're buying a new piano and it happens to be a Yamaha, you'll get three months of free flowkey subscription included.
What devices work with flowkey?
The following devices are compatible with flowkey:
Amazon Fire tablets are not currently supported.
Final thoughts on the app
Overall, I believe that Flowkey is a great platform for learning how to play the piano and would recommend it to anyone looking to get started with playing this instrument. The lessons are well structured and easy to follow, and there is an excellent pace of progression for users. I highly recommend it!