Best Keyboard For Child To Learn Piano | 5 Top choices
When teaching piano to a kid, they need all the practicing time that they can get if they are to become the best at it.
Since they might not always have access to the piano of their instructors/ teachers, you can get them something of their own to practice with too. With the vast array of keyboards out there, picking one might get challenging.
That is why we have researched the best keyboards for your child to learn piano – and brought them all to you here.
1 Best Choice 61-Key Electronic Keyboard
The name of this keyboard already suggests the number of keys so that we won't dwell on that. What the name does not tell you, though, is that this Best Choice 61-Key Electronic Keyboard comes with three different teaching modes that promise to take your kids from novice to an advanced level for their age.
The teaching styles include one-key, follow, and ensemble.
When your kids practice in your absence, they can record their works to playback later too. The LED display on this piano makes it look more advanced for its use. That is only second to the variety of sounds and rhythms that it comes with.
With a complete bundle to match for those interested in the ultimate package, we believe your kids will love to see this as much as they'd like to play on it.
2 FitnessClub 61-Key Portable Electronic Keyboard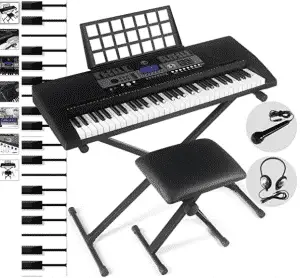 FitnessClub 61-Key Portable Electronic Keyboard
We don't know how portable this would be for a child, but the FitnessClub 61-Key Electronic Keyboard is as solid a unit as they come.
What first stands out to you are the weighted keys, giving your kids the feeling of playing on a grand piano. Thus, they can keep the same consistency from their tutors when practicing in the comfort of your home.
On either side of the piano frame is a bass speaker protected behind a metal grill. They both produce nothing short of quality sound, further endearing your kids to the piano.
An intuitive LCD is on board to improve the interactions with the piano itself. On top of that, we have a split button feature that allows the user to play different timbres.
Finally, this piano features up to 200 rhythms, a further 200 tones, and even 200 demo songs more. In short, there is no shortage of samples for your kids to learn from and create a unique tune with.
3 RockJam 61 Key Electronic Interactive Teaching Piano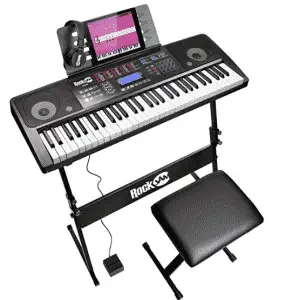 RockJam 61 Key Electronic Interactive Teaching Piano

The fact that your kid is in the learning phase does not mean they cannot be trained to adapt to the bigger keyboard frames from now.
That is where this RockJam 61 Key Electronic Interactive Teaching Piano comes into the mix.
Based on the compatibility with a sustain pedal alone, this product finds a stable seat among other best keyboards for children to learn piano with. Fortunately, that is not the only unique thing about this unit.
Inside the super kit are a set of headphones tuned to supply the quality sound coming out of the keyboard. This will also allow your kid to practice at any time of the day without disturbing the rest of the household.
A touchpad now comes with the RockJam keyboards to make them better suited to different age classes. That, and we have not mentioned the diverse modes of connection and ports that ships with the unit.
Finally, there are over 200 different rhythms and tones to be chosen.
4 Alesis Melody 54 Key Electric Keyboard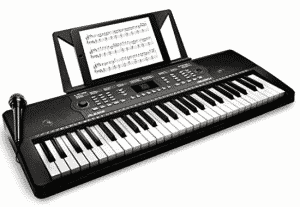 Alesis Melody 54 Key Electric Keyboard
We know your kid(s) has a tutor already, but it would not hurt for them to gain some more experience from other talented people in the industry.
So, why are we saying that here? Maybe because a 3-month subscription to Skoove Premium package accompanies every purchase of this Alesis Melody 54 Key Electric Keyboard. Here, there are a series of musicians that are on hand, not only to teach but interact with your kids through their learning process.
The 54-key piano also brings a microphone on board to allow you to record your songs. Although they could have done better than the 40 demo songs installed, we are particularly impressed with the premium sound pallet mimicking a wide variety of other instruments.
5 SAOCOOL Kids Piano with 32 Keys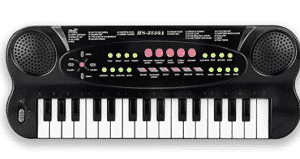 SAOCOOL Kids Piano with 32 Keys
When it looks like a toy, it might not seem like much work to 3 – 12-year-old kids. This is the principle on which the SAOCOOL Kids Piano was built.
There is a provision for batteries, so you don't have to get the unit plugged before it works. The robust build of the piano only accommodates 32 keys. That might sound minimal, but the keys are just enough for your kids to learn the basics before they move to advanced keyboards.
The function buttons are color-coded to help kids identify them better – and also to boost the aesthetics of the unit. Finally, you get up to 22 demonstration songs that are all curated around the melody your babies would love to hear.
From happy birthday songs to the 'joy to the world' tune, you can bring more joy into their worlds with this piano too.
Conclusion
Picking the best piano for your child to learn with does not have to be rocket science. If you have ever been confused as to which to get them, we believe you have your picks above.