Best stage keyboard under 1000 dollars- Top 5
You're here to find the best stage keyboard under 1000 dollars so let's just talk about that for a moment! Stage pianos are expensive. For a good stage piano, you can expect to pay over $2000. Finding one for less than $1000 is possible – you just need to know what features are best for a stage keyboard, such as portability, robustness, sound quality, and connectivity.
You may see portable digital pianos or keyboards show up when searching for a stage keyboard under $1000. It is possible to use a digital piano or keyboard but they are not as robust for bringing around and they are not as loud. I'll talk more about this later on in the post. The 5 keyboards I've picked out here are portable, robust, packed with sounds /effects, and all the input/output you'll need for connecting to amps/ computers etc.
Best 5 stage keyboards under $1000
I've narrowed down the search to 5 top models. I've based these on the top features needed for a stage piano. So read below the table for more details on what features to look out for.
Do you want built-in speakers? Some stage pianos do not have built-in speakers- you need to connect to an amp. Even if they do, they may not be loud enough without an amp for a stage performance.
This choice of 5 keyboards under $1000 is based on the main features you'll need in a stage piano which I've listed below. Then you can click through to Sam Ash or Amazon to view more details on whichever one you like.
Features to look out for in a stage piano
The main features you need to look out for in a stage piano are:
Portability: Size and weight
Connectivity: What inputs and outputs it has
Sound: Built-in speakers or not (do you have an amp?)
Instrument sounds: Do you need an array of sounds?
EQ settings/Effects: Such as reverb/ echo…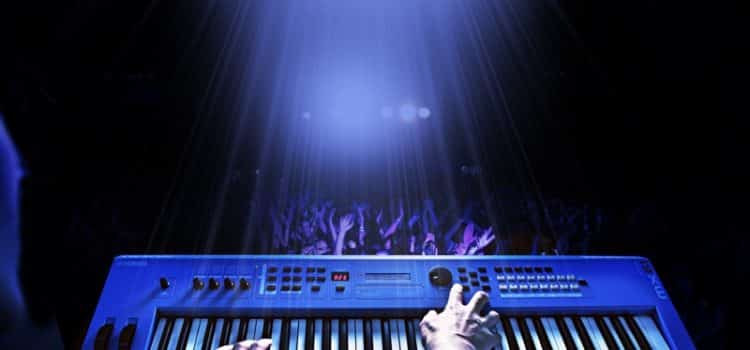 What exactly is a stage keyboard/ piano?
Whether you're looking for a stage piano for live performances, for the Studio, or for recording, you want a specialized instrument that packs in features suited for your needs. For example, if you need one for touring, you'll want a good robust model that will withstand being moved around. Will you be alone or with other instruments? You may need an amp or even one with a big choice of instrument sounds.
Accessories or essentials?
Bag: If you plan to transport your keyboard around to gigs or concerts, you'll need a bag. Don't risk getting it knocked and damaged by not having it in a proper gear bag.
Speakers/amp: Does the model you like have built-in speakers? If not, make sure you have an amp or speakers to connect it to. You might want headphones too.
Cables: Make sure you have all the cables you need for connections you plan to make to external amps/ computers etc.
What's the difference between a stage piano and a compact digital piano?
Many stage pianos do not have built-in speakers and are connected to an amplifier. Stage keyboards and pianos also usually have a wider range of instrument sounds and effects so that different sounds can be covered by a band without having them all available as stand-alone instruments. Many stage keyboards also have the ability to connect to MIDI devices and instruments and be used as a control system.
Can a digital piano or keyboard be used for live performances?
It certainly can! There is nothing wrong with using any type of digital piano or keyboard on stage. If you search for stage pianos, you'll often be met with many results that are portable digital pianos. For example, the popular, compact Yamaha P-125 is often used as a stage piano with an amp.
The important thing is that you'll need to be able to connect it to an amplification system so the sound isn't lost. Even at the highest volume, a portable digital piano or keyboard may not be loud enough on stage.
Make sure you have the full range of instrument sounds you need for your performance. You also need to be careful transporting it. Even portable digital pianos need special care, they are not as robust as stage pianos, so make sure you have a good gear bag that is the correct fit.
Take a look at our post on the Casiotone Ct-s200– it's another example of a small portable keyboard piano that is ideal for stage performances.
Don't dismiss a good digital piano or synthesizer
The top-notch models (such as a Nord) are called "stage pianos". When you're looking for one under $1000, don't dismiss digital pianos and synthesizers. Many of these are ideal for the stage even though they are not labeled 'stage' keyboards.