Alesis Recital 88-Key Review | An affordable semi-weighted keyboard
If you are shopping for your first digital piano, you should take a closer look at this option from Alesis Recital. The 88-key beginner digital piano may include the features that you need. The Alesis Recital is an affordable beginner keyboard with semi-weighted keys. It is an excellent choice for beginners- at under $300 and with semi-weighted keys. This will start the learner off on the right path – building good habits in relation to how the payer has to learn 'touch' and how much weight to put on the keys as they are playing. We'll talk more about the semi-weighted keys later in this post.
This Alesis Recital 88-key review will go through the features that make this digital piano an affordable, worthy contender.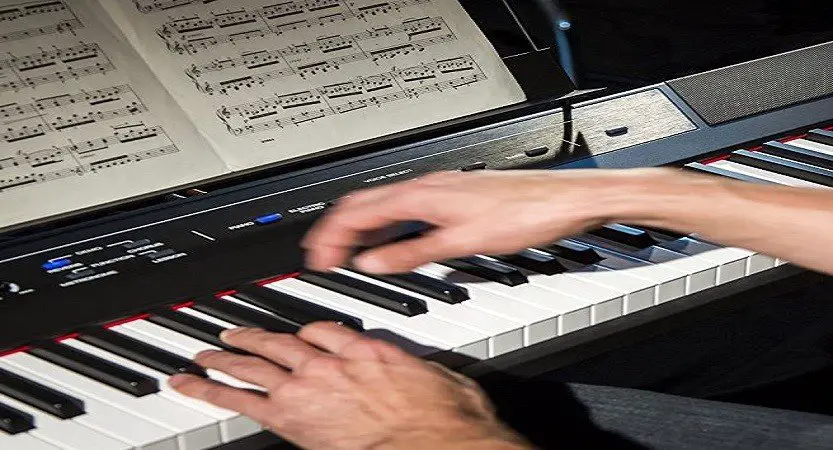 WHAT DO YOU GET WITH THE ALESIS RECITAL 88-KEY DIGITAL PIANO?
The Alesis Recital 88-Key Digital Piano is designed for beginners. However, the quality of the piano may make it suitable for more experienced pianists.
Here are the main features of this digital piano:
Includes five digital voices
88 full-sized keys (semi-weighted)
Built-in 20-watt speakers
1/4-inch sustain pedal input
Stereo headphone jack
The digital piano is equipped with five digital sounds. You can choose from electric piano, acoustic piano, organ, synthesizer, and bass. You may also layer these sounds to create your own custom tone.
ALESIS RECITAL BUNDLE
Rather than just the base piano, you can a bundle package for a few dollars more.
With the Alesis Recital 88-Key Digital Piano Bundle, you get a few useful accessories:
Sustain pedal 
Piano stand 
Padded bench
The pedal included in this bundle is a classic style- it is just like an acoustic piano pedal, so getting used to the feel of it is good practice.
PROS AND CONS OF THE ALESIS RECITAL 88-KEY DIGITAL PIANO
The Alesis Recital digital piano includes the complete 88-key range. This is not something that you frequently find on digital pianos in the same price range.
Whether you purchase the standalone piano or the piano bundle, you also get the following advantages:
Adjustable touch response
USB connectivity
Optional battery-powered operation
Includes digital lessons
The piano also includes a USB port for connecting it to your computer. It works with Windows or Mac computers and allows you to use the digital piano with educational programs and digital audio workstations.
While the piano includes a power adapter for plugging it into a standard outlet, you can also rely on battery power. It can be powered with six D cell batteries.
Another advantage is the inclusion of digital lessons through the lesson mode. These lessons are designed to help beginners improve their development. It also includes an adjustable metronome for keeping time.
SEMI-WEIGHTED KEYS
The keys are semi-weighted, which makes them feel more like you are playing a real piano. While the feel is natural, you can also adjust the responsiveness of the keys. The adjustable touch response allows you to adapt the piano to your personal preferences.
A traditional acoustic piano has weighted (hammer action) keys. So weighted keys are designed to imitate this. The Alesis Recital has semi-weighted keys, which is a good start! Plus, for the price, it is good to have any kind of weighted action in the keys. For a fully weighted keyboard or piano you'll have to spend a little more. If you like the idea of an Alesis, they also have a more advanced option with weighted keys called the Alesis Recital Pro.
CUSTOMER CONCERNS
As mentioned, this piano comes equipped with five digital sounds. This is a small number of tones for a digital piano, but it is actually enough for a budding pianist. The benefit of having a smaller number of tones means fewer distractions.
Some users were also disappointed that the piano did not come equipped with a sustain pedal. However, the pedal is included in the Recital bundle, along with a stand and a bench.
With the bundle, you get everything needed to start playing the piano.
CONCLUSION – IS THE ALESIS RECITAL 88-KEY DIGITAL PIANO A GOOD BUY?
The Alesis 88-Key Digital Piano is a wonderful instrument for beginners. It is also suitable for more advanced pianists who want a basic budget digital piano for practice or casual play.
It is a highly popular choice for those who are starting a child with piano lessons and don't want to fork out a fortune for a starter piano – yet you want to start on the right path.