Korg Tiny Piano Review- beginner piano for toddlers
The typical mini piano for toddlers is made from plastic and features distorted digital sounds or annoying animal noises. With the Korg Tiny Piano, your child gets a more realistic introduction to the world of music.
If you are searching for a beginner piano for toddlers, check out the rest of this Korg Tiny Piano review.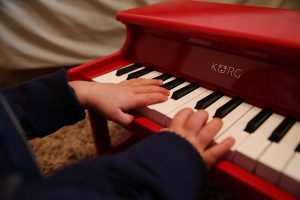 Main Features of the Korg Tiny Piano
The Korg Tiny Piano comes from a well-known manufacturer of synthesizers, soundboards, and instruments. It is essentially a miniaturized version of an upright piano equipped with a digital sound engine.
The piano is designed specifically for toddlers, with no major moving parts and a durable construction. It is just the right height for them to sit in front of the piano and slam their little fingers on the keys.
The piano arrives assembled and includes six AA batteries for powering the instrument. You simply need to insert the batteries and turn it on to enjoy the following features:
A 25-note keyboard
Built-in speakers
50 included demo songs
25 built-in sounds
Korg Tiny Piano Review- beginner piano for toddlers (Click on images to view on Amazon)
The Korg Tiny Piano is a mini digital piano. It measures just 15.1 x 10.2 x 11.1 inches and weighs a little over 10 pounds, making it easy to transport or store.
The piano has 25 keys, made to resemble a miniaturized upright piano. The body is mostly made of wood, giving it a solid feel.
The sounds are produced by a quality Korg synthesizer engine and are played through built-in speakers. It produces clear digital audio, with a selection of 25 different sounds, including piano, organ, bell, and clavinet.
Along with the instrument sounds, the piano comes with 50 demo songs to listen to or play along with. The songs cover a wide variety of styles and can be played as background music.
The controls are clearly labeled above the keys. It has a power button and individual buttons for changing the demo song or built-in sound.
An LED power indicator is located to the right of the buttons and a volume control knob sits on the left side. The volume is preset to a noise level that is appropriate for the ears of little children. When the batteries are almost depleted, the LED indicator starts to blink, letting you know it is time to replace the batteries.
Korg Tiny Piano Review Advantages
What do customers like about this piano? A typical Korg Tiny Piano review contains nothing but praise for this little instrument. The main advantages include the following:
Easy to understand controls
Large keys for small fingers
Durable construction
Quality digital piano sounds
The layout of the controls makes the piano easy to use. An older toddler should grasp the basics quickly. To switch between the piano and song functions, you just need to press a button.
The keys are also large compared to most toy pianos. Your child can distinctly press the keys and work on their fingering and hand positioning.
As a beginner piano for toddlers, safety is a priority. This piano is incredibly durable and contains very few moving parts. It can hold up to daily use by rambunctious toddlers and does not contain any pieces that may fall off or create a choking hazard.
The Korg synthesizer engine used in this beginner piano for toddlers produces quality sounds sampled from real instruments. You get accurate pitch and deep, rich tones.
Korg Tiny Piano Review Disadvantages
The one potential issue with this little beginner piano is the lack of a power adapter. As mentioned, the Korg Tiny Piano is powered by six AA batteries. While the batteries come with the piano, it may not take long for your toddler to drain the power.
Luckily, compatible power adapters are available for the piano. It works with a 9V power adapter with a standard 2.5mm DC connector.
Korg Tiny Piano Review Last Thoughts
The Korg Tiny Piano is a top-rated beginner piano for toddlers and young children. There is no comparison between the Korg Tiny Piano and cheap plastic toy pianos. This is a high-quality, durable little instrument with clear digital sounds.
Little kids should have hours of fun with this compact piano. Thanks to the realistic piano sounds and large keys, it also provides a suitable option for teaching your child how to play the piano.