AllegroKeys contains affiliate links. As an Amazon Associate I may earn a small commission from Amazon (at no additional cost to you) if you click through and make a purchase. Refer to our
Privacy Policy
Two readers recently asked me this question so I decided to write a post on it. I've spent quite a bit of time compiling this list to find you the best digital piano with weighted keys! In this post I will concentrate on the top features in relation to the key action. 
In this day and age, digital pianos are the way to go. There are a lot of pianos competing on the market many of which are excellent choices for the aspiring pianist. 
Personally, I am not a fan of posts that give long lists of products to choose from. I might as well go on a shopping site and decide for myself. So I've narrowed this down to my top 5. Yamaha take the lead and recur regularly on my list. However, if you don't want a Yamaha, I've a Casio and a Roland on the list. I made sure to include pianos that vary in price to suit all budgets. Although I've rated them 1-5 on our list, every piano on this list is a quality digital piano and a good buy.
Take a look at the features they offer below and decide which one is best for your needs and to suit your budget. 
What is the best cheap digital piano with weighted keys?
One of my readers asked what is the best cheap digital piano with weighted keys? 
The YAMAHA YDP-184 that tops our list is expensive. Don't be worrying though if you can't afford the top model. It's top of my list here because this post is entitled "the best digital piano with weighted keys"! 
I said above, none of the pianos listed here are bad quality and some are excellent value. So if you're looking for an affordable digital piano with weighted keys check out the YAMAHA P-71 or the CASIO Privia PX-160
Weighted keys or hammer action keys?
You will see some of the pianos on our list have 'hammer action' keys. In an acoustic piano we have hammers so this name is a great way to make the customer imagine key action similar to that of a real piano! Hammer action is also weighted action. You can think of Hammer action as a more advanced level of weighted key. 
If you're confused between weighted keys, hammer action, graded hammer action etc… Click here to hop down to the part of my post that might clear that up for you!
Here are our recommendations for the best digital pianos with weighted keys. Prices often change so I set the dollar indications ($) to give you an idea of the high, mid and lower range price tags!
THE BEST DIGITAL PIANO WITH WEIGHTED KEYS
TOP FEATURES:
CFX GRAND PIANO SAMPLING – 

Stylish upright piano that sounds and feels like a concert grand

GH3 – GRADED HAMMER ACTION – 

Closest to an acoustic piano you'll find

TOUCH SENSITIVE KEYS – 6 levels to choose from 

VRM – Virtual Resonance Modeling- captures the full-bodied rich sound of a Grand! 
Expensive- but among the closest to the real thing you'll find!
TOP FEATURES:
As with the YDP-184 this offers CFX GRAND PIANO SAMPLING and GH3 hammer action keys
TOUCH RESPONSE KEYS – 4 levels to choose from 
Also a great buy if you're looking for piano to 'leave in one place'. The Arius models are portable but great care is needed so they're best left stationary. 
Like the YDP-184 this would see you through from beginner to advanced level. You won't need to upgrade!
TOP FEATURES:
This is available with or without a solid stand. 

Excellent keyboard with weighted keys for beginner – affordable. l

ightweight (25lbs) and portable if needed. 
This digital piano is Amazon's top selling digital piano!
TOP FEATURES:
Highly rated Casio digital piano with exceptional sound quality. 
Good quality weighted-key action.
Available with or without solid or adjustable stand. 
Suitable for beginner 
TOP FEATURES:
This Roland digital piano is very popular. 
Very natural piano sound. 
Portable lightweight digital piano yet the keys have a weighted natural acoustic feel. 
WHAT ARE WEIGHTED KEYS AND WHY DO WE NEED THEM?
Firstly, a short answer for the 'why' – for expression!
If you think of an acoustic piano – inside there is a hammer that strikes a string or more than one string depending on the pitch. When you play a key, you can feel the weight of that action. It feels heavier to strike on the low end and lighter on the high end. The harder you strike the key, the louder it sounds. 
The keys in weighted digital pianos have built-in weights to give the player the same feeling when they strike the keys. There is no hammer striking strings inside a digital piano but the player should feel as though this is the motion they are controlling. This is why it is often called "hammer action".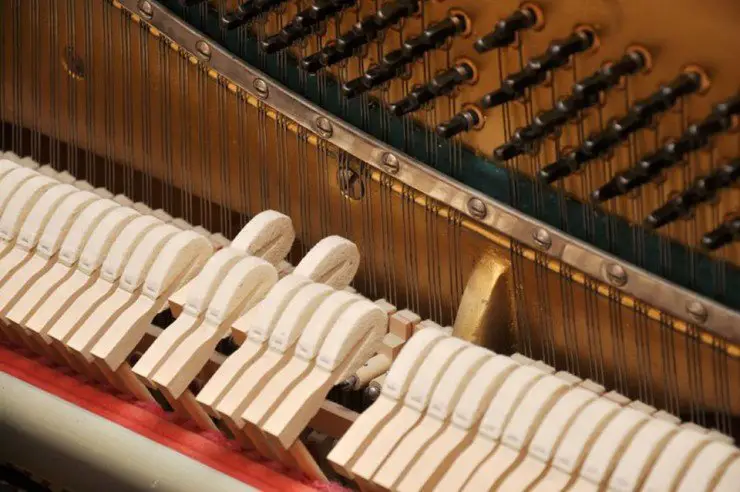 It allows players to build up good habits and not feel a difference if they play an acoustic piano. Learning to manage the weight of the keys builds up a player's finger strength and allows the music to be played as it should be- with great expression!
CONFUSED AND MISGUIDED BY IMPRESSIVE FEATURE NAMES?
It can be confusing for the customer to see not only weighted keys but then hammer action keys and then let's take it a step further and talk about graded hammer action keys!
Ok now lets go even further. Look at Yamaha and their different levels of graded hammer action such as GHS, GHE, GH3… If you were confused before, I bet you're going to pour another drink now!
Now Yamaha do have an excellent range of digital pianos and the features vary in accordance with the price. These different levels of graded hammer action are merely more advanced levels of the same hammer action technology, depending on the model you're buying.
Ok now lets go even further. Look at Yamaha and their different levels of graded hammer action such as GHS, GHE, GH3… If you were confused before, I bet you're going to pour another drink now!
When you hear of a piano with "Graded Hammer Action" it is simply an accentuation of the keys being lighter at the high end and heavier at the low end – literally 'graded' – from light to heavy at an advanced level. 
GH3 is their most advanced hammer action and boasts the most natural touch/feel – similar to the reaction of the keys on a high-quality acoustic piano. 
Click here to see how Yamaha explain the difference between their Graded Hammer Actions – GHS, GHE and GH3
Don't forget that the digital piano market is now huge and therefore competitive. Every company competing in this market is boasting the most advanced features. Every company is trying to make 'their piano' the best sounding and most realistic feeling piano – as close to the real thing as possible. 
They are all coming up with proprietary features with fancy names to entice us. Don't be confused by these impressive feature names. When we break them down – they are just impressive names for their way of doing things. I explain some of the most important features in relation to weighted action in this post as I go through the pianos and if you've any questions – comment below and I'll get back to you. 
There are several models available in the Arius series and they are a good buy for the serious piano student. 
To skip right to the YDP-184 click here… or to the YDP-S54 click here. 
The Arius series are premium full size digital pianos with a full frame bench/stand. If you're looking for a digital piano to place in the home and act not only as a quality piano but also a beautiful piece of furniture – go for a Yamaha Arius. The Yamaha Arius series of pianos are high-quality, feature-rich digital pianos that do really well in replicating the sound and feel of an acoustic piano. 
Now take note that I've said these are best to place in the home… and by this I mean best not to be moved around (although its possible with care!) If you're looking for a cheaper portable Yamaha, you could take a look at the P-45  or for an even cheaper portable model skip onto the P-71 that we feature here. 
There are other models in the Arius Series and models vary in features to suit both the budding and advanced pianist. The quality weighted action of the keys is just like that on an acoustic piano. This will help build up the proper technique as you progress to improve finger positioning and dynamics (louds and softs).
To see a detailed comparison table of the Arius models, click here to go to Yamaha's official site. 
The Yamaha Arius YDP-184 has made the top of my list here as it is among the closest to an acoustic model that you'll find. 
It has Yamaha's most advanced hammer action (GH3), VRM and the keys offer 6 levels of touch sensitivity. 
All of these features mean that this piano does its best to feel and sound like a concert grand! We'll look a little deeper into these features below. 
Of course it offers a variety of piano sounds as well as other instruments. You can connect your tablet to it and use Yamaha's Smart Pianist App to access digital sheet music and learning features. 

CLASSY AND ELEGANT UPRIGHT LOOK
The YDP-184 has a full stand with legs on each side of the frame. This model is available in Dark Rosewood only but isn't it beautiful! For me, the refined and classy color and design of this model match its ability to mimic the touch and sound of a high-end acoustic piano. 
If you're serious about learning piano and you're looking for a high-end digital piano with hammer action keys that will see you through from your days as a beginner to an advanced pianist… you can't go wrong with a Yamaha Arius model. 
HAMMER ACTION KEYS
GH3 (Graded Hammer 3) is Yamaha's most advanced hammer action feature. It means the weight action is more pronounced just as it would feel on high quality piano keys of an acoustic model.
All the Arius models offer either GH3 or GHS. (Graded hammer Standard). GHS is more suitable for a beginner to get used to the weighted touch of the keys. 
TOUCH SENSITIVITY
The YDP-184 uniquely offers touch sensitivity. This feature enhances the piano's capabilities to feel like "the real thing". This will determine how loud or soft the sound is depending on your touch. Think of when you touch a piano key very lightly and you hear the note sound very softly. The piano is 'sensitive' to how hard or soft you've touched the key. 
The YDP-184 offers GH3 hammer action with six Touch Sensitivity levels – Hard 2/Hard 1/ Medium/ Soft 1/ Soft 2 and Fixed. 
The range of levels offered with the YDP-184 really mimics a good quality acoustic piano.  
The YDP-184 offers touch sensitivity as opposed to touch response which you may also have heard of. As the name suggests, touch sensitivity suggests that the keys are even more sensitive than those with touch response.  
If the YDP-184 is feature-rich and a top class digital piano. With the advanced hammer action and touch sensitivity features, the YDP-184 is among the closest to an acoustic piano feel that you'll find.
CFX Concert Grand Piano Sampling
The sounds on this digital piano are digitally re-created from the Yamaha flagship 9′ CFX concert grand.
As I have mentioned (more than once!), you can't go wrong with any of the Arius models. They are all high-quality instruments. However, if you would like a look at another model that is significantly cheaper, take a look at YDP-S54 that we also recommend here. 
VRM – Virtual Resonance Modeling
Imagine the rich sound that a concert grand can give with its full body! 
VRM- Virtual Resonance Modeling is a feature that tries to reproduce the full, vivid sound of a grand piano by capturing the reverberation generated by the entire body of a concert grand!
Only Yamaha would think of this one!
Although the YDP-S54 is significantly cheaper than the YDP-184, it still offers a huge amount of features and certainly enough to mimic the feel of an acoustic piano and replicate its sound. 
It also offers GH3 hammer action and CFX concert grand piano sampling (explained for the YDP-184 above in our post).
It offers a number of different piano sounds as well as other instruments. You can connect your tablet to it and avail of Yamaha's Smart Pianist App to learn new pieces and follow along using digital sheet music. 
TOUCH RESPONSE
Rather than touch sensitivity, offered on the YDP-184, the Arius YDP-S54 offers touch response. The touch response offered on the YDP-S54 is at 4 levels – Hard/Medium/Soft/Fixed. 
After reading about the advanced touch sensitivity of the YDP-184, you may wonder are you missing out if you only have 'touch response'. 
Well, in my opinion, the touch sensitivity of the YDP-S54 is top-notch! "Touch response" literally means what it says- how the keys respond or react to your touch. 
With the 4 options of touch response available on this model, you can set it to a level that you are happy with. 
This is especially useful if you have been used to an acoustic piano and want the keys to feel as close to that as you can. 
I love the style of the YDP-S54. It is elegant, compact and slimline- just neat and a good fit anywhere in the home. 
WILL THIS PIANO LAST ME MY PIANO JOURNEY?
The YDP-S54 is perfect if you want a digital piano that will build good habits in regards to touch and technique. It is a high-quality digital piano and many teachers use this model.
It will suit from beginner level to advanced and you certainly won't find yourself needing to upgrade.
As mentioned in the table above, the Yamaha P-71 is Amazon's number one selling digital piano.
It is highly-rated, affordable and highly popular.
KEY ACTION
It has 88 full sized weighted keys. The keys are Yamaha's GHS (Graded Hammer Standard) meaning it feels like you're striking the keys of an acoustic piano – to make the hammer strike the chord. 
The touch is heavier on the low end and lighter on the high end just like on an acoustic piano.
OTHER NOTABLE FEATURES:
There are 10 voices meaning you can change tones from a grand piano to the likes of electric organ. The voices include tones taken from some of Yamaha's best acoustic pianos. Advanced sampling makes the sounds very realistic meaning you'll sound like you're playing a Yamaha Concert Grand.
Dual mode allows you to play two voices or tones together so you can have the sound of strings and piano playing at once for example.
WHY GO FOR THIS ONE?
This little model is great value for the quality of the piano feel/touch. It only weighs 25 pounds and is ideal if you need something portable. If you want a good sturdy furniture stand, that option is also available so you get the best of both worlds with this little gem. (link to that and nice image)
EXCELLENT KEYBOARD WITH WEIGHTED KEYS FOR BEGINNER
If you're looking for a keyboard or piano with weighted keys for a beginner, this is an excellent choice. Making sure you have weighted keys means that you're starting out on the right foot and building good habits from day one.
I don't like the word 'cheap' but this Yamaha is the best cheap digital piano with weighted keys! Let's call it 'affordable'. Cheap sounds like bad quality to me and the Yamaha P-71 is excellent quality!
WILL I NEED TO UPGRADE LATER?
This depends on what level you intend to climb to! You may want to upgrade but you may not need to. If you look after this digital piano it will do you for years of playing. As you become more advanced, you may want a more 'solid' model with better touch and key action. You may even want a second piano that 'lives' at home- not only as your digital piano but also as a beautiful piece of furniture!
Click image to view on Amazon
TRI-SENSOR SCALED HAMMER ACTION II
The Casio PX-160 features what it called the "Tri-Sensor Scaled Hammer Action II keyboard". Well isn't that a mouthful! This is a Casio feature that claims to surpass weighted action. So what's this fancy key action that Casio are boasting about. This is how they explain it. Three sensors inside the piano detect the dynamics of the performance- ie how loud or soft the playing is by the force the player is using on the keys. Casio claims that these sensors can catch this expression with great speed and accuracy. 
So does it live up to it's claims? For the price of this digital piano, you are getting a quality piano that will build up good habits. I would recommend this Casio for a beginner or someone who wants a good quality portable model at an affordable price.
It is definitely a good buy for a beginner to build up the muscle power needed to advance. 
WEIGHTED KEY ACTION AND NATURAL PIANO SOUND
The FP-30 features Roland's "SuperNATURAL Piano engine" which is the name they give the features that mimic the feel and touch of of a high-end acoustic piano. 
It has 5 types of key touch so you can adjust the weight of the key action to your liking from heavy to light. One customer compared the feel of this Roland to an acoustic Steinway grand piano!
It offers 6 different piano tones as well as about 29 other tones such as organ, strings etc. 
As with other portable models, you can attach an accesory/damper pedal. 
Without making an exhaustive, confusing list of too many pianos, I've just chosen the top 5 models of various brands here for you to take a look at. 
So as you can see, there are varying features between these 5 digital pianos depending on your situation. Are you looking for the highest quality digital piano? Or are you looking for the highest quality digital piano to fit your budget. I know I'd certainly want the best quality piano but also the most affordable one to suit my budget. 
Also take into account who the piano is for. Is it for a beginner or an advanced player? Is it going to be a main instrument or a second instrument?  All these considerations are important. If you need something to carry around to lessons or events, you'll need a portable model. 
 I've done my best to pick out the best digital piano with weighted keys that best fit each of these needs. Now its up to you to decide which one of these best suits your needs. If you need further help, comment below!